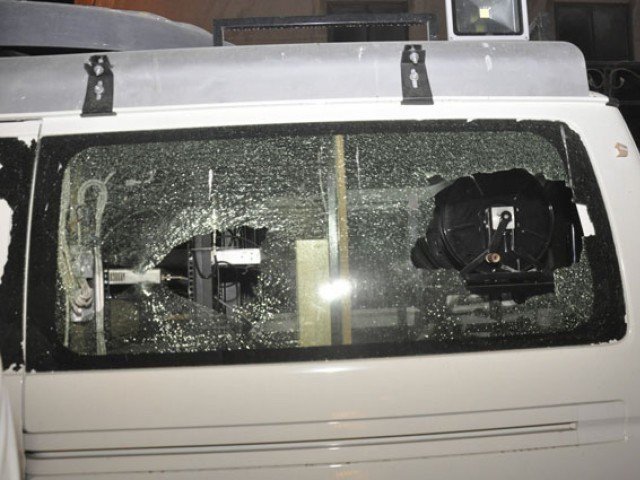 The outlawed Tehreek-e-Taliban Pakistan (TTP) on Monday claimed responsibility for an attack on Samaa TV's Digital Satellite News Gathering (DSNG) van.
TTP spokesperson Mohammad Khorasani in a statement said, "The media is not impartial and we've issued several warnings to them."
An assistant cameraman of Samaa TV was killed when a DSNG van of the channel came under attack in Karachi on Sunday night.
Prize money announced
According to Karachi Police spokesperson Adil Rasheed, AIG Mushtaq Ahmed Mahar has announced that anybody who provides information that can lead to the suspects behind the shooting on Samaa TV cameraman, Taimoor, will be awarded Rs1 million.
The identity of the informer will be kept confidential, he assured.
Case registered
Meanwhile, Samaa TV employee Syed Imtiaz Ali, who was in the van at the time of the shooting, has registered an FIR (No. 28/17) at the North Nazimabad police station. The case has been registered against unidentified persons under section 302 (murder) of the Pakistan Penal Code and section 7 (punishment for act of terrorism) of the Anti-Terrorism Act.
"Armed assailants were following us from KDA Chowrangi and opened multiple fire at the DSNG van as soon as we crossed it," said Samaa cameraman Asif. The DSNG was on its way to cover an attack on a police APC near Five Star Chowrangi in the metropolis. TTP also claimed responsibility for the cracker attack on the police APC.
Days before the attack, TTP splinter group Jamaatul Ahrar released a video threatening journalists. Following the release of the video, various journalist groups announced protests across the country. A rally was also planned outside the National Press Club, Islamabad.
Share the grief of Taimoor's family: ISPR
Reacting to the incident, military's media wing, Inter-Services Public Relations, said killing of the assistant cameraman was a said incident. "Share the grief of Media, SAMAA and Taimoor's family," DG ISPR Maj-Gen Asif Ghafoor tweeted.
https://tribune.com.pk/story/1325224/ttp-claims-responsibility-attack-samaa-tv-van-karachi/
Samaa employee dead in Karachi firing
An employee of a private news channel succumbed to injuries after armed men fired shots at a DSNG van at Karachi's KDA Chowrangi area.
Taimoor, a 22-year-old assistant cameraman at Samaa News, was hit with bullets on his head and chest. He later succumbed to injuries at Abbasi Shaheed Hospital.
According to Waqt News, the DSNG van was hit with six to seven bullets, and the unidentified gunmen flee the crime scene. An investigation was underway.
Pakistan has long been amongst the most dangerous countries in the world for media workers, with 102 media professionals having lost their lives since 2005, according to an International Federation of Journalists (IFJ) report.
The commission report, released in 2016, says that in absence of evidences and witnesses, no banned militant organisation or government agency such as police, local administration or any other group could be held responsible for any killing.
http://nation.com.pk/national/12-Feb-2017/samaa-employee-dead-in-karachi-firing
Samaa TV asst cameraman killed in Karachi firing
KARACHI:  Samaa TV's Assistant Cameraman was killed while the TV channel's Digital Satellite News Gathering (DSNG) vehicle came under attack in Karachi on Sunday.
The incident took place when the TV team was on its way for coverage of alleged grenade attack on police vehicle at KDA roundabout in North Nazimabad.
The bike-riding outlaws opened fire at the vehicle and injured young assistant cameraman Taimur.
The 22-year-old injured employee, who received gunshot wounds to his head and chest, was rushed to Abbasi Shaheed Hospital where he breathed his last.
Police said that 9mm pistol was used in the attack and a shell was recovered from the site.
Earlier, in a separate incident, a cracker attack took place on an armoured police vehicle near Five Star Chowrangi. No loss of life was reported in the incident.
https://www.thenews.com.pk/latest/185807-Samaa-TV-asst-cameraman-killed-in-Karachi-firing#
Samaa TV DSNG van attacked in Karachi, one dead
A employee of a media group was killed on Sunday evening when unknown assailants opened fire on a Samaa TV DSNG van in the metropolis' North Nazimabad area.
The incident occured at KDA Chowrangi, near Dolmen Mall North Nazimabad.
An assistant cameraman, Taimur, received a bullet wound to the head and was rushed to the nearby Abbasi Shaheed Hospital.
Additional Police Surgeon Dr Rohina Hasan confirmed the victim arrived with a bullet wound to the head and died while under treatment.
"Postmortem has not been conducted yet," added Hasan.
'Same suspects might be involved'
The media van was in the area to cover an earlier incident, a cracker attack on a police vehicle, when it was attacked.
"Our team members along with the DSNG had gone there to cover the cracker attack on the police vehicle when they came under attack," said Samaa TV's director news, Farhan Malik.
SSP Central Muqaddas Haider said the same suspects might be involved in both the incidents and added the cracker attack on the police vehicle did not cause any damage.
"It appears that the suspects attacked the police mobile with a cracker to attract media's attention and when the Samaa team arrived, they chased and attacked it," added Haider.
IG Police Sindh, A D Khowaja while taking "strong notice" of the armed attack on the DSNG van sought an "explanation" and a detailed inquiry from DIG West immediately.
Security forces have reached the area and have started their initial investigations.
Earlier in September 2015, another Samaa TV DSNG van was attacked in Karachi's Liaquatabad No.10 area.
Previous attacks targeting media workers peaked during 2015. Three unidentified gunmen attacked a Geo TV DSNG, killing a Geo News employee and injuring another.
The incident was followed by an attack targeting senior journalist Aftab Alam. Alam, who had previously worked for Geo News, was gunned down by unknown assailants near his home in North Karachi.
In 2014, three Express News employees were shot dead in North Nazimabad in an attack claimed by the banned Tehreek-i-Taliban Pakistan.
http://www.dawn.com/news/1314347/samaa-tv-dsng-van-attacked-in-karachi-one-dead
Cameraman killed as Samaa TV's van attacked in Karachi
Assistant cameraman of private TV channel, Samaa, was killed as the organisation's DSNG van came under an attack in Karachi on Sunday.
According to Samaa TV, the channel's team was on the way when gunmen opened fire at the vehicle near KDA area, leaving 22-year-old Taimur Abbas in critical condition. He was shifted to the Abbasi Shaheed Hospital, where he succumbed to his injuries.
IG Sindh AD Khawaja took notice of the incident, directing SSP central Muqaddas Haider to reach the crime scene and initiate investigation.
Politicians from various political parties, religious leaders condemned the incident, demanding the arrest of the culprits.
Prime Minister Nawaz Sharif also condemned the incident, terming it an "attack on the freedom of speech". The federal government will extend all necessary assistance to the provincial government to apprehend those responsible for this heinous crime, he added.
In a similar attack in November 2015, unidentified gunmen attacked a Dawn News DSNG van in the Essa Nagri area of Karachi, injuring one staff member.
https://tribune.com.pk/story/1324721/cameraman-killed-samaa-tvs-van-attacked-karachi/