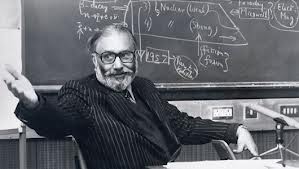 So Pakistan's Saudi stooge prime Minister Nawaz Sharif is enjoying another bout of biased media adoration for simply naming a wing of the Quaid e Azam University after the country's leading physicist and sole Nobel prize winner, the late Dr. Abdus Salam. The Courtiers of Sharif, which include hacks from both the Jamaati Urdu medium and the psuedu liberal English medium, are presenting this as a step forward for Ahmadi rights.
Everyone is oblivious to the irony that the University itself is named after the country's Shia founder. There are scores of roads, airports, hospitals and schools named after the Shia founder of Pakistan and that has done NOTHING to improve the plight of Pakistan's Shias who are literally facing a slow motion Genocide.
Simply renaming exisiting structures or even maintaining previous structures (Ganga Ram, King Edwards, NED, SM Law) after the names of prominent members belonging to religious minorities and targeted sects like the Shias has done NOTHING to uplift or improve the situation. The Nawaz Sharif government just oversaw the election of an ISIS-affiliated Deobandi terrorist and Nawaz Sharif's coalition allies from JUI F have publically backed this terrorist.
Notorious anti-Ahmadi hatemonger (aka "Fat B—–d amongst his drinking buddies) Tahir Ashrafi is still a prominent part of the PML N regime and one of its main liaisons with the Saudis. This degenerate hate monger routinely incites hatred against Ahmadis but instead of being castigated and pressured, he is actually promoted by many PML N "liberals".
Recent events have amply demonstrated that classical liberalism has been eroded and what we are left with is Neoliberal tokenism with accompanying narcissism and sycophancy.