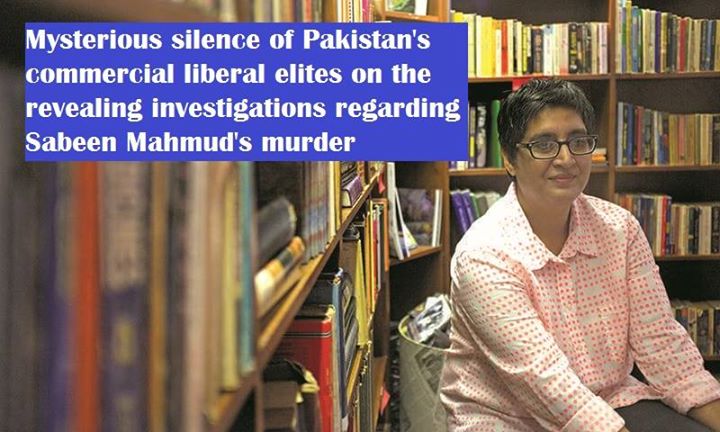 With every passing day, there is increasing forensic, eye witness and circumstantial evidence piling up against Saad Aziz Deobandi and other ISIS-affiliated ASWJ killers. These killers not only murdered Sabeen Mahmud in front of her own mother, they are also involved in many other massacres and murders including the Safoora Goth massacre of 51 Ismaili Shia Muslims.
In the last few weeks, police investigations have revealed that Saad Aziz Deobandi and the rest of his terrorist gang
– scouted Sabeen's café (The 2nd Floor) for which there is photographic evidence
– translated and promoted the videos of ASWJ founder Haq Nawaz Jhangvi for his online magazine
– Sadia Jamal Deobandi, a female activist of Jamaat-e-Islami and ASWJ, is also under investigation for the Safoora gang massacre.
– Polygraph tests confirming the role of these terrorists in Sabeen's murder, Safoora Goth massacre along with attacks against Shias, Bohra Shias, Sunni Barelvis, educationists and police officers
– Eye witness accounts including some of the surviving victims of the Safoora Goth massacre
When the focus of Sabeen's murder was to encash the Baloch cause by baselessly attributing this murder to the Pakistan army, these commercial "liberal" elites were non-stop in their condemnation. Now that the evidence implicates the same Takfiri Deobandi terrorists in Sabeen's murder who previously even killed army generals and other high ranking officers, why the silence by these same commercial "liberal" elites?
Is it because these same "liberal" elites frequently promote anti-Ahmadi, pro-Taliban Deobandi hate cleric Tahir Ashrafi as a "progressive"! Bear in mind, this is the same Tahir Ashrafi who engineered the release of Malik Ishaq while Tahir Ashrafi's TTP-ASWJ comrades were busy in attacking the Pakistan army Headquarters in Rawalpindi and massacring our soldiers.
Is it because these same commercial "liberal" elites frequently obfuscate Shia Genocide in false binaries such as Sunni-Shia "sectarian violence" and divert attention away from the Takfiri Deobandi perpetrators of violence against Sunnis, Shias and Christians in Pakistan?
These commercial "liberal" elites headed by the BeenaSarwar-NajamSethi lobby have gone silent on the Sabeen Mahmud's murder, just as they went silent on the murder of other progressive individuals like Shahbaz Bhatti, Mohsin Naqvi and Professor Sibte Jafar. Because it does not suit their commercial interests to speak the truth about the radical Deobandi lobby which is unfortunately either directly or indirectly supported by the same liberals. Indeed it was none other than Beena Sarwar's Jang Group's associate Najam Sethi who released over 100 ASWJ-LeJ terrorists during his tenure as Punjab Caretaker CM in 2013. This is the same Najam Sethi who not only promoted ASWJ chief Luhdyanvi from his Friday Times blog but also from his prime time show at Geo TV.
When you write and expose the hypocrisy of this commercial "liberal" mafia, they can only respond with forgeries and nonsensical slurs such as "fauji touts", "sectarian hate blog" etc. These commercial "liberal" elites are never sincere with any cause. Their sole purpose is to hijack causes, distort narratives and sell such dishonesty to the highest bidder within and outside Pakistan. By misappropriating Sabeen's murder to encash and exploit the miseries of the Balochs, these elites harmed both the Baloch cause and Pakistan while also diverting outrage from Sabeen's actual murderers – who happen to be their fellow comrades in the Tahir Ashrafi lobby.
These commercial "liberal" elites spent a great deal of time bashing Komal Rizvi's selfies with Edhi and Hamza Abbasi's comments but are completely silent when the true murderers of Sabeen Mahmud are being exposed. Overall, their selective and mysterious silence exposes that they stand not on Sabeen's side but on the side of those who killed her.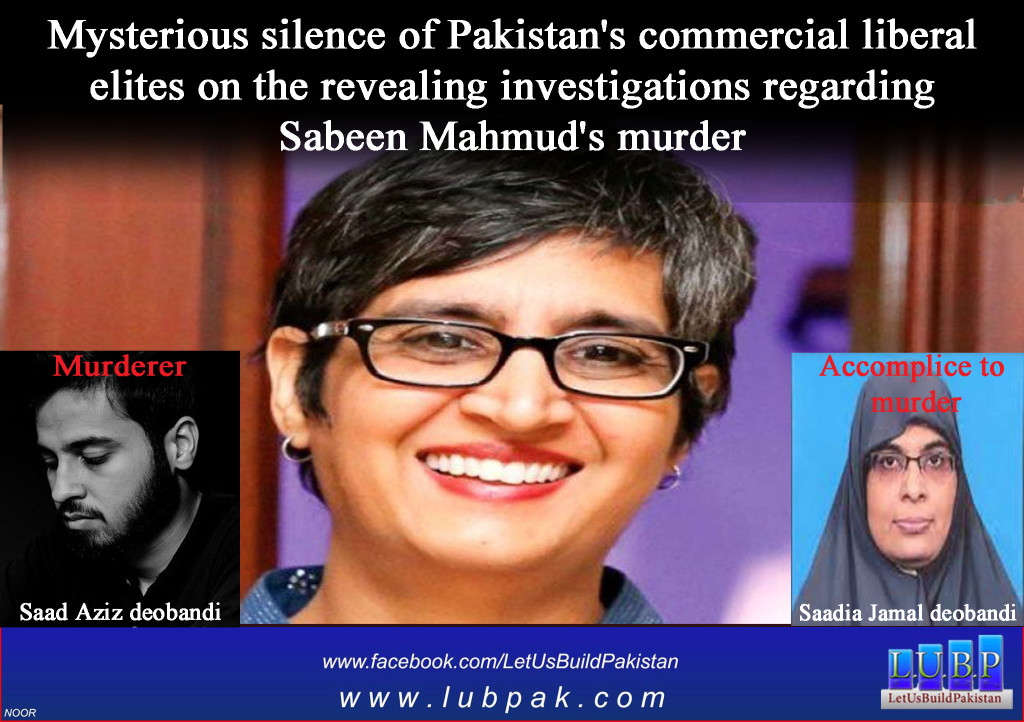 Some comments: