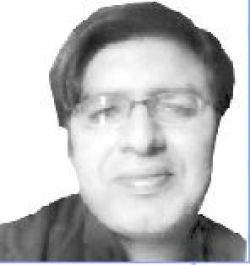 I was in Lahore last week when a friend informed me that the President of Pakistan Seraiki Party, Taj Muhammad Langah, had passed away. That was sad and very shocking news to me but I could not attend his namaz-e-janaza in Lahore where I had gone for my medical check-up.
I met Taj Muhammad Langah for the first time after a seminar held in Lahore on the Seraiki national question where I had raised many questions. When I wanted to speak about the national question in the context of Marxist philosophy, Taj Muhammad Langah stopped me from saying anything and said, 'I am the teacher of many Marxists. Don't teach me'.
I admit that my first interaction with Taj Langah was not very pleasant. Only later, after I studied his role in Pakistani politics and his honesty and commitment to principled politics came to my knowledge, that I felt much respect for him in my heart.
Taj Muhammad Langah was a young student in England where he was exposed to Marxian politics so popular at the time all over the world. After he returned home, he joined Shaikh Rasheed's group and got involved in leftist politics and mass campaigning. He participated in the founding meeting of the Pakistan People's Party and won the confidence of the founding chairman of the party, Zulfiqar Ali Bhutto. Later, in 1970, he contested election for the national assembly against former chief minister of Punjab, Mumtaz Dultana, and got a large number of votes but lost to Daultana due to an arrangement with Bhutto.
Taj Mohammed Langah was never given a party ticket again by the Pakistan People's Party. He did not lose heart and continued working for the party. He refused an offer to join the Muslim League when Ghulam Mustafa Khar was chief organiser and Hanif Ramay was deputy chief organiser.
It was in 1974 when Bhutto opened the gates of the Party to feudal and capitalist classes that middle class candidates and those from the working classes had to give way to them. It was then that left-leaning members began leaving the party.  Khursheed Hasan Mir from Rawalpindi was the first senior and well known member to do so. He founded his own Awami Jamhori Party (People's Democratic Party Pakistan) and invited Taj Langah to join him, which he did. Later, he was nominated the first deputy general secretary of the Awami Jamhoori Party.
When General Zia took over the country and sacked the government of Pakistan People's Party, imprisoning Bhutto and after a two year trial hanging him, the Awami Jamhoori Party disbanded and most workers returned to the PPP. But Taj Muhammad Langah was not one of them. In that period, there was a circle of intellectuals, journalists, political workers, and writers which decided to establish a political front for Seraiki Identity and defend the national rights of Seraiki people. Taj Langah, along with Riaz Hashmi, an advocate, and others established the Seraiki Sobah Mahaz and helped bring the discrimination against southern Punjab and the question of a Seraiki province to the limelight.
During that period of military dictatorship, although Taj Muhammad Langah was not part of the Movement for the Restoration of Democracy, he never extended his support to General Zia and seconded the stance of the democratic alliance on dictatorship. In 1989,Taj Muhammad Langah, along with other comrades, founded the Pakistan Seraiki Party and from that day until his last breath, he played a crucial role in promoting the Seraiki cause in the region.
His entire life was devoted to the Seraiki cause. He was a democratic and non violent politician and never guided his party members and supporters toward militancy. Although I have many reservations on his puritanical position and nationalist ideas on the question of sub-nationalities and the Seraiki province (since I always linked the national question to the class question), I admit that I learnt a lot about the issue from him.
During General Musharaf's dictatorship, his party joined the Alliance for the Restoration of Democracy (ARD). He and his party workers were never tempted to join the APDM which was a ploy to disintegrate the democratic resistance and in this way they saved themselves from falling into the well of darkness.
He was a regular reader of my columns published in daily Khabarain from Multan, and encouraged me a lot. I met him at the residence of a friend where a reception had been organised for a member of the Scottish parliament. Taj Langah seemed very hopeful of the turn of events and the issue of southern Punjab. He was expecting the approval of the bill for the new province in the National Assembly but I had expressed my reservations and my suspicion about the intentions of the leaders of the PPP.
The last time I saw him was at a sit-in at Nawan Shehar Square in Multan where he made an emotional and very radical speech. He warned those political and other forces who were opposing the Seraiki soobah and asked the youth to launch a movement for direct action. But later, he revived his non-violent tone and rejected militancy.
Taj Muhammad Langah was a great nationalist activist who served the people of the Seraiki region to his last breath. He never changed his line or his tactics to benefit himself or his party, thus resisting the opportunism that was introduced by General Zia ul Haq to politics. He remained a principled politician who always spent money and did not make money through politics. His home was reserved for party activities and was a second home to the party workers.
I would like to end by saying that Taj Muhammad Langah was a very important chapter in the politics of Pakistan and that chapter has now been closed.
In our society today, there are many outlets in the marketplace which sell commodities that are not based on anyone's productive labour, but based instead on vending the vulnerabilities and humiliations of the poor. These sales outlets often bear the sign of "human rights" and offer their services through a "commission" that are run by the darlings of society, those born with a silver spoon in their mouths, who are committed to collecting more such spoons.
These darlings often speak with great vehemence about military business and military capital, but generally refrain from criticising the greed and barbarism of global corporate capital that often finances their adventures. Their love for democracy circulates between the gifted Bilawal House by Malik Riaz and the Sharif Mahal on Raiwind Road. If they have to step out of these two locations, they might venture into Azizabad, Nine Zero, or Bacha Khan House in Peshawar but when they get out of breath from such exertions over democracy, they tend to take rest in consultancies with the UN and the World Bank.
When a tussle breaks between power centers like the judicial establishment and political monopolists, members of this liberal intelligentsia doesn't take long to don their black coats and jump into the proxy war. Borrowing a black coat from Al-halal Broiler Shop, they march into the streets or hold candle light vigils claiming they were against the Zia ul Haq Foundation and for the progressive ZAB Foundation. Some of them are promoted as coordinators of the democracy project and taken into government consultation.
There are others in the market for democracy, those selling the foundations of "aurat" or women. They sell the woman victim, those killed in the name of honour, those burnt with acid, targets of the lust and greed of men. They advertise the screams of pain, the disfiguration, the fear and the humiliation and the appeals for mercy of these women to foreign donors for more funds for "women's empowerment" that seldom leave the doors of their foundations. These profiteers are never concerned with what poverty does to people's lives, especially to women's lives, who are their commodities. But it does get them another new four-wheeler for the organisation. In Islamabad, they move up from rented premises to privately owned offices and personal homes.
Sometimes, these vendors trade in the problems of fishermen and women who live along the sea and the rivers, turning their lives into case studies to make a pitch for a project. Sometimes, these businessmen and businesswomen turn to landless peasants and the resistance movement of the hari (sharecropper). They first purchase the rising leadership of such a resistance movement employing them as high salaried project coordinators, as representatives of the wretched of the earth.
All these respectable people, the ashraafia, run their business on the victimhood of the poor, their helplessness and their inability to capture the attention of the rulers. Here steps in this so called "civil society" that will sell the pain of the underprivileged and the victimised to the powerful within and outside the country, posing to be their champions and collecting funds in their name.
I often wonder why people working in the urban slums and in blue collar areas like Shezad Francis, Shah Zaman, Rahila Baloch, Zarina Ashfaq, are never heard of. Or those working in remote rural areas  like Sakina Nadia in Ahmedpur Shirkia, Bushra Adeel in Mian Channun, Sister Salma in Khanewal and hundreds, like them who actually live and share the sorrows of the marginalized, remain unknown. Those who endanger their lives pitting it against ignorance, religious and sectarian extremism and all right wing forces, their voices cannot echo very far and their stories cannot inspire others because the liberal elite, the ashraafia, hold the monopoly over democratic discourse, have large well funded outlets with the capacity of making a lot of noise, and besides, they have the cosmetics to hide their ugly and false civility. The real darlings of the people, those who do not have such fair complexions and do not cover their faces in cosmetics, are never heard of outside the communities they serve.
But what can one say about the electronic media, dominated by court jesters and self advertising columnists who cater to the ashraafia? They keep repeating the mantra of these liberal elite – the so called civil society – who speak in the name of the poor but are actually using them for advancing their international business contacts with aid donors. These monopolists of the discourse on poverty and underdevelopment, human rights, workers rights and women's rights have turned these issues into commodities that are showcased at The Mariott, Avari, Holiday Inn in conferences and seminars devoted to promoting each other as spokesmen and intellectual leaders.
But where the liberal intelligentsia should make its presence felt, the field is left open to people like Mohamed Ahmed Ludhianavi, Hafiz Saeed, Maulvi Sami Ishaq, Parvez Munnawar Hassan, Malik Ishaq, Aurangzeb Farooqui, Amin Saheedi, Nasir Abbas and Amir Hamza who can convince the wretched of the earth to willingly give up their liberty, human dignity, and love of one's fellows. Then these urban slums and rural bastis resound with slogans of "Al Jihad!" "Al Jihad!" and "Kafir, kafir Shia kafir!" "Those who disagree, also kafir!" And there are wall chalking asking for social boycott of neighbours and friends who are Hindu, Christian, Shia and Ahmedi.
Such happenings do not move the monopolists of democratic discourse, the liberal intelligentsia, to question its selfish and self serving behaviour. They continue to turn popular movements of resistance into projects, recruiting local radicals into their "outlets" as salesmen and saleswomen, creating a vacuum in society that is then filled by the reactionary elements.
It is important today to save the independent, rebel voices that would help other such people to find the strength to undo the lies of the rich and powerful who claim to represent us. The voices raised against global capitalism will also make clear the politics of hatred being promoted in our country as religious, ethnic, linguistic fissures. There has to be a countering voice against neo-liberlaism that masks itself today as the voice of the left.
We have much to learn from our neighbouring Iran where intellectuals played their role in social transformation. One of them, a rebel intellectual, Abdul Karim Suroosh writes, 'Most Irani clerics were no different from the Taliban. But I will add that the monopolist liberal intelligentsia in Pakistan are no different from Malik Ishaq, Ludhianvi, and Hafiz Saeed. One of them monopolises the liberal discourse  while the other monopolises Islamic discourse.'
We do not need promotions of freedom of expression in big hotel banquet halls or in gated bourgeois housing colonies, but in the narrow lanes of Dera Ismail Khan, where Kahlifa Abdul Qayyum and Haq Nawaz Jhangvi spread sectarian hatred and Jamshed Nayab counters it. Nayab was shot in front of his house and left to die. Where is the urban liberal intelligentsia at such times? Why do we not find them in Gulabpura and Mohalla Hyderia in Jhang when armed lashkars gather to confront each other one calling itself "Sipah Sahaba" and the other "Sipahe Ali Akbar"? Why is there no presence of this liberal intelligentsia in the marketplace of Kabirwalla where, prior to partition, there was a political party of the small farmers and after partition a wing of the communist party? Here, volunteers of the Kisan Rabita Committee used to read Faiz, Jalib, Ali Sardar Jafri, and Makhdoom Mohiuddin.
Today, it is the politicised maulvi of Darul Aloom Kabirwala, Abdul Khaliq Rehmani, and Qari Hussain's acolyte Ismatullah Mua'aviya , whose voices echo over the region preaching hatred and an ever narrow reading of religion. To be sure, the liberal intelligentsia and their outlets arrange "training workshops" in such areas where they fly in others like themselves from the cities and only those attend who would like to network and procure consultancies or else they are just there for an afternoon meal. These workshops, of course, make no difference whatsoever to the slogans of hatred being shouted by the monopolists of religious interpretation who preach hatred and violence in the streets of Kabirwala.
Source:
http://www.thespokesman.pk/index.php/history/item/3775-aamir-hussaini-remembering-langah