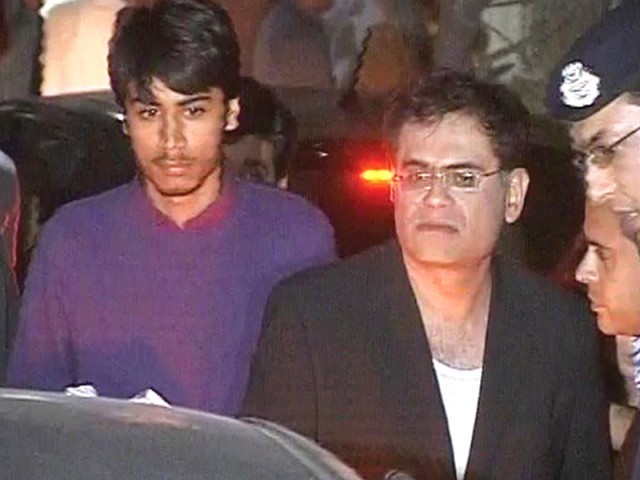 Lahore: April 22, 2014
Lahore Capital City Police Officer (CCPO) Chaudhry Shafique Ahmed on Friday put the police force on the frontline in the war on terrorism and extremism by exposing and arresting a dangerous group of Deobandi terrorists of Sipah-e-Sahaba (SSP aka ASWJ aka LeJ). At a hurriedly called news conference, the CCPO presented the ASWJ-LeJ militants, responsible for the killing of 18 high-profile personalities including professionals, religious leaders, and activists of different sectarian organizations, before the media to strengthen his stance.
Flanked by DIG (operations) Rana Abdul Jabbar and DIG (Investigations) Zulfiqar Hameed, the police chief revealed that the Deobandi terrorists carried out the gun attacks on the behest of Malik Ishaq, Vice President of the banned outfit Sipah-e-Sahaba Pakistan (SSP aka ASWJ). The US States Department had tagged Malik Ishaq as a Global Terrorist in February 2014.
The ASWJ-LeJ group killed various personalities in Punjab including Maulana Nasir Abbass of Multan (Shia scholar), Maulana Shams Ur Rahman Moavia (Deobandi of ASWJ), Shakir Rizvi (Shia lawyer), Khurram Raza Qadri (Sunni Barelvi/Sufi), Ghulam Raza Jafri (Shia), Professor Shabih Ul Hassan (Shia professor), Dr Sagheer Asghar Baloch of Quetta, Ali Hussain Qizalbash (Shia) and driver (Sunni Barelvi) of Journalist Raza Rumi (liberal).
Chaudhry Shafique said that the supporters and leaders of banned outfits have to be arrested for peace in the country and for the protection of the life and property of its citizens. The officer took the incidents of sectarian strife in Lahore as a big challenge and ultimately the police investigation teams, under his command, managed to track down all the most wanted militants.
Reportedly, Malik Ishaq Deobandi of ASWJ was also planning gun attacks to target Jamaat-ud-Dawa (Ahle Hadith) leaders and some important politicians in the ruling PML-N. Some analysts say that the shocking revelation from arrested terrorists is more than an eye opener for Punjab government.
The CCPO said that the the ASWJ-LeJ men not only targeted and killed the leaders of their opponent sect (i.e. Shia and Sunni Barelvi Muslims) but they also gunned down the top cleric of their own faction (Shams ur Rheman Muawiya Deobandi) for their vested interest. The CCPO said that during organizational elections, Haroon Bhatti lost his seat against Maulana Shams Ur Rahman. Because of organizational disputes and defeat, he had planned the killing of Punjab President of Ahle Sunnat Wal Jamaat (ASWJ) Maulana Shams Ur Rahman Moavia and later he also targeted anchorperson Raza Rumi. (http://nation.com.pk/lahore/19-Apr-2014/deadly-lej-squad-caught)
The teror group, also showing a clear difference within Ahl-e-Sunnah-Wal-Jamaat (ASWJ, formerly Sipah-e-Sahaba Pakistan from which LeJ emerged, also attacked ASWJ Punjab chief Shamsur Rehman Muavia on December 6, 2013 on Ravi Road. Haroon Bhatti, the ring leader of this group of LeJ, who was mostly receiving directions from a close aide of Malik Ishaq for the targets, contested for Punjab presidentship of ASWJ (Punjab chapter) against Muavia and lost, the police says. Later, he planned the killing and the attackers also offered Friday prayers along with Muavia on that day.
"Another major reason of his killing was difference within the ASWJ ranks; the old LeJ members used to say that they have sacrificed for the party and now others have taken over the party. There were also differences on financial matters of the party," a senior police official says.
In the past two years, this group has confessed to as many as 16 target killings in Lahore on religious grounds, while six targets survived. Those killed include Dr Shabihul Hassan Hashmi on May 19, 2012 in cantonment; Syed Abbas Shah on May 21, 2012 in Hanif Park; Shakir A li Rizvi advocate on October 19 2012 near Lahore High Court; Syed Waqar Haider, a private bank manager on February 11, 2013 near Garden Town; Dr Syed Ali Haider and his son Murtaza Ali Haider on February 18, 2013 in Gulberg; Dr Muhammad Azeem Jafar on July 11, 2013 in Misri Shah; Mubasher Hussain Naqvi on August 27, 2013 near Railway Station; Arshad Ali Shah advocate on August 28, 2013 in Misri Shah; Ghulam Raza Jafry on October 22, 2013 in Mughalpura; Allama Nasir Abbas on December 15 near Garden Town; and Syed Ali Hussain Qizilbash on January 15, 2014 in Gulberg. The group also killed Khurram Raza Qadri of Pakistan Sunni Tehreek for being vocal against Taliban on May 3, 2013 in Tibbi city and attacked columnist and anchorperson Raza Rumi on his hard criticism of religious outfits.
(http://tns.thenews.com.pk/gang-arrested-lahore-sectarian-killing/)