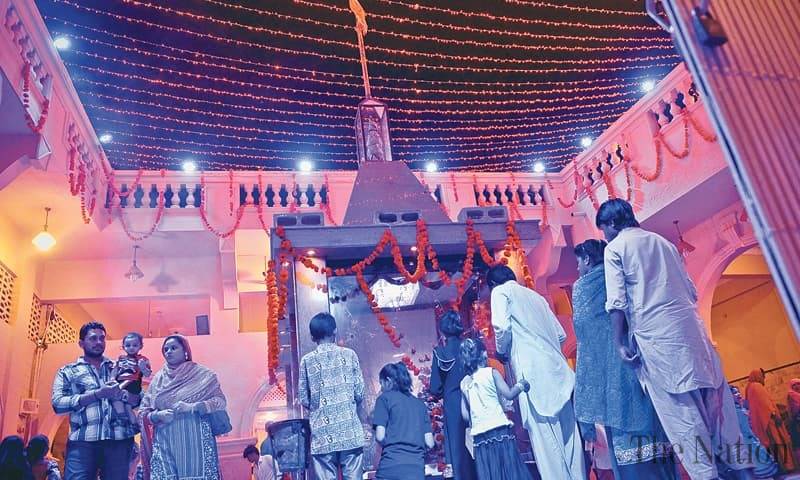 Indian pilgrims are not attending their religious festival 'Shivratri' at Katas Raj in Chakwal. This is indeed tragic: security concerns have led to a minority losing their right to a religious celebration. Side by side, it also remains necessary for their own safety. Last year, Christmas celebrations had to be muted thanks to terrorist attacks on the Army Public School Peshawar, and Shias can hardly even conduct their prayers with peace of mind owing to repeated attacks on Imambargahs. The Wahga Border blast, the brutal attack on schoolchildren in Peshawar and the Shikarpur carnage have multiplied the security apprehensions of Indians looking to enter Pakistan.
Though the Evacuee Trust Property Board (ETPB) was expecting 60 to 70 Hindu pilgrims from India, only 21 turned up at Katas Raj on February 16 at the start of the three day Maha Shivratri celebrations that were due to begin. Besides India, 25 pilgrims from different areas of Pakistan came to Katas Raj and left on Feb 18. We must remember that many of these celebrations are not just religious, but hold a cultural significance. Communities have traditionally celebrated these events together whether it be Eid or Diwali, but since the rise of Deobandi Islam and terrorism, communities are more and more divorced from each other. Last year, 88 pilgrims from India and 40 from various districts of Pakistan gathered here to celebrate the festival. More must be done so we do not lose these cultural events. If we do, we lose our tolerance and diversity. The myopia that has set into our people is shocking, with many claiming that India would have sent spies disguised as pilgrims.
With such news reports: that religious minorities are afraid to come out of their homes, that Sikhs who have lived in Khyber Pakhtunkhwa for hundreds of years have had to migrate, that Christians give their children Muslim names to stay well under the radar, it is hard for the state and the people of tolerant and peaceful mindsets to keep up a good image for Pakistan internationally. Sadly, our silver lining has a very big dark cloud.
Source:
http://nation.com.pk/editorials/23-Feb-2015/shivratri-goes-uncelebrated