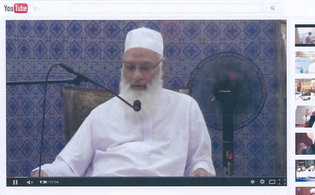 ELGIN, Ill. — She ordinarily did not wear a veil. But it was required at the Islamic school where she worked, and she remembers being surprised when the head of the school, a conservative imam, suggested that she remove it.
When the imam, Mohammad Abdullah Saleem, came into her office, she said, he would sometimes touch her cheek or put an arm around her shoulder. Mr. Saleem was revered in her close-knit community, and she did not object at first. But simply being alone together represented a forbidden intimacy, and looking back, she said those first gestures should have been more alarming.
"It's not something that gets done," the 23-year-old woman said recently. "Men and women don't even shake hands."
Over time, she said the touching became more aggressive, reaching a point that she did something almost unheard-of in her community. She told people: her family, a social worker, an Islamic scholar. Recently, she went to the police. As word spread of what she had told them, three other women came forward, telling detectives that as young girls they had been molested by Mr. Saleem.
In the next few days, the women will name Mr. Saleem in a lawsuit that accuses him of decades of assault and child sex abuse, according to Steven A. Denny, their lawyer. But the accusations are already widely known and deeply felt within the community of Indian and Pakistani Muslim immigrants and their families in the Chicago area for whom the Institute of Islamic Education, the school that Mr. Saleem founded, is a focal point. They have highlighted the kinds of tensions that divide a small, cloistered segment of Mr. Saleem's followers from a more assimilated generation that bristles at the notion that such matters should be handled privately.
Abuse allegations against Catholic priests and Jewish rabbis have brought similar anguish to insular communities suddenly exposed to outsiders, in a crisis. But the Chicago case comes with added baggage in a community where discussion of sex is taboo and many girls are forbidden to attend school health classes. Dating is uncommon or secretive, many marriages are arranged, and a blemish on a young woman's reputation can render her unmarriageable.
The accusations are particularly jarring because of Mr. Saleem's stature. "In the South Asian community, he is like Billy Graham. He's the archbishop of Chicago," said Omer Mozaffar, an Islamic scholar who serves as the Muslim chaplain at Loyola University Chicago and who acted as a mediator between Mr. Saleem and his first accuser last year.
Mr. Saleem said in a brief phone interview that his accusers "are lying." He referred questions to his lawyer, Thomas T. Glasgow, who said that after an internal investigation by the school, "I have not seen any evidence to substantiate anything."
In a statement posted on its website, the Institute of Islamic Education attributed the accusations to "individuals outside our community" seeking to discredit the school's beliefs. "The individuals involved do not wish to seek privacy and resolution, but are actively seeking publicity for their claims," the statement said, which has since been removed from the site.
Mr. Saleem, 75, was part of a generation of immigrants from India and Pakistan who settled in the Chicago area in the 1970s and 1980s. They shared apartments, prayed in a basement mosque and socialized almost exclusively among one another. Mr. Saleem was a student of the Deobandi school, a movement originating in India that espouses a fundamentalist version of Islam. He had the title maulana, an honorific given to prominent scholars. Friends let him stay in a spare room, where he taught children the Quran.
The community retained many of its beliefs and customs. Purity and honor were paramount. Girls wore head scarves, kept their arms and legs covered, and were excused from school health classes where puberty and reproduction were discussed. In some families, talking about sex in any way was unthinkable.
"A lot of the attitudes around sexuality and marriage, I would literally describe them as ultra-Victorian," said Hamzah Maqbul, the imam of a mosque in Rockford, a nearby city.
Mr. Saleem founded his school in 1989 to teach students to memorize the Quran "in accordance with the Islamic values and traditions of the earlier periods of Islam," according to its bylaws. It has grown into one of the country's most prominent schools of its kind and one of the few in which the students, typically ages 10 to 17, are boarded for several years. Subjects like math and English are offered, but primarily through computer programs and never at the expense of Quran studies. The school is not recognized by the state and does not award accredited diplomas.
As the Muslim community grew, most families assimilated, finding no conflict between their faith and their adopted homeland, said Muhammad Shamsi, 70, who helped organize the school but is no longer involved with it. Raising children in America accelerated that process, he said.
But others, including some of Mr. Saleem's most devoted followers, resisted, said Mr. Mozaffar, the scholar and Loyola chaplain. "The fear is of becoming Americanized," he said. "And that includes a decline in morality, losing a person's Islam, a person's faith. And so faith gets mixed in with culture."
The young woman who first accused Mr. Saleem was born in the United States to Indian parents and graduated from an American college. She hoped the secretarial job at the school would be a springboard to a corporate human resources position.
While she was making copies in April, she said, Mr. Saleem pulled her onto his lap and held her there, lifting her dress as he groped her. "I just looked at the wall or the ceiling and just kept saying, 'This is very uncomfortable,' " she said. After he left, she said, she found something sticky on the black pants she wore beneath her dress.
She confided in her cousin, her mother and a social worker, and ultimately Mr. Mozaffar. She quit her job, and though she said she was reluctant to press the issue, she wanted an admission and an apology. Mr. Mozaffar agreed to mediate.
Hanging over the entire process was the threat that the allegations would destroy her reputation. Such concerns are common in abuse cases but are particularly acute in a community that values virginity so highly, said Nadiah Mohajir, executive director of Heart Women and Girls, a sexual health advocacy group for Muslim women.
"There is this fear of 'Who's going to marry you now?' " she said. "We can say, 'You don't want a man who would hold that against you.' But in practice, that decreases their pool so much that it's completely unfair to even say."
Ms. Mohajir said educating Muslim women about sexual health could make people so uncomfortable that she did not talk about her job with some family members. Getting her programs accepted in mosques has been difficult, she said, and fund-raising is "incredibly challenging."
Mr. Mozaffar said he had ultimately brokered a settlement in which Mr. Saleem signed a handwritten document saying he had apologized and "admitted to his actions." But the document does not specify what actions. Mr. Saleem indicated that he was apologizing for the sin of zina, or consensual extramarital sexual contact, Mr. Mozaffar said.
That agreement was supposed to end things, but word spread through the community, and Mr. Mozaffar addressed them on his blog, writing that it was "public knowledge" what Mr. Saleem had done and that he had "admitted the details to me, face to face."
Angry commenters accused him of undermining Mr. Saleem. "Dear brothers and sisters this matter does not concern you," one wrote. "Regardless if the allegations are true or false he is a much better Muslim than all of us. Please stop spreading information regarding him. He has reached a very old age. You should be instead focusing on how you can spend more time in his presence.
Mr. Mozaffar deleted his post, but not before two women in their 40s saw it and told advocates that Mr. Saleem had abused them in the early 1980s, when he was teaching from his bedroom. One woman said Mr. Saleem began touching her when she was 12. Once, she said, he sat on a bed, covered in a brown blanket, and put her hand on his genitals while he taught her a chapter of the Quran called al-Qari'a, about the Day of Judgment when people will be held to account for their good and evil deeds.
"The Quran is right on top of us and he is doing this," she said. "What disrespect he had in front of the Quran."
A second woman said that, when she was in sixth grade, Mr. Saleem kissed her and touched her, remarking, "You're really growing up."
The new allegations prompted the former secretary to go to the police, despite the concerns of some family members. She took with her the pants with the dry, white stain. "If this happened in my parents' generation, nobody would've ever found out," she said.
The Elgin police and prosecutors have interviewed the three women. A fourth, who declined to be interviewed, told the authorities that Mr. Saleem molested her while she was a student in 2002 and 2003, according to Mr. Denny, her lawyer. Mr. Glasgow, the lawyer for Mr. Saleem, said he was unaware of these allegations. The statute of limitations has expired on the claims dating to the 1980s.
"It's an ongoing investigation into allegations of sexual offenses," said Cmdr. Ana Lalley of the Elgin police.
Mr. Saleem said in the interview that he was still teaching at the school, though he officially retired in October, and that his son Ubaidulla had replaced him. "These are good, peaceful, kind, conscientious people trying to do the right thing in the face of some pretty nasty allegations against a former employee," Mr. Glasgow, the lawyer, said.
Mr. Mozaffar said he had heard criticism that he had brought negative attention on Muslims at a time when terrorism fears have made many Americans suspicious of them. "There is a notion that we are already under assault. Why add more fuel?" he said.
But he said none of this had to do with Islam. "The Catholics aren't the only ones who have pedophiles, and the Muslims aren't the only ones who have terrorists," he said.
Source:
http://www.nytimes.com/2015/02/16/us/sexual-assault-suit-against-illinois-imam-highlights-a-communitys-divisions.html?_r=2