Related Article:  Let's slam Imran Khan but stay mute on Nawaz Sharif and Gen Kayani's love affair with Taliban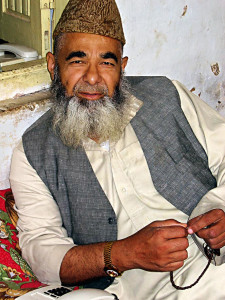 As Shia Genocide continues unabated in Pakistan, the State continues to do nothing.  The latest tragedy in Peshawar reminds us of the role played by PML N leader and Al Qaeda lawyer Ibrahim Paracha in facilitating #DeobandiTerrorism in Khyber-Pakhtunkhwa.  Some of the Shia Pashtuns who were massacred by the Deobandi terrorists in Peshawar today were from Kohat district where Ibrahim Paracha plays a significant role in their massacres and oppression.
"Kohat is around 60 kilometres south of Peshawar, accessible by the Kohat Pass. In 1901, the population was 217,865, showing an increase of 11 per cent in the decade. By 1998 (the time Pakistan conducted its most recent census) it had swelled to 1.4 million. It has a Hindko-speaking Paracha community, closely allied to the (Deobandi) madrassas of Javed Ibrahim Paracha, the so-called 'al Qaeda lawyer' with links to Lal Masjid in Islamabad. He was once a PML-N MNA and a JUI candidate but is now a defender of al Qaeda men arrested in Pakistan and has named his son Osama. Kohat is only nominally under Khyber-Pakhtunkhwa's administrative controle, despite the fact that it is an important Pakistan Air Force base. The people there live under the twin administration of the Pakistani state and the Taliban, who are said to rule at night.

The same thing can be said about Hangu, where the Taliban exercise a lot of authority and complicate the city's sectarian map. The sectarian distribution of Kohat has assisted in the leaning of some fanatics to allegiance to the Taliban who do not hesitate to target the Shia community in the entire region, up to Kurram Agency. The current leader of the Taliban,Hakimullah Mehsud, earned his notoriety as a killer of the Shia. Kohat city also has a monument to the first batch of al Qaeda prisoners — mostly Chechen — who were brought here as prisoners but were killed in an encounter with the Pakistan Army.

To give a glimpse of how Kohat is left at the mercy of the Taliban and the sectarian divide existing there, one will have to hark back to an interview Javed Ibrahim Paracha gave to a television channel on September 12, 2003. According to him: "After 9/11, Bulgarian and Chechen mujahideen fled from Afghanistan and came down to the Tribal Areas from where they came to Kohat where already 27 Arab mujahideen were in jail. They were the offspring of the Sahaba (companions of the Prophet — pbuh) and were Ahle Bait (from the family of the Prophet — pbuh)." Source
As the Shias of Pakistan mourn yet another tragedy, this background is important in understanding the facilitators of Shia Genocide such as Ibrahim Paracha and his PML N and JUI connections.
Meanwhile, Pakistan's "liberatti" are either obfuscating the issue or altogether ignoring it.
For instance, prominent "liberal" and accomplished social critic, Nadeem Paracha did not even bother to issue a token tweet on this event and like many of Pakistan's urban elite – whom he is frequently critical of- chose to concentrate on the upcoming cricket World Cup.
Related: Noted elitist liberal Nadeem Paracha taken to task by an ordinary Pakistani citizen
Nadeem Paracha defends Ejaz Haider?
Others like Bakhtawar Bhutto Zardari issued the typically vague and obfuscatory condemnations of this event. Her hashtag #TerroristsHaveNoReligion" is wrong on different levels.  The ASWJ-LeJ/Jundullah have a religion. They are Deobandis who follow a Takfiri creed and whose ideological connections to Salafism and the sectarian bigotry of medieval polemicists like Ibne Taymiyyah and Shah Abdul Aziz is a matter of record.