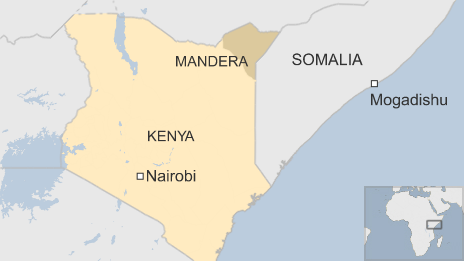 Editor's Note : When takfiri Deobandis did this to Shia Muslims in Quetta and Gilgit Baltistan, the media and rights groups called it Sunni vs Shia.
When takfiri Wahhabis separated out non-Muslims in Kenya by asking passengers to read from the Koran, those who failed were then shot in the head, the media and rights groups call it Muslim vs non-Muslim.
How hard do they work to deny or obfuscate the transnational Wahhabi and Deobandi Complex of terror which is killing Sunni, Shia, Christians, Yezidis, Kurds, Arabs alike!
******************************************************************************************************
Gunmen from the Somali militant group al-Shabab say they have attacked a bus in northern Kenya, killing 28 people.
The bus was travelling to the capital, Nairobi, when it was stopped in Mandera county, not far from the Somali border.
Gunmen separated out non-Muslims by asking passengers to read from the Koran, officials and witnesses said. Those who failed were then shot in the head.
Al-Shabab has carried out a series of attacks in Kenya since 2011.
A statement on a website linked to the Islamist group carried a statement saying the attack was carried out in retaliation for security raids on mosques in the coastal city of Mombasa earlier this week.
Kenya's interior ministry said on its Twitter feed that a camp belonging to the attackers had been destroyed by Kenyan military helicopters and jets, with "many killed".
Analysis by Anne Soy, BBC News, Nairobi
Mandera shares a long and porous border with Somalia. The area – in fact the region – has been prone to insecurity since Kenya's independence in 1963.
It's a vast arid and semi-arid area that is sparsely populated and characterised by poor infrastructure and very few schools and hospitals. Communities in the north have felt marginalised by the national government for decades.
Guns are readily available due to its proximity to Somalia and the south of Ethiopia where the Oromo Liberation Front is active. Al-Shabab has a base on the Somali side of the border – Gadondhawe – which was recently bombarded by Kenyan warplanes.
It's a confluence of factors that makes it a fertile ground for recruitment by the militant group.
'Point blank'
One of the passengers on the bus, Ahmed Mahat, told the BBC that there were more than 60 passengers on board when it was attacked, before dawn on Saturday, about 30km (19 miles) from Mandera town.
The driver tried to accelerate away, but the vehicle became stuck in mud caused by recent heavy rains, he said.
About 10 heavily-armed men speaking Somali ordered the passengers off the bus.
"When we got down, passengers were separated according to Somali and non-Somalis," Mr Mahat said.
"The non-Somalis were ordered to read some verses of the holy Koran, and those who failed to read were ordered to lie down. One by one they were shot in the head at point blank range."
Some Somalis were shot after pleading with the gunmen to spare non-Somali passengers, Mr Mahat added.
Kenya's Red Cross said emergency workers were trying to retrieve bodies from the scene.
Security agencies were "in pursuit of the criminal gang" that carried out the attack, the interior ministry said. It described the assailants as "bandits".
A local official quoted by Kenyan media said the government had failed to answer their pleas for extra security.
"This place has been prone to attacks," county official Abdullahi Abdirahman told The Daily Nation.
"This is not the first time the government has totally ignored us, and you can now see the how many innocent precious lives have been lost."
Mr Mahat, a teacher from Mandera, said police never came to rescue people from attacks for fear of being ambushed themselves.
Mombasa raids
The attack comes after a week of heightened tension in Mombasa, which has suffered a series of al-Shabab attacks.
Security forces raided mosques in the city, saying they were being used to store weapons. The raids triggered apparent revenge attacks by Muslim youths.
Kenya has experience a series of al-Shabab attacks since it sent troops to Somalia three years ago to help fight the militant group.
Mandera, a remote area in Kenya's north-east that shares a long and porous border with Somalia, has been one of the regions worst-affected by the violence.
On the Somali side of the border, al-Shabab is said to have a base that was recently bombed by Kenyan warplanes. It was not immediately clear whether this was the same base targeted by Kenya following Saturday's attack.
There was unrest in Mandera in June after two clerics accused of belonging to al-Shabab were shot dead. Residents protested that the clerics had no links to the group.
Source:
http://www.bbc.com/news/world-africa-30157581
Sectarian atrocity: 29 Shias killed in Mastung
Forty-five passengers were on board the bus, most of them Shia, which was on its way to the town of Taftan that borders Iran, according to Mastung Assistant Commissioner Shahnawaz Nosherwani. He also confirmed the casualties and injuries.
"The bus was intercepted and attacked using sophisticated weapons and rocket launchers," said driver Khushal Khan, who escaped the attack unhurt. "The attackers asked passengers to step out of the bus and shot them after identifying them as Shias. They continued firing for about 10 minutes and managed to escape in their two vehicles."
Source:
http://tribune.com.pk/story/256419/gunmen-attack-bus-in-balochistan-20-killed/
Kohistan: 25 Shias killed in attack on Gilgit Passenger vans
As many as 25 Shia Muslims have been forced out of a bus and killed in a sectarian attack in northern Pakistan, officials have told the BBC.
The killings took place in a remote and mountainous area about 160km (100 miles) north of the capital Islamabad as the bus was travelling from the city of Rawalpindi to the city of Gilgit.
Source:
http://www.mygilgit.com/blog/2012/08/16/kohistan-25-killed-in-attack-on-gilgit-passenger-vans/
I have another reason for despising Chilas – last summer I decided to take the more scenic route over the Babusar Passon on my way back from Gilgit. The road over the Pass takes one into Naran in the Kaghan Valley and onwards to Mansehra and Islamabad. Our experienced driver, a Shia villager from Bagrote Valley near Gilgit, assured us it was a safe route – and would save us almost 2 hours in traveling time. What's more, he told us it would be a drive we would always remember. His words proved prophetic indeed, for the day after we reached Islamabad, 19 Shia passengers were pulled out from three buses on the same route, and shot dead at around 7 am – the same time we were about to cross Babusar Pass 24 hours earlier. What should have been an amazing memory is forever tainted by the thought of those innocent men killed for merely having a different set of religious beliefs.
Source:
http://www.dawn.com/news/1022046
At least 20 Shias pulled off bus, shot dead in northern Pakistan
Gunmen dragged 20 Shia Muslim travelers off a bus and killed them at point blank range in northern Pakistan on Thursday, the third such incident in six months, officials said.
Local police official Shafiq Gul told AFP that the gunmen were masked, but said the victims were pulled from three separate vehicles in the district, which neighbours the Swat valley, a former Taliban stronghold.
Source:
http://www.dawn.com/news/742618/several-forced-off-buses-killed-in-northern-pakistan