Imran Khan made three big mistakes, the acceptance of LOTAS or turncoats, the support of PCO Chaudhry and excessive support of Taliban. Imran had previously apologized for supporting Noora Judiciary, which must be appreciated. Imran has made his discourse on Taliban more sensible however, there is much room for improvement. The final explosive element in the PTI is the riddance of LOTAS, Javed Hashmi has done the PTI a favor by exposing his true self.
Javed Hashmi must be investigated for his allegations. It is clear who is looking (and has always looked) to diminish the institutions in Pakistan.  Khwaja Asif's statement would have carried some weight only if it had come before the ISPR press release. Imran must have never accepted Javed Hashmi in his party or other LOTAS like him. Very happy to see him go. Good riddance, other such LOTAS and ticking remnants of Zia should be kicked out as well.

This former IJT goon, who was once acquitted in a murder case through a suspicious verdict, supported Zia's Martial Law, joined Zia League, spent his entire political career (27 years) following Nawaz Sharif and left merely for personal reasons.
Where was his conscience when Nawaz Sharif attacked the Supreme Court or Presidency?
https://lubpak.net/archives/321952
Javed Hashmi makes allegations on Imran Khan that he is being used by the Army. It is necessary Javed Hashmi answer some specific questions:
1. Did the Army have a role in election Fraud? Did the Army use Najam Sethi for 35 or more punctures? Did the Army stop Nawaz Sharif and PCO Judiciary for acting on Imran Khan's legitimate and democratic demands to review election results?
2. Did the Army kill 17 innocent unarmed people in Model Town on July 17th?
3. Did the Army pay journalists to create a favourable discourse for Nawaz Sharif?
4. Did the Army hire Gullu Butt and Pomey Butt to vandalize protests?
So where exactly and in what manner is Imran Khan being used by the Army? Let us be specific Javed Hashmi and not use baseless slander.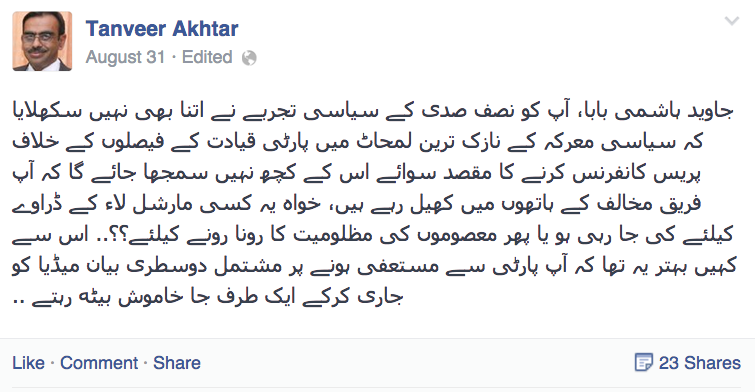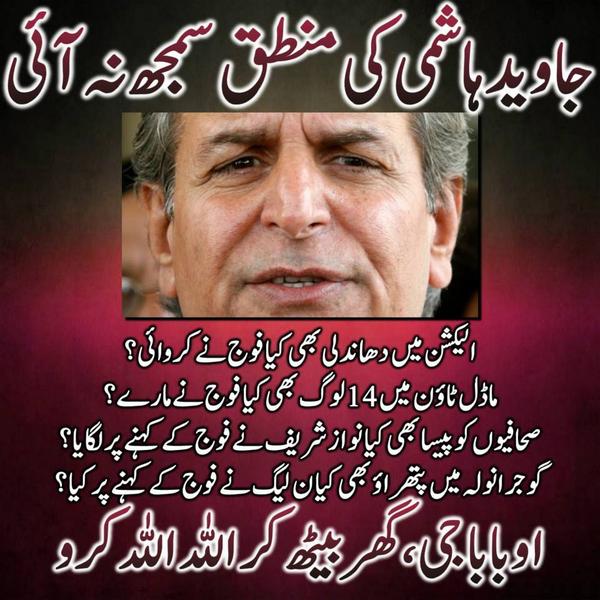 The most important question of all is one of his own credibility. The best questions are the simplest ones:
In this video a worker who marched on the encouragement on Javed Hashmi asks the simple question as to why he was encouraged to march if what Hashmi is saying is in fact true.
Here are two Tweets by Maryam Nawaz Sharif explaining that Javed Hashmi could not be trusted: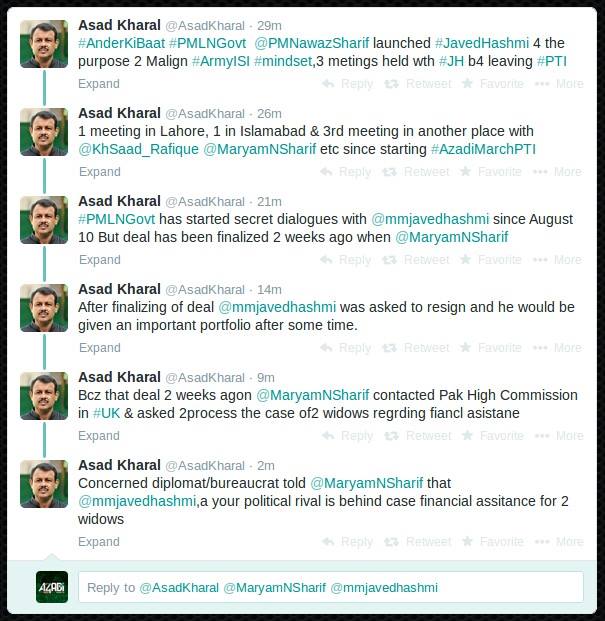 Javed Hashmi is known of his direct connections with the pro Deobandi Taliban part of the Military establishment. General Jilani and Zia used him against the moderate secular Peoples Party of the time. Javed Hashmi was launched against Imran Khan by the same Deobandi establishment when it became apparent that Imran Khan was drifting away from his support for Taliban and seeking an alliance with the moderate Sunni Sufi Brelvi Muslims that make up the majority of Pakistan.
https://lubpak.net/archives/322001
Why did Javed Hashmi speak now?
Simply because Imran Khan was becoming too close to mainstream moderate Sufi Sunni Brelvis which make up the overwhleming majority of Pakistan. Drifting away from the support of the Taliban. The Deobandi establishment peddled out their Takfiri Terror force https://lubpak.net/archives/321557 in support of their blue eyed Nawaz Sharif. When this was not enough:
The Deobandi establishment activated their mole. The timing is curious, it was done to pressurize the anti Deobandi Taliban part of the establishment by Nawaz Sahrif.

Who is Giving Platform to Javed Hashmi to Speak… by zemtv
MULTAN: Javed Hashmi, the Paistan Tehreek-i-Insaf President, on Friday extended his support to Jamaatud Dawa chief Hafiz Saeed on whom the US recently placed $10 millionbounty for his alleged role in the 2008 Mumbai attacks.

Calling him a preacher of peace in the world, Hashmi said, that if something should happen to Hafiz Saeed, then the entire nation will be responsible.

He was addressing a public demonstration organised by the Difa-e-Pakistan Council in Ghanta Ghar  Square in Multan on Friday. The gathering was also addressed by leaders of Jamaat-e-Islami, Lawyers community, Jamat-e-ahl-e-hadees, Ahle-SunnatWal-Jamaat, Jamiat ulema-e-Pakistan, and members of the Pakistan Muslim League-Nawaz.

Leading the ceremony, Hashmi said that he had spent his entire life with Prof Hafiz Saeed and Hafiz Abdur Rehman Makki at university as both were union leaders. They were one of the most pious students in the university, he vouched.

He further said that the services of the 'most wanted' men were for the welfare of the country and can never be forgotten. He said that a social worker can never be a terrorist but all those declaring him terrorist are the real threat to the peace of the world.

"I salute the workers of Jamaatud Dawa and their unity, their passion to fight for the honour of their leader who deserves respect and honour by all the Muslims of the world."

The PTI president revealed that name of Difa-e-Pakistan council had been suggested by Hashmi and Prof. Hafiz Saeed had honoured me by declaring this as the final name of the council.

Hashmi added that in his experience, he found Prof Hafiz Saeed and Hafiz Abdur Rehman Makki always loyal, and dedicated to Islam, Muslim Ummah and Pakistan.

He concluded that every citizen of Pakistan will fight for Prof Hafiz Saeed and will become a Hafiz saeed if something happened to the JuD chief.

Hashmi further added that he had resigned from the parliament only because it had become the slaves of US, which like India, worked against the interests and people of Pakistan.

The participants in the gathering raised slogans against Obama, Hilary Clinton and United States and vowed their complete support to Hafiz Saeed and Jamaatud Dawa.

http://tribune.com.pk/story/360825/javed-hashmi-backs-most-wanted-hafiz-saeed-hafiz-abdur-rehman-makki/