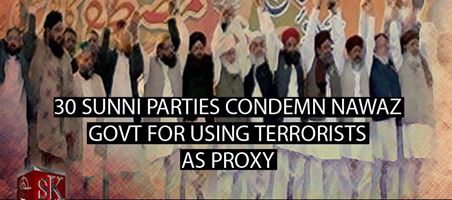 Officials of following parties and groups attended a hurriedly called meeting to discuss course of action against the Nawaz Sharif government:
Jamaat-e-Ahl-e-Sunnat, Jamiat Ulema-e-Pakistan (Niazi), Sunni Ittehad Council, Sunni Tehrik, Tahaffuz-e-Namoos-e-Risalat Mahaz, Tehrik-e-Minhaj ul Quran, Sunni Ulema Board, Mustafai Tehrik, Anjuman Talba-e-Islam, Anjuman Naujawanan-e-Islam, Tehrik-e-Nifaz-e-Fiqh-e-Hanafia, Pakistan Falah Party, National Mashaikh Council, Anjuman Talba-e-Madaris-e-Arabia, Markazi Majlis-e-Chishtia, Mahaz-e-Islami, Difa-e-Islam Mahaz, Anjuman Khuddam al Auliya, Bazm-e-Mohaddis-e-Azam, Janisaran-e-Khatm-e-Nubuwwat, and other groups
They said that banned terrorist groups were trying to spark-off sectarian clashed by provocative actions and words. They warned that character assassination of Allama Dr Tahir ul Qadri would not be tolerated. They urged the government to ponder upon the legitimate demands of the Revolution March and accept them instead of prolonging the crisis.
اہل سنت کی 30 جماعتوں کا حکومت پر اظہار تشویش اور انقلاب مارچ کی مکمل حمایت کا اعلان
انقلاب مارچ کے خلاف کالعدم فرقہ پرست تنظیموں کے مظاہرے تشویشناک ہیں، حکومت سیاسی جنگ کو فرقہ وارانہ جنگ میں تبدیل نہ کرے۔ حکمران دہشت گرد تنظیموں سے طاہر القادری کے خلاف جلوس نکلوا کر آگ سے کھیل رہے ہیں۔