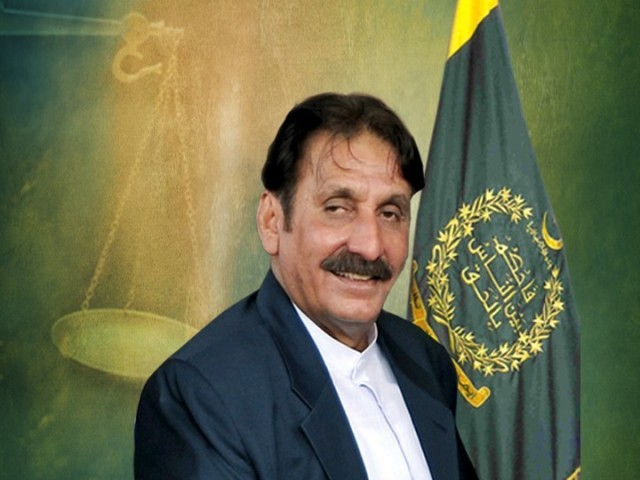 Related posts: White Paper on CJ Iftikhar Chaudhry (Part 1): Pakistan Steel Mills' privatization and its impact on the economy – See more at: https://lubpak.net/archives/293679
White Paper on CJ Iftikhar Chaudhry (Part 2): Removal, Reinstatement, Emergency 2007 and PCO Cleansing – See more at: https://lubpak.net/archives/293855
Justice (retired) Yasmin Abbasey's petition against CJP Iftikhar Chaudhry https://lubpak.net/archives/293687
It is all but natural that when someone is on his way out, pieces eulogizing him and his period are published. Iftikhar Muhammad Chaudhry, a man who has directly intervened with his vindictive behavior over a period of eight years has been a darling of pakistan's right wing media and the so called liberal elite. Some used to consider a messiah and for some he was a beacon of hope. We at LUBP have never liked his actions and have written hundreds of articles against his actions, remarks and judgments and have criticized the "lawyers movement" which was nothing but a way to destabilize Pakistan by creating a ruthless, without reins and senseless state within the state.
Jang Group, Pakistan's without doubt the largest media group, also has the biggest presence of right wing, anti democratic media men in its midst. For their repeated attacks on pakistan's state and democracy, they have masked behind the person of Iftikhar Muhammad Chaudhry for the period of last eight years in general and six years in particular. Their journalists-cum-ISI-cum-Taliban spokesmen in the form of Ansar Abbasi, Kamran Khan, Shaheen Sehbai, Hamid Mir, Ahmed Noorani, Umar Cheema, Usman Manzoor, Waseem Abbasi etc have repeatedly come up with reports fed to them through quarters that wanted to disturb Pakistan, which were used in verdicts and judgments by Iftikhar Muhammad Chaudhry. Leading Lawyers Movement lights like Ali Ahmed Kurd and Justice Tariq Mehmood are on record saying that it seems that the judges read news report and watch TV shows and run their courts based on them. They generalized. We specifically claim that Iftikhar Muhammad Chaudhry would only watch Geo News and read Jang while someone would read The News to him. He was incapable of reading English and deciphering the message in the language!
With less than a week in his retirement, one can see Jang Group's efforts in terming Iftikhar Muhammad Chaudhry's era a golden era. In a  eulogizing piece in The News on December 7, 2013, penned by Usman Manzoor, he has come out with a literal advertisement supplement for Iftikhar Muhammad Chaudhry. The interviews in the piece are of people who have directly or indirectly benefitted from Iftikhar Muhammad Chaudhry's times. The people cited are:
Saeeduzzaman Siddiqui –  referred to as a person who refused to take oath under Musharraf's PCO. He didn't mention that Saeeduzzaman Siddiqui took oath under Zia ul Haq's PCO of March 24, 1981. Saeeduzzaman Siddiqui was also a Presidential Candidate in the 2008 elections as a nominee of PML-N. in essence, any virulent remarks against the previous government by Saeeduzzaman Siddiqui went in favor of PML-N and of course, Iftikhar Muhammad Chaudhry
Wajihuddin Ahmed – currently a member of Pakistan Tehreek-e-Insaf and a twice presidential candidate in 2007 and 2013 elections.
Tariq Mehmood – was a leading light of the Lawyers Movement, but when he saw the swaying of the court, became a critic but always balanced his critique.
Athar Minallah – a direct beneficiary of Iftikhar Muhammad Chaudhry and was even at time a chauffeur in his movement from one place to another
The Golden Era was more about the exercising of powers under Article 184 (3) of the constitution, popularly known as "Suo-Moto". Some of his cases that were cited by Usman Manzoor are as follows:
the Karachi violence case;
Balochistan issue;
the NICL scam;
Haj scam;
the case involving lynching of two brothers in Sialkot;
Evacuee Trust Property Board case;
Bank of Punjab case;
Sindh land allotment cases;
Federal Government Housing Foundation land scam;
missing persons' case;
Punjab land allotments;
Steel Mills scandal;
loans write-off case worth Rs256 billion;
Pakistan Cricket Board case involving Rs7 billion
case of sugar price issue,
Carbon Tax suo moto notice,
Musharraf's electricity theft case,
alleged corruption of former attorney general and former Governor Punjab Latif Khosa,
SC ordered Punjab to reinstate ad hoc lecturers in three days,
Murree Gas Pipeline Project involving Hamza Shahbaz.
public flogging of a girl in Swat;
promotions of 54 officers of Grade 21
Can anyone remember the outcome of any of these cases? Yes they all made headlines but what relief was given to the public? How did corruption end? Let's look at the outcome of some of the cases:
–       Sugar Prices: the court took an extraordinary price control mechanism that was based on what formula, only Iftikhar Muhammad Chaudhry knows. They announced a price of Rs. 40 per kilo for Sugar in 2009. Off course the concept of demand versus supply was completely thrown out of the door but one thing became for sure, prices of sugar have and now will never go below Rs. 40 per kilo
–       NICL, Haj, Rental Power, OGRA Scams: does anyone recall any conclusion in these cases? They were used to lambast the PPP and did the trick. Who cares if justice was served or a verdict given. Oh yes, in the Rental Power Case hearing on January 15, 2013, when there was a sit in by Tahir ul Qadri in Islamabad, the CJ roared "Arrest everyone even if it includes the Prime Minister". What happened was frenetic. The KSE-100 index fell like a pack of cards within minutes, losing 586 points or 3.25% of the market capitalization that's like Rs. 180 billion in a span of seconds. What happened after that? Did he have the guts to have a Prime Minister arrested. Being a bully, he just wanted to make headlines at the cost of the state and the people
–       Promotion of 54 officers: the Prime Minister is the competent authority as per rules of the executive to appoint and promote officers in the bureaucracy. There is a promotion board that screens officers and recommends promotions from one pay scale to another. The Prime Minister acts on the advice or decides on his own. Afterall, a leader is authorized to have his team to deliver. Instead, a disgruntled officer went to court and got a stay order and Iftikhar Muhammad Chaudhry ordered a review of the appointments, instead of suggesting the government to change the rules. On the other hand, in appointment of judges, Iftikhar Muhammad Chaudhry circumvented all rules in order to have an upper hand. Does one remember the issue of Saqib Nisar and Asif Saeed Khosa's ascension to the Supreme Court while keeping Khwaja Sharif in Lahore High Court? That's what is called "Doosron ko naseehat, khud ko faseehat".
–       Balochistan and Karachi Issues: other than threatening to call the FC, Rangers and Police heads, one saw the court going off on a tangent and touching subjects which were not under review. Did the problems get resolved because of his hearing? Instead, Iftikhar Muhammad Chaudhry demanded that he receive a daily report from the IG of Police. Will they work or write daily reports?
–       Steel Mills Scandal: one has to have the balls to even hear a Steel Mills scandal. It is because of Iftikhar Muhammad Chaudhry that Steel Mills privatization was stalled and with it the entire privatization program of the state. Instead, the state has pumped in more than Rs 100 billion to keep the Steel Mills afloat. One has to demand that Iftikhar Muhammad Chaudhry pay for his actions through deduction of his pension and retirement benefits
–       Carbon Tax: the state reeling from deficit implemented the Carbon Tax after getting it approved from the parliament in the Finance Bill. Who cares about the supremacy of parliament.
–       Arsalan Iftikhar Case: in order to save his son, he harassed TV channels, PEMRA, issued gag orders, ask NAB not to investigate. Best was that he said that he has thrown Arsalan out of his house. Oh yes, a few months later, the able son and the monstrous father had reconciled! Such is the memory loss of our Iftikhar Muhammad Chaudhry lovers!
–       Makro Land Case: my most favorite judgment. In order to appease the English reading class, in a petition filed  by the late Ardeshir Cowasjee, who hated the PPP like a bane of his existence, the Supreme Court in December 2009 ordered that a piece of land earmarked as a playground, on a world class hypermarket had been established, be torn down and reverted back to its original shape. Yes, on the maps, the land was earmarked as a playground but in reality, it was a waste dumping ground. One wasn't sure if Iftikhar Muhammad Chaudhry wanted the land to be reverted back to a "Kachra Kundi". This is what one can expect from a waste of a man!
The list is endless. One can keep dissecting this man who is single handedly responsible in creating a imbalance in the state. He has lived on because of the support our right wing, democracy hating media has provided. They were the able "Jannisar" of Iftikhar Muhammad Chaudhry. Let's see how many have the courage to call a spade a spade and highlight the crimes of Iftikhar Muhammad Chaudhry in their columns and programs.
Just like the "Golden Era" of Ayub Khan never came again, we hope and pray to the Almighty that this Golden Era of Judiciary never comes and blesses the people of Pakistan again!
Golden era of judiciary was seen under CJ Chaudhry, say experts

The News, December 7, 2013

Usman Manzoor

ISLAMABAD: Top constitutional experts of the country say Chief Justice Iftikhar Muhammad Chaudhry's was the golden era in the history of Pakistan in which the superior judiciary not only took an unprecedented stance against a military ruler but also recovered looted money worth billions of rupees.

Besides this, the common man had only one ray of hope, i.e. the superior judiciary as in 2011 alone, 150,000 applications were received by the Supreme Court sent by ordinary citizens to exercise its powers under Article 184 (3), a proof of people's trust in the superior judiciary.

Voices are being raised against the suo moto notices taken by the Supreme Court but the record of the court and failure of the successive governments show that had there been no suo moto notices, there would have been no institution in the country to curb corruption.

In a country where the governments resort to and then hide corruption and where the Federal Investigation Agency is tamed, there is only one institution, the Supreme Court, which has taken a stand against corruption, injustices, police brutalities and appointments of incompetent people on lucrative posts.

The superior judiciary since its restoration in 2009 has taken up cases involving over Rs400 billion and has saved billions, which had almost gone into the pockets of the powerful and mighty. This is apart from the NRO cases that involve another Rs175 billion of looted money.

The record of the Supreme Court and high courts shows that the governments had done little to curb corruption and in fact they have been using the state machinery to hide corruption. In addition to suo moto notices taken in numerous human rights cases, cleansing the superior judiciary of the likes of Dogar and removing constitutional distortions introduced by General (retd) Musharraf and his hand-picked judges, the Supreme Court since March 2009 has so far picked up for hearing corruption cases, illegal and controversial allotments of the state land at throwaway prices, fraudulent bank loaning and other financial matters involving billions of rupees.

These cases were taken up at a time when there were reports of worst kind of corruption in government institutions. Constitutional experts opine that the judiciary under Justice Iftikhar Chaudhry was among the best in the world keeping in mind the ground realities of Pakistan.

Former chief justice Saeeduz Zaman Siddiqui, who refused to take oath under Musharraf's first PCO, while commenting on the judiciary under Chief Justice Iftikhar Chaudhry said whatever the Supreme Court had done had no parallel in the history of Pakistan. The apex court has taken up some cases of very important nature, however, in some cases the Supreme Court should have referred them to the lower courts, as they were not of an important nature.

About the original jurisdiction of the apex court, Justice Siddiqui said that there was no proper definition of the jurisdiction of Article 184(3). However, he said one has to lay down some policy about the exercise of Article 184(3) as to where it should be used.

Justice (retd) Wajihuddin Ahmed said every country has different ground realities. Keeping in view the ground reality of Pakistan, the apex court has not crossed its limit in exercising its powers, he claimed. He wondered why the international community only highlights the rights of minorities. In Pakistan, he said, the basic rights of the majority are also being violated.

Justice (retd) Tariq Mehmood, while talking to The News, said that there was no set formula as to where to exercise Article 184 (3) and where to avoid it. However, he said there were certain cases where the courts a took long time but in the end no result was produced. Hence, the courts should take up other cases of important nature which are pending for quite a long time.

Athar Minallah, while commenting on Chief Justice Iftikhar Muhammad Chaudhry's tenure, said that the era of Chief Justice Iftikhar Muhammad Chaudhry was remarkable in the judicial history of Pakistan.

He said there was a need for an improvement in the judicial system of Pakistan as the basic task of the apex court was to dispense justice, which should be obvious to everyone. The Article 184(3) delegates the power to the Supreme Court of Pakistan, which should be used accordingly as per the need and importance of the matter.

Senior lawyer Ikram Chaudhry said that the tenure of Iftikhar Muhammad Chaudhry is a golden era in which we have seen the rule of law and supremacy of the Constitution. Not only this, it was the Supreme Court which curbed the menace of corruption. He said that the judiciary under Iftikhar Muhammad Chaudhry brought positive changes in the country, which in the long run would be helpful for the nation.

The list of cases taken up by Chief Justice Iftikhar Chaudhry is very long. Some important cases are mentioned here: the Karachi violence case; Balochistan issue; the NICL scam; Haj scam; the case involving lynching of two brothers in Sialkot; Evacuee Trust Property Board case; Bank of Punjab case; Sindh land allotment cases; Federal Government Housing Foundation land scam; missing persons' case; Punjab land allotments; Steel Mills scandal; loans write-off case worth Rs256 billion; Pakistan Cricket Board case involving Rs7 billion.

The Supreme Court also did not spare the plaza owners of Lahore and ordered dismantling of illegally-constructed plazas. The SC also took up the case of sugar price issue, Carbon Tax suo moto notice, Musharraf's electricity theft case, alleged corruption of former attorney general and former Governor Punjab Latif Khosa, SC ordered Punjab to reinstate ad hoc lecturers in three days, Murree Gas Pipeline Project involving Hamza Shahbaz. The Supreme Court also took notice of public flogging of a girl in Swat; another important case of promotions of 54 officers of Grade 21 was also heard by the SC.Besides, dozens of suo moto notices for recovery of abducted persons have also been taken