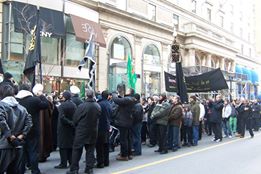 Ali Taj : Once a wolf entered a village an created havoc. The village elders ordered preparation of a very, very large cage. When the cage was ready, all the villagers were invited to attend its inauguration. Expecting that now attempts will be made to to entrap and cage the wolf, they were somewhat surprised when the elders asked all of them to enter the cage, so that they could be locked in and protected from the wolf. But they chanted "Pakistan Zindabad" any way. You see, the name of their village was Pakistan. This is the only reason such disturbances are staged. To stop the Azadari, a step in the wrong direction.
https://lubpak.net/archives/291353
Syed Riaz Malik Hajjaji : Listen, listen, I will let you in on a little secret. These Julooses are a real heartache to both the Taliban and their closet supportors in Honda Civic Society and Tonga Commie circles. For the Taliban, the Rafidis beating themselves is symbolic to rejection of the Righteous Reign of Caliph Yazeed Bin Muawiya and his victories and destruction of Karbala rebels, Kaaba and Masjid-e-Nabavi. The Good Governance of Caliph Yazeed made him see that the architecture of Masjid-e-Nabavi was better suited for a Stable. Also, Honda Civic Society and Tonga Commies also dislike the Julooses because it reminds them that they are delaying their Revolution which would entail that they leave their Lattes and step outside the confines of Lahore and Karachi Press Clubs. But if we put restrictions on religious organizations and Madrasses (from which the Sipah Sahaba Taliban will obviously be exempt wink wink PML N, Hazrat Iftikhar) that will still not stop these pesky Julooses that have Shias, Mushrik Sunnis, Hindus, Trans Genders, Atheists who all have this wierd fascination with Karbala Rebels. It has to do with sick concepts such as Universal Hero or something to that effec
Judas Sunnis who are labelled as "Mushrikeen" by Righteous Comrades of Sipah Sahaba Taliban are also doing horrible things by taking out Love and Peace Juloos for Holy Prophet. The only Juloos that Taliban, Sipah Sahaba and Honda Civic Society is comfortable with is Jhangvi Juloos to commemorate the Righteous Reign of Caliph Yazeed. You will not see much Opposition to Jhangvi Juloos from Honda Civic Society aka Civil Society of Pakistan – who ushered in Golden Reign of Abu Arsalan aka Hazrat Iftikhar Chaudhary. Honda Civic Society loved the those Julooses taken out to support Abu Arsalan – The Friend of the Taliban (as recently admitted by them) and the Liberator of Lal Masjid, Hafiz Saeed, Malik Ishaq and Dr. Arsalan Ibne Iftikhar!
Also Julooses by Pro Taliban Youthias in Karachi against MQM is also Ok. Only Juloos for Karbala Rebel Hussain by Shias/Mushrik Sunnis/Hindus and Juloos for his Nana by Mushrik Sunnis/Shias are bad. Rest ok.
The best way to protect freedom is to lock it up forever! That is the moral of this discussion.