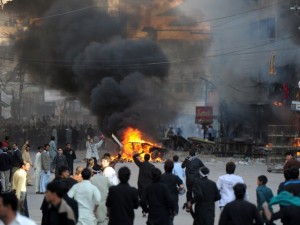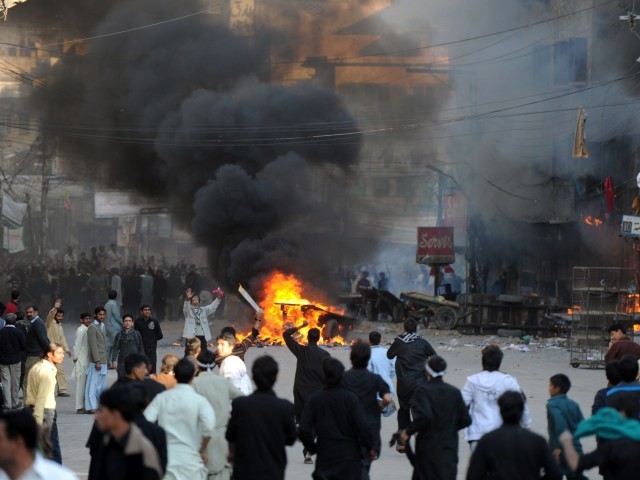 By: Special Investigative Reporter
In Rawalpindi District of Punjab at least 10 people were killed and 55 were injured in clashes between Shia and Deobandis near Raja Bazar when mourning procession of 10th Muharum was passing in front of a Deobandi religious seminary Jamia Taleem-ul-Quran.
Our Special Investigative Reporter talked to some officials of Security branch, special branch and intelligence bureau in Rawalpindi who revealed that their agencies were aware of a piror plan of banned terrorist outfit Sipah Sahaba that is currently working in the name of Ahle sunnat waljamat(ASWJ) Rawalpindi section. Security agencies have received solid information from their sources inside organization that Deobandi cleric head of Jamia Taleem-ul-Quran had called workers of banned outfits in seminary and plan was to attack and disperse the mourning procession when reached near seminary. Officials told me that their official reports were sent to District coordination officer Rawalpindi and District Police Officer and Home Department Punjab. Punjab Chief Minister Shahbaz Sharif was fully aware of the Deobandi plan to provoke and attack the Ashura procession of Shia and Sunni Barelvi Muslims.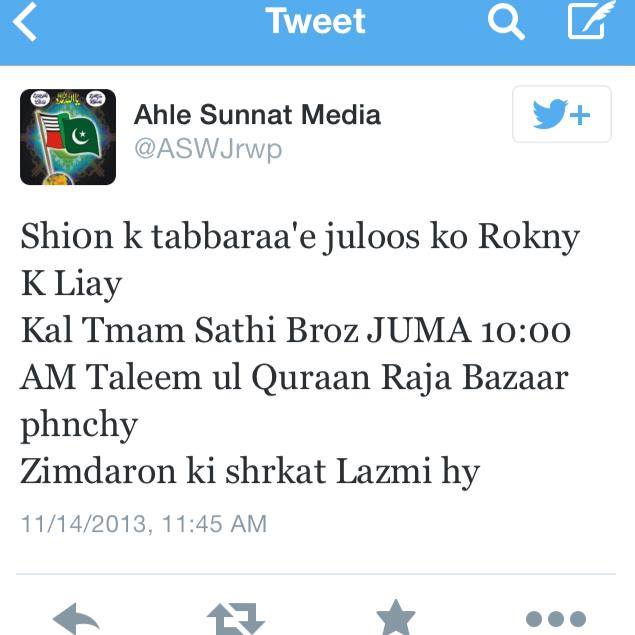 An Officer from Military Intelligence who was present in the Ashura mourning procession near Deoabanid seminary told  that Deobandi Cleric Head of Jamia Taleem-ul-Quran was calling Shia as Infidels and  their procession as non-Islamic act and violating the amplifier act but no law enforcement agency of Punjab government tried to stop or arrest him. There were many workers armed with assault rifles AK47 in compound of Deobandi seminary according to that officer of Military Intelligence.
"I was surprised to see only two police men appointing in front of that seminary and police department of Rawalpindi did not take action against those persons who were gathered there with prohibited arms openly" Said an official of Special Branch of Rawalpindi district.
A local senior Journalist told  that Deobandi network of ASWJ had been expanded and growing since Nawaz league came in power and District administration is not interested in restricting or ban activities of banned outfits. He revealed that whenever any station police officer tried to take action against such activities faced pressure from high ranks of Police and received threats from banned outfit.
In fact there is unannounced agreement between Punjab Government and ASWJ and this agreement was made due to mediation of provincial Law Minister Sanaullah who is godfather of deobandi terrorist organizations and groups.
Some insiders in Provincial Government says that cleric Zahid Muhamoud Qasmi Deobandi who is now General Secretary of Pakistan Ulema Council (actually this another mask of Deobandi takfiri clerics who have strong relations with ASWJ ,LEJ,TTP and are very close to Rana Sanaullah)is man of Sanaullah who played central role in setting up of close connection between Sanaullah and deobandi terrorists. Qari Zahid Muhmoud Qasmi is son of Late cleric Ziaullah Qasmi who was Chairman of supreme council of banned Spiah Sahabah Pakistan (SSP)and one of founding father of that organization.Qari Zahid Qasmi is running a network of land grabbers in Faisal Abad and he had tried to grab a land reserved for Bralvi sunni seminary in Faisal Abad and its goons had opened fired on Milad Procession and police administration had not taken any action against him due to pressure of Law Minister which angered Sahibzada Fazal Karim Chairman of Sunni Itehad Council and M.N.A from Muslim League.Sahibzada Fazal Karim first tried to convince Sharif Brothers to curb growing influences and control of deobandi terrorists on PMLN government in Punjab and partisan role of Sanaullah but in vain.When Sahibzada Fazal Karim realized deepened connection between Sharifs and deobandi terrorists then he parted his ways from Sharif brothers and he united Sunni bralvi organizations in the name of Sunni Itehad council which had mad an alliance with PMLQ and PPP in recent election against PMLN but he died during election and now his son Hamid Raza is Chairman of Councils.
Sahibzada Hamid Raza head of Sunni Itehad Council told this reporter in his recent conversation that PMLN is supporting Deobandi terrorists in Punjab and in PMLN there are strong lobbies of deobandi and he revealed that main supporters of ASWJ in PMLN are Rana Sanaullah law ministers of Punjab,Speaker Rana Iqbal,Education Minister Rana Mashehood,Rana Hayat of Qasur District of Punjab including many M.N.As and MPAs of Pakistan Muslim League Nawaz. He said that Chief Minister Shehbaz Sharif and Prime Minister Nawaz Sharif were convinced that they and their families were being protected from deobandi terrorists due to that lobbies and they both were patronizing that lobbies.
Another bad development in Punjab administration is that split along side sectarian lines in hierarchy of law enforcement agencies have been deepened and this split is creating more hurdles in handling of growing militancy and sectarianism in Punjab. There are many reports of intelligence agencies which show this deepened split in provincial administration along side of sectarian lines. Some well informed officials of intelligence agencies says that even in intelligence operatives this split is also taking shape and place which is more dangerous.
LUBP, New York Times and some other reliable media outlets have been published many stories about alleged links between PMLN and Deobandi sectarian ,banned takifiri deobandi elements but still main stream Pakistani Media is censoring these fact and revelations.
Most sectarian terrorist incident against Shia, Christians, Sunni Barelvis and Ahmadis were happened due to alleged connections between Deobandi terrorists and Government of PMLN and there were local law enforcement officials who supported and helped deobandi terrorists and paved way for violation against non deobandi religious communities.
Recently Punjab Police had arrested Sibghatullah Muawia Deobandi, brother of head of Punjabi Taliban Ismatullah Deobandi, in ransom crime but soon he was released as Dawn news has reported on 15/11/2013.
Punjab has become safe havens for Deobandi terrorists and extremist outfits. Deobandi militant group Ahl Sunnat Waljamat (ASWJ) has expanded its network at grass root level and has become a cover for terrorists acting against non Deobandi sects. This organization is spreading hate and insulting views about Shia, Sunni Barelvi, Ahmadi and other religious minorities. Strategy of this extremist organization is provoking other communities and paving way for full sectarian based civil war between Shia and deobandi school of thoughts. Its main propaganda cell is proliferating such disinformations and wrong messages about three Caliphs which can instigate Sunni Bralvis against Shia."We are well aware of conspiracies of Deobandi Khawarijs who want to see a full civil war between Sunni and Shia" Said Sahibzada Hamid Raza head of Sunni Itehad Council while talking to this reporter.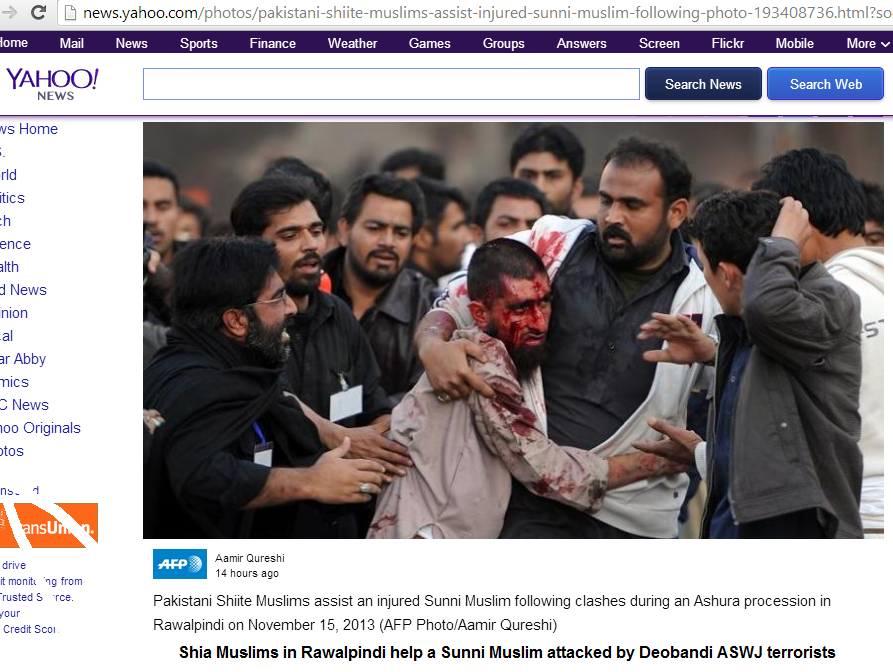 Picture source: http://news.yahoo.com/photos/pakistani-shiite-muslims-assist-injured-sunni-muslim-following-photo-193408736.html?soc_src=mediacontentphoto