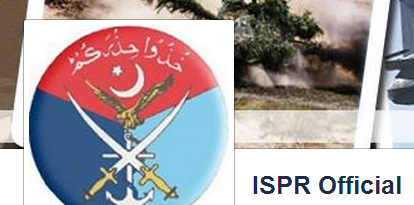 Let Us Build Pakistan (LUBP) team lauds Pakistan army on its clear condemnation of banned Deobandi terrorist outfit Tehreek-e-Taliban Pakistan (TTP) and those fifth columnists within Pakistani media and society who are acting as helpers and apologists of Taliban terrorists, the enemies of Pakistan.
In a strong statement, Pakistan Army's Inter Service Public Relations (ISPR) condemned Jamaat-i-Islami (JI) Chief Syed Munawar Hassan's statement in which he had described slain Deobandi TTP terrorist Hakeemullah Mehsud as a Shaheed (martyr) and also said that Pakistan Army personnel killed while fighting "War on Terror" with TTP-ASWJ terrorists cannot be martyrs.
While we disagree with the appreciation of Maulana Maududi in ISPR's statement because Maududi's opposition to Pakistan movement and his role in spreading religious extremism and intolerance in Pakistani society cannot be ignored, we, however, encourage ISPR to translate its words into action and start urgent operation clean-up against those sections in Jamaat-e-Islami, Sipah-e-Sahaba (ASWJ) etc who remain sympathetic to Taliban, Al Qaeda, Lashkar-e-Jhangvi and other terrorist outfits. It may be recalled that Maududi was sentenced to death by military tribunal on charges of sedition in 1953.
ISPR should also take note of and take action against promotion of notorious TTP terrorist Hakeemullah Mehsud and other Takfiri clerics by certain fifth columnists in Pakistani media, politics and religio-political organizations.
In particular, the ISPR's statement condemns Jamaat-e-Islami leader Munawar Hasan's statement in which he had described the slain terrorist Hakeemullah Mehsud as a Shaheed (Martyr) while ridiculing and insulting sacrifices offered by thousands of Pakistan army men, policemen and civilians killed by TTP-ASWJ Takfeeri Deobandi terrorists.
Rawalpindi – November 10, 2013:
A spokesman of ISPR strongly condemned the irresponsible and misleading remarks by Syed Munawar Hassan in a TV programme, declaring the dead terrorists as shaheeds while insulting the shahadat of thousands of innocent Pakistanis and soldiers of Pakistan's armed forces. Syed Munawar Hassan has tried to invent a logic based on his political convenience. Strong condemnation of his views from an overwhelming majority leaves no doubt in any one's mind that all of us are very clear on what the state of Pakistan is and who are its enemies.
Sacrifices of our shuhada and their families need no endorsement from Syed Munawar Hassan and such misguided and self-serving statements deserve no comments. However, coming from Ameer of the Jamat-e-Islami, a party founded by Maulana Maududi, who is respected and revered for his services to Islam is both painful and unfortunate.
The people of Pakistan, whose loved ones laid down their life while fighting the terrorist, and families of shuhada of armed forces demand an unconditional apology from Syed Munawar Hassan for hurting their feelings. It is also expected that Jamat-e-Islami should clearly state its party position on the subject.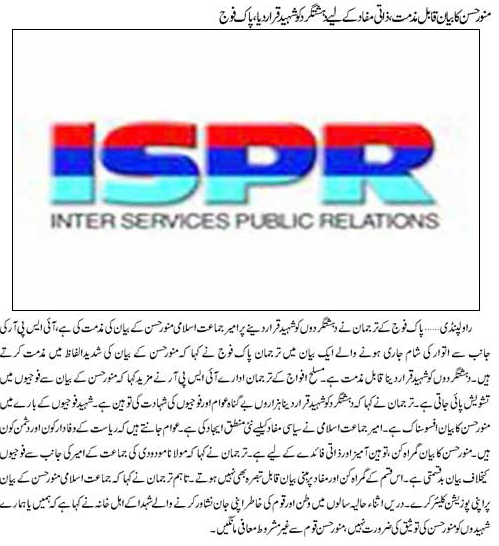 پاک فوج کے ترجمان نے دہشتگردوں کوشہیدقراردینے پر امیر جماعت اسلامی منورحسن کے بیان کی مذمت کی ہے ،آئی ایس پی آر کی جانب سے اتوار کی شام جاری ہونے والے ایک بیان میں ترجمان پاک فوج نے کہا کہ منورحسن کے بیان کی شدیدالفاظ میں مذمت کرتے ہیں۔دہشتگردوں کوشہیدقراردینا قابل مذمت ہے۔مسلح افواج کے ترجمان ادارے آئی ایس پی آر نے مزید کہا کہ منورحسن کے بیان سے فوجیوں میں تشویش پائی جاتی ہے ۔ترجمان نے کہا کہ دہشتگردکوشہید قراردیناہزاروں بے گناہ عوام اورفوجیوں کی شہادت کی توہین ہے۔شہیدفوجیوں کے بارے میں منور حسن کا بیان افسوسناک ہے۔امیر جماعت اسلامی نے سیاسی مفاد کیلیے نئی منطق ایجاد کی ہے۔عوام جانتے ہیں کہ ریاست کے وفا دار کون اور دشمن کون ہیں۔منور حسن کا بیان گمراہ کن ،توہین آمیز اورذاتی فائدے کے لیے ہے۔ترجمان نے کہا کہ مولانامودودی کی جماعت کے امیرکی جانب سے فوجیوں کیخلاف بیان بدقسمتی ہے۔اس قسم کے گمراہ کن اورمفادپرمبنی بیان قابل تبصرہ بھی نہیں ہوتے۔تاہم ترجمان نے کہا کہ جماعت اسلامی منورحسن کے بیان پراپنی پوزیشن کلیئر کرے۔دریں اثناء حالیہ سالوں میں وطن اور قوم کی خاطر اپنی جان نشاور کرنے والے شہداکے اہل خانہنے کہا ہے کہ ہمیں یا ہمارے شہیدوں کو منورحسن کی توثیق کی ضرورت نہیں،منور حسن قوم سے غیر مشروط معافی مانگیں