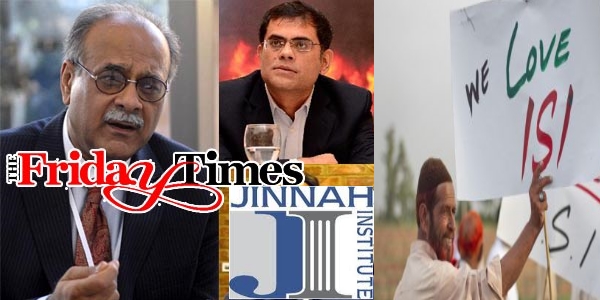 Compare these two versions of the same article on drone attacks on Taliban hideouts in FATA, published by The Friday Times and Viewpoint Online.
Viewpoint: A Case for Drones and Islamic University Lecturer involvement in the highly flawed Amnesty report http://www.viewpointonline.net/site/component/content/article/38-bottomnews/3463-a-case-for-drones.html
The Friday Times (TFT) Blog http://www.thefridaytimes.com/tft/buzz-word/
According to our sources, freelance researcher and blogger Anas Abbas wrote an article on drones, and sent to The Friday Times blog (edited by Najam Sethi and Raza Rumi) for publication.
However, the author recently revealed on social media:
"Not only TFT published an incomplete version (3 full paras and some important points missing) but they gave my conclusion a deliberate spin to blame everything on civilian governments rather than Pakistani Army. All my criticism against elite Leftwing (and liberal) alliance with Pakistani Islamists was deleted….Thanks Viewpoint for publishing my Drone article in verbatim."
The Friday Times blog omitted the author's criticism of Pakistan army backing anti-drone lobby, Jemima Khan the leftist and why Hakimullah Mehsud Deobandi of TTP died only one km away from Pakistan army headquarters. TFT blog deleted 1500 words from the author's original piece and gave his opinions a spin to blame everything on civilian governments, not military.
Here are weblinks to two versions to show that TFT omitted all criticism against Pakistan army, pseudo-leftists and pseudo-liberals and blamed the civilians.
Viewpoint Online: http://www.viewpointonline.net/site/component/content/article/38-bottomnews/3463-a-case-for-drones.html
TFT Blog http://www.thefridaytimes.com/tft/buzz-word/
Since TFT blog is notorious for post-publishing manipulations, we are reproducing the full text of the army-friendly TFT version, edited by Najam Sethi and Raza Rumi:
Source: TFT Blog

Buzz word
An assessment of Amnesty's anti-drone report
Anas Abbas

TFT Issue: 08 Nov 2013

26
0 0 0

The death of the TTP leader in a drone attack last week did not take place in a dingy cave or an underground bunker, but right outside his plush marble floored farmhouse with green lawns and an imposing minaret, not too far from a military headquarter.

The strike is proof that missiles fired by pilotless aircraft are precise and useful weapons against terrorism. When slain journalist Saleem Shehzad met Al Qaeda leader Ilyas Kashmiri in October 2009, he noticed that the only thing the terrorist network was afraid of were drones. Like many of his comrades, Kashmiri was killed in a drone attack in June 2011.

Because of the legal questions surrounding this new weapon of war especially made pertinent by the reported deaths of civilians, human rights organizations have questioned their use.

If drones can be heard, why don't Al Qaeda and Taliban leaders hide before they are struck?
A recent report issued by Amnesty International criticizes the US drone policy and says some of these attacks were war crimes. The methodology of this report is strikingly similar to the report issued in 2012 by Stanford and NYU researchers assisted primarily by the Islamabad-based Foundation for Fundamental Rights (FFR). The FFR is headed by an Islamic University lecturer Mirza Shahzad Akbar, who is also a lawyer and an anti-drone activist. He has represented alleged drone victims in court, including people featured in the recent Amnesty report. Shahzad made headlines two years ago when he blew the cover of CIA station chief in Pakistan Jonathan Banks in a press conference.

The two reports have several things in common:

1) The lists of victims of drone attacks used in both the reports have been provided by Mirza Shahzad Akbar.

2) Both the reports admitted facing challenges in assessing the truth of the claims of the alleged victims, and their data collection methods are not convincing.

3) Researchers in both the reports did not get access to North Waziristan in order to independently verify facts. The Amnesty report claims that they got partial access to South Waziristan but under the supervision of Pakistan Army, which is known to have opposed drone attacks.

4) The witnesses in both the reports claim hearing the buzzing of drones carrying out surveillance operations overhead.

The involvement of Mirza Shahzad Akbar, the lawyer of drone victim Rafiq Rehman who testified before the US Congress and also happens to be the subject of the case study used by the Amnesty International report, questions the credibility of these reports. Both of them relied on the FFR for accessing and interviewing drone attack victims, despite the apparent conflict of interest. Why would such an organization provide access to the perspective of residents who favour drone attacks or question the claims of those who oppose them?

The validity of the claims of the some of the interviewees in the Amnesty report (which describes itself as a "qualitative assessment") is especially doubtful because they said they could not sleep because of the constant buzz of drones flying overhead. American military correspondent David Axe questions this claim in an article titled Dear Amnesty International, Do You Even Know How Drones Work?

"Predators and Reapers spend most of their time at altitudes where they are generally inaudible," he says. "It's for that reason that the US Army used Predators in Iraq to orbit over insurgents' meetings, striking them only after all the fighters had gathered together". He quotes US Army Gen Raymond Odierno as saying on TV that a Predator flies at about 10,000 feet, and the insurgents cannot hear it. That is in line with their primary goal – so spy. "So what are the Pakistanis in the tribal region seeing and hearing?" asks Axe.

If the drones can be heard, why don't Al Qaeda and Taliban leaders hide before they are struck?

Liberal anti-war activists in the world have led the world to believe that all Pakistanis oppose drone attacks. That is not true. A large number of Pakistani people, and civilian and military officials, believe the use of drones has significant strategic advantages for Pakistan. In 2011, Major General Ghayur Mehmood made a press briefing about drone attacks. His data showed a large number of militant leaders had been killed in such strikes, and civilian casualties were much less than are reported.

While Pakistani leaders say drones are heightening anti-US sentiments in Pakistan, some analysts say the Pakistani political leadership opposes drone attacks to exploit anti-American feelings for political mileage.

In the last 10 years, terrorist violence in Pakistan has caused 50,000 civilian deaths, economic losses, and a breakdown of law and order that has hurt the Pakistani society in unimaginable ways. But the government has not been able to formulate a coherent strategy to deal with the threat. Instead, it has been criticizing the US for a campaign that has caused significant damage to the terrorist leaders in Pakistan.
The TFT and Viewpoint links highlight that TFT omitted 1500 words from the author's 2400 word article.
They deleted all criticism against Pakistan army and their role in backing the lawyer Mirza Shahzad Akhbar who represents Taliban in the guise of drone attacks victims.
Also all criticism against pro-establishment fake liberals and fake leftists (urban elites) was deleted since the author had mentioned them how they lambast drone attacks for the sake of achieving the activist label, or to promote or safeguard their personal political or economic interests.
Finally, the author mentions in the Viewpoint Online version that Pakistan military and ISI backs anti drone lobby and anti Americanism, but TFT changed this to say civilians did this and blamed civilians for everything.
This is typical tactic by the Sethi lobby and other pro-establishment fake liberals to exonerate Pakistan's most powerful institution (army, ISI) while pasing the blame on to much more disempowered civilian leadership.
The present case is a classical exmaple of how a seemingly liberal outlet (TFT blog) censors an independent piece which is now available on another website Viewpoint Online. This shows the extent of power that Pakistan army and its agencies currently have on Pakistani media and blogs.
Who says pro-establishment fake liberals of English press are less powerful than right-wing Islamists of Urdu press? A post or comment against right-wingers Ansar Abbasi or Orya Maqbool Jan generates much more comments and likes, compared to objective criticism of pro-establishment fake liberals and fake leftists. – badaltay rehtay hain andaaz-e-kufi-o-shaami
It is our considered view that the Najam Sethi lobby of pro-establishment fake liberals (operating in media outlets as diverse as TFT blog, Jinnah Institute, Jang Group (Geo, The News, Jang) etc) is an integral part of Pakistan's almight military establishment. We advise independent authors and bloggers to steer clear of the Jinnah Institute, The Friday Times and other pro-establishment fronts, as much as possible, for the sake of their own integrity and credibility. Our advice is equally valid for the anti-establishment female scholar who is currently denting her own credibility by publishing in Najam Sethi's TFT Blog and enjoying free flights and hotel accommodation via ISI-funded Jinnah Institute.