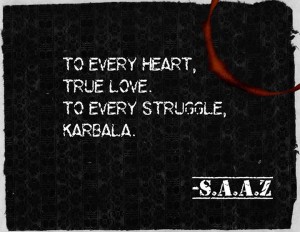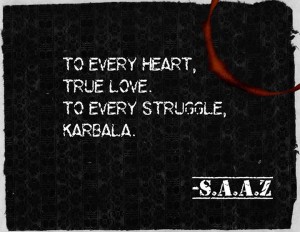 It is not possible God,for broken hearts to break more.
Yet it breaks and shatters leaving me thinking its million pieces are now finer than grains of sand and yet there is a way even those unbreakable pieces break some more.And it keeps beating.
Occasions, places and faces no longer matter.Whether it is Eid or Muharram everywhere I go there is someone telling me of how their family member & relative has been martyred.Apologies- that word has been reserved by terrorists for terrorists.They tell me of how their loved ones have been butchered.
Someones statistics of Shia Genocide made it's way through my Timeline on twitter.I paused looking at the date number of family members killed,I know that family I thought to myself-that was the lady who used to teach me classes every Friday when we came back from jummah. That's her family they butchered and even the six month old baby was slain.All her family members, father, brothers and uncles killed in one instance.House wrecked. "Shia kafir" written all over the walls. Thats her family there in numericals.
I remember being at a loss for words.I didn't know how to console her or what I could say. What do you say? I remember holding her and her entire body shook with grief.She screamed and screamed.Over a decade later I still remember those screams.It rips through my silent thoughts.I remember someone else having to come and try console her and I stood back eyes drenched in tears, as if it was a movie playing out before me.
The Zakira began reading the majlis and those words are clear as day as I type them, "Whose masayab should I read of? Do I read of Akbar the youth or of Abbas-Do I speak of Qasim or of Asghar? I do not know of whom to read of because this tragedy reminds me of karballa. Everyone has been killed- she has no family left except her husband-everyone, everyone- has been killed".
She had to stop reading because her heart went into stress.
On eid I wrote of the little boy who lost his father almost a year ago in Quetta. After commemorating Arbaeen of Hussain;his sons & family members of the companions of Hussain a two year year old will turn thirty-sorry he'll turn three.He'll ask for his father- "where is the man who wore white shalwar kammezs"? Who will think every pair of spectacles belong to his father,no matter the city or even country.Who will shrink from loud noises in rides at Eid Fairs and think that loud noises are foretelling of a blast.Who will with his tiny fingers hold onto you when you try to leave the house with a vice like grip and say "Don't go or else you too won't return".
His father came home everyday after work and took him to the mosque.This day he came home, had his tea, and hardly kissed his son goodbye.His wife asked him why he was leaving his son-he said he was in a hurry.
He was the one closest to the device when it exploded.
Why has all this come rushing back you ask?
Chilas. Rohallah.The nameless boy.
People say the #TTP aren't barbarians like the Al-Qaeda.They don't butcher,torture and slay.(I don't know which world they live in).
Rohallah:The poster boy who has become synonymous with Chilas. At least for me and for all those hearts that are fractured, a latticed network of anguish running through the fissures-yet it keeps beating.
Rohallah and the other boy protested-is that too potent a word? Is questioned better? The two boys who questioned the murderers for dragging random people off the bus on the basis of facial features and sects. Yet it is not sectarian killing,nor is it genocide.
They shot everyone else.One by one. All together.A son was shot in front of a mother's eyes she collapsed there and then and died.
They took Rohallah and tortured him. They tied his wrists and feet.They tortured him like you have heard of in horrific tales.They did not behead him- no, not immediately.
You know what the butchers did? They called up his parents & made his aged father & mother hear their son's screams while they tortured him.Then they would say "Don't worry your son isn't dead yet.We're still going to torture him".
I still remember the screams a decade later of a woman who was grief stricken,tell me how do you begin to conceive the screams his father must be hearing even today,specially in the quiet of the winter night?They desecrated his face…and made the parents listen.
The other boy had marks on his back of Zanjeerzani. They carved off the skin from his back-while he was alive.They smashed his face with a stone.Repeatedly.They tortured and tortured him till his entire body swelled up and he was un-recognizable to his own sisters to the point where a DNA test was required to confirm the identity of their brother.
For three days they tortured both of them.
Oh my beloved Imam Hussain(a.s) there was not a part of your body that was not wounded when you died.
Look how sincerely your believers love you and how the butchers remain the same.
If Bibi Zainab and Imam Zainulabideen(a.s) couldn't recognize you- then look how OVER 1400 years later- in your love at these sisters who cannot recognize their brother's body because off all his wounds and torture.
Every time I hear someone speak of their martyrs-my soul is called back from the plains of Karballa.
Karballa teaches us of love between the Creator and His perfected, complete Infallible Creation-Hussain (a.s).
Of love between all human relationships possible.
Karballa is a love story within stories of love.And love stories of pure devotion;to the only One worthy of Devotion have a life of their own.