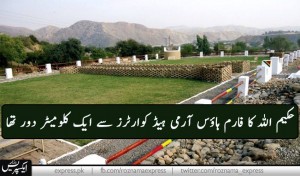 ONE KILOMETER is the distance between the Taliban leader Hakimullah Mehsud's hideout in Miramshah, North Waziristan and the military headquarters there. It's the same distance, ONE KILOMETER, that separated Al-Qaeda leader OBL's 3-storey house and Pakistan Military Academy in Kakul, Abbottabad.
This ONE KILOMETER sums up the state of inertia that the State of Pakistan has been condemned to ever since their pet Frankenstein monster has turned against the "all-powerful" Establishment.The twin-menace of militant extremism and religious intolerance was bred and fed by the myopic "strategic depth" paradigm. It suited the coup-makers and their allies locally, and the interests of America and their allies regionally. The only difference being that the post-1979 USSR was replaced by the post 9/11 Al-Qaeda/Taliban as the enemy.Let me further simplify it for our pseudo-analysts – who are basically apologists of the establishment – as well as those who are rather independent but politically correct.
No ordinary Frankenstein, this monster claims divine sanction in a country that flaunts itself as Islamic Republic of Pakistan. So, it cannot openly fight its protege let alone exterminate the self-styled God's Army.
We require a foreign (read mercenary) army to help combat and, if we are lucky, to eliminate the original mercenaries. ONE KILOMETER too far for us, not for the U.S.!
Syed Riaz Al-Malik Hajjaji: OMG! You are going against the Doctrine of Good Liberals whose leader is fellow PML N Comrade, Najam Sethi. He is very skillful Good Liberal who uses his Bird (Chirriya) to flip-off politicians especially from Your

Shoaib Mir

PPP. He shows that had it not been for politicians from PPP, ANP and PTI, Army would have handled this mess. Like other Good Liberals, he is very gentle and understanding of fellow Puttar Party PML N and critisizes them gently unlike PPP whom he blames for everything. He also keeps a soft hand on the Oppressed and Underprivileged Golfing Realtor Studs who have provided Pakistan with corn flakes and DHA and strong ideological frontiers. Watch your Naansense, Mr. Shoaib Mir, as you are fast turning into another Liberal Fascist hate Trolls of LUBP