Pakistan's educational institutions are not teaching tolerance, peace, democratic values and universal fundamental human rights but are exacerbating religious differences and increasing discrimination. In public schools and madrassas the curriculum taught is influence by hate speech and it negatively portray the country's religious minorities and reinforce biases which fuel acts of discrimination, and possibly violence, against these communities.
The Pakistani Bishops' justice and peace commission has urged new prime minister Mian Nawaz Sharif to eliminate fake and discriminatory statements against Christianity and other non-Muslim religions from the textbooks of schools.
Additionally, the Commission also called upon the new Prime Minister Nawaz Sharif to halt the obligation for non-Muslim students to take courses in Islamic studies, but instead introduce courses of their respective religions for them. In a report to Fides, the Commission also viewed that non-Muslim students, enrolled in public schools, are indeed obliged to pursue Islamic studies and this is a defiance of their absolute rights.
There is no level playing field for Non-Muslim students in educational field as well, as they are facing religious discrimination while getting admission in medical colleges, engineering universities and in higher courses. Since the time of Zia-ul-Haq this discriminatory policy has been in place and 20 marks are given to a person who has memorized the Quran. On the contrary no such privilege and facility is available for Christian students who have earned certificates in Bible education.
The following is a report published in "The Express Tribune" which narrates an incident of discrimination against a Pakistani Christian student named Haroon. Haroon couldn't get into medical school because he was refused the 20 extra marks that Hafiz-e-Quran students are given on the exam. According to him, the practice was unjust since his Bible knowledge was just as good.
Haroon Arif, a student from DG Khan in Punjab, could not get high enough marks to get into medical school. This is a standard situation for many young people in the country. What's different here is that Haroon, who missed the grade by less than 0.1%, would have earned 20 extra marks if he was Hafiz-e-Quran. He tried to claim his knowledge of the Bible was equivalent, but this made no impact.
"I deserved it and yet just because I am Christian, I have been put at a disadvantage," Haroon says.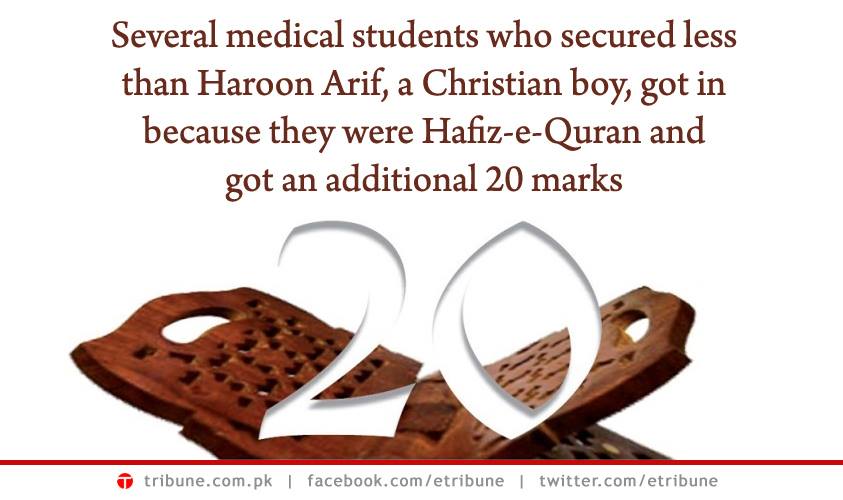 LAHORE: Haroon Arif was just 12 marks short of his dream of becoming a doctor. Today, this young Christian boy is questioning the policy of giving a Hafiz-e-Quran extra marks, as he cannot get the same on the basis of his knowledge of the Bible. Yet, non-Hafiz Muslim students do not get any extra marks either.
With the process of memorising the Quran taking anywhere between two to seven years, the extra marks are a means of encouraging the future clergy to get mainstream education. But Haroon's case raises serious questions about this policy.
Born to a low-income Christian family in Dera Ghazi Khan, Haroon grew up watching his mother work as nurse and father as a health worker. "I always wanted to be a doctor as I saw my parents assisting doctors. "I worked hard to achieve that dream, and obtained 860 marks in the entry test," Haroon says.
But when the merit list was formulated, several students who had secured less than him got in because they were Hafiz-e-Quran and got an additional 20 marks.
Haroon approached the Lahore High Court with the help of a Christian rights organisation. He pleads that under article 25 he is an equal citizen of Pakistan and should not be at a disadvantage for being a Christian. The court ruled that this was a policy matter and it was the job of the government to make policies. Haroon is now studying dentistry in Lahore.
Is that fair to non-Hafiz Muslim students?
Another sentiment on the issue is that when the additional 20 marks are not given to all Muslim students, how can a sweeping move give additional 20 marks to all minority students? Mufti Shahid Obaid, a religious scholar and teacher at Jamia Asharfia Lahore, a leading religious seminary, said: "Not even Islamic religious scholars who study ten years for the Dars-e-Nizami degree get a single additional mark. There are many talented poor Muslim students as well but they don't get any special advantage."
Mufti Obaid was of the opinion that if an exception was made for the Christian students by giving them additional 20 marks for their knowledge of the Bible, it would be unfair to other minorities and very difficult to come up with a common benchmark.
He said that if minorities want a review of this policy, they should write to all the religious seminaries and then Ulema can unanimously give an opinion about what should be done in this regard.
Social injustice?
"This is social injustice and a discriminatory policy against minorities. This law along with several other controversial laws was introduced by General Ziaul Haq. Either students from all religions should get additional 20 marks for their religious studies or none should get any advantage on the basis of faith," said rights activist and Chief Executive of ASR Resource Centre Nighat Saeed Khan.
Voices on the matter
Jamaat-e-Islami (JI) Deputy Information Secretary Anwar Niazi said that this advantage was given for memorizing Holy Quran. He however agreed that the legislation could be considered by taking up the matter in the assembly.
First Sikh elected to Punjab Assembly Sardar Ramesh Singh Arora (PM-N)
said, "This encouragement should be for students of all religions. I will move a resolution about this in the Punjab Assembly and propose legislation on the subject."
Pakistan Tehreek-e-Insaf Punjab President Ejaz Chaudhary said that PTI would support any legislation that aims at getting students from minorities additional marks depending on their religious knowledge.
Religious scholar and Assistant Professor at Sheikh Zayed Islamic Centre Punjab University Dr Hafiz Muhammad Abdul Qayyum said this was purely a constitutional matter and should be resolved in the parliament. "Why should one go into a debate about which religious learning can be considered at par with learning the Holy Quran?," he said, and thinks that as a goodwill gesture all minorities students should be given additional 20 marks.
Published in The Express Tribune, June 29th, 2013.
The following OP-ED is published in Daily Times:
20 extra marks for admission on basis of religious education?

By Ayra Inderyas
"As I belong to a religion other than Islam I could not compete with a Muslim fellow, who obtained admission in a medical college on the basis of being a Hafiz-e-Quran," disappointingly said by Haroon Arif. The prospectus of the University of Health Sciences (UHS) 2010-2011 on its page 50, while explaining the admission process, mentioned that 20 extra marks will be added to a Hafiz-e-Quran. Haroon, after failing to find any policy – equivalent to Hafiz-e-Quran – for non-Muslims in the prospectus of UHS, contacted a Catholic Church Organisation to seek legal support. Haroon's overall aggregate was summed up to 78.18 percent, which missed the last merit for MBBS with the difference of 3.78 percent. "Had I been granted same relief on the basis of my religious education as was awarded to Muslim Hafiz-e-Quran, I would have secured admission to fulfil my long held inspirations of becoming a doctor," Haroon shared.
On behalf of Haroon, a petition, no 54803, was filed in the Lahore High Court (LHC) in January this year, claiming the same relief be granted to Haroon in equivalence to his three-year study at church. It was also prayed in the petition that a permanent policy be made to avoid any discrimination with regard to awarding additional 20 marks to Muslim Hafiz only or open merit be made a standard by excluding this policy in its entirety. The same petition was placed before the division bench of the LHC in December 2011, which allowed to place on record some documents/working paper with the complete course for Christian students that would be equivalent to the certificate issued to Hafiz-e-Quran. In January 2012, the registered churches of Pakistan jointly submitted a working paper, which recommended a Christian Bible course of three years to be considered as a basis for granting 20 marks.
On January 5, the LHC division bench disposed of the writ petition by passing an order to the UHS to attend the grievances of the petitioner and decide the matter in one month. The order also said that if UHS is not a competent authority then the matter be sent to the department/ministry concerned.
Haroon was called for a hearing on January 23 by UHS additional secretary but not offered any redressal during the one-hour meeting. One month passed and no communication was received by UHS, informed by Kiran Afzaal, advocate and legal adviser to a Catholic Organisation. Thereafter, the petitioner went for contempt of court in May against UHS for not complying with the order of January 5. The Health Department, through health secretary, submitted a reply – order No SLO/WP-29468/2011 – on May 25. Concluding, this order stated that there is non-existence of any provision of such extra 20 marks to any non-Muslim candidates. It also said that prayer of the petitioner to consider him equivalent to Hafiz-e-Quran for admission in MBBS/BDS is rejected. Furthermore, it also emphasised that this policy was instituted in mid-80s and was never challenged. Finally the petition was disposed of on May 28 with the statement of honourable judges that the matter can go into further litigation for public interest.
Dr Imdad Hussain, a professor of public policy at Forman Christian College Lahore, said awarding 20 points to huffaz in educational admissions was unjust to non-huffaz. He termed the policy discriminatory. He said General Ziaul Haq introduced this policy in 1981 to patronise madrassa graduates and huffaz in educational institutions. Thus, by using religious sentiments for political purposes, Zia got some benefits, however, it deprived many non-huffaz students of the opportunity to get college and university admissions despite strong academic performance.
It is pertinent to mention that the preface of the prospectus of UHS claims that its policies will be fair, equitable and encourage diversity. However, the policy of awarding 20 marks only benefits Muslim Hafiz-e-Quran.
This concern was raised by Parliamentary Secretary on Law and Minority and Member of the Punjab Assembly Khalil Tahir Sindhu in the Punjab Assembly during the 38th session on June 13. He demanded that religious minorities should be equally compensated against this policy of awarding 20 marks for Hafiz-e-Quran. He informed the scribe that same matter was also brought in Punjab Assembly in 2008 but did not meet any success. However, MPA Sindhu is willing to knock the doors of the Supreme Court under Article 184(3) of the constitution of Pakistan.
The articles 22, 25, 36 of the Constitution of the Islamic Republic of Pakistan clearly states that equality of citizenry should be ensured and no discrimination will be made on the basis of religion.