Fauzia Kasuri, the founding member of the Pakistan Tehreek-i- Insaf (PTI), also known as Mother of PTI, is legitimately disappointed because certain decision makers in PTI ignored her in the allocation of reserved seats for women in Pakistan's National Assembly.
In a television talk show and also on Twitter, she alleged that her position in the party was sabotaged by some 'unelected' people members of the party. Party insiders are saying this member that she is pointing fingers at is Hamid Khan, who headed the parliamentary board that allotted tickets for General Elections.
She also voiced her dissent at how she was superseded on the reserved seats allocation by those who had not really been involved in the party recently. Apparently this acrimony was directed at Shireen Mazari, who had only recently rejoined the party and was consequently able to enter the National Assembly on the reserved seats for women.
What is interesting is that Kasuri was blaming the parliamentary board and specifically Hamid Khan but not Imran Khan. She was careful to avoid blaming the chairman. It is also interesting that Kasuri was believed to be demoted in the initial list submitted to the Election Commission of Pakistan at the behest of Hamid Khan-led parliamentary board, although the Chairman Imran Khan had approved a list where her name was placed higher. The party twice got the list back from the ECP due to this changing of lists. It seems all is not well in the PTI camp with regards to the position of Fauzia Kasuri. She was unable to participate in the party elections due to her dual nationality. She got her American nationality rescinded but it seems that it was in vain and not having a formal position in the party has hurt her and with each passing day the woman once called the Mother of PTI is quickly becoming a peripheral figure.
Fouzia Kasuri, who organised the party's women's wing, raised funds for the party through several overseas visits and defended the PTI valiantly in the media, has targeted the top leadership for ignoring her in the allotment of reserved seats' tickets.
On Saturday, PTI's female workers held demonstrations in Khyber Pakhtunkhwa (KP) against the alleged preference for Pervez Khattak and Asad Qaisar's close relatives in nominations for women's reserved seats. Kasuri's reaction is expected to add fuel to the fire and create problems for the party's top leaders, as she enjoys tremendous popularity amongst the party's women workers, having served two terms as women's wing president.
A source close to Kasuri told Pakistan Today that despite her many sacrifices for the party, including her foreign nationality and career, the top leadership had denied her the primary position in its nomination for the women's reserved seats in the National Assembly.
"More than once, Imran Khan promised Kasuri the number one slot in the women's list and praised her for being the most dedicated woman in the party, but now he has chosen someone with questionable intelligence agencies links instead," said the source while referring to Dr Shireen M. Mazari's nomination, who is also the party's incumbent information secretary.
Our source also referred to tweets exchanged between PTI Secretary General Naeem-ul-Haq and Kasuri as proof that she had been promised the number one slot by Khan: in response to Haq's tweet which said, "Women's Seats NA: IK (Imran Khan) committed first place to (Shireen) Mazari months ago because she is PTI's top expert in foreign policy/defence", Fouzia Kasuri maintained: "If this was an understanding with Mazari, then why did the chairman promise me number 1, not once but twice? "At this juncture, another PTI London Information Secretary Dr Fouzia Sadiq interceded with: "@FauziaKasuri Your contributions to PTI outweigh those of any other PTIan. May be a pressure against PTI & you would have been at No.1."
Sadiq was referring to Dr Shireen Mazari and her daughter Imaan Hazir Mazari's revolt just before the elections, when both issued statements against Imran Khan and the PTI and resigned from their offices. On September 25, 2012, Mazari, resigning as PTI central vice president stated, "the party's program has been taken over by 'big money' and this has compromised the party elections."
However, on March 18 Mazari rejoined the PTI.
Some PTI leaders opined that she had resigned after the PTI's popularity graph showed a decline, returning after Imran Khan won South and central Punjab's people during the election campaign. Insiders claim that Asad Umar, Hamid Khan and Shireen Mazari have influenced the party's decisions with fatal consequences at times.
Video: http://www.dailymotion.com/video/x10g3sj_fozia-kasuri-not-happy-from-pti_news?start=1#.UaxTK0DWQYM
Blow for PTI: Fauzia Kasuri quits
On 3 June 2013, Fauzia Kasuri announced to quit PTI for being victimized and not giving due rights along with large number of Insafiyans. Fauzia Kasuri told Saach.TV correspondent over phone that she will make the announcement the day after tomorrow. She said "There will be large number of PTI workers from Karachi, Lahore and Balochistan who will be ending their political affiliation with the party."
When asked what political party she will be joining after leaving PTI, Kasuri replied to Saach.TV's correspondent that "I have to continue working. I will definitely join the any party but lets just wait for my press conference."
Fauzia Kasuri's video messages were circulating for past few days in which she could be heard complaining from party and Imran Khan for victimizing her. (Pakistan Media Watch)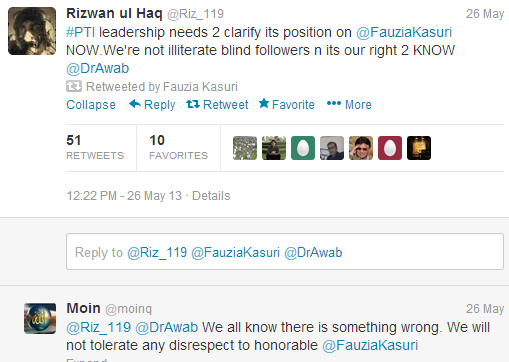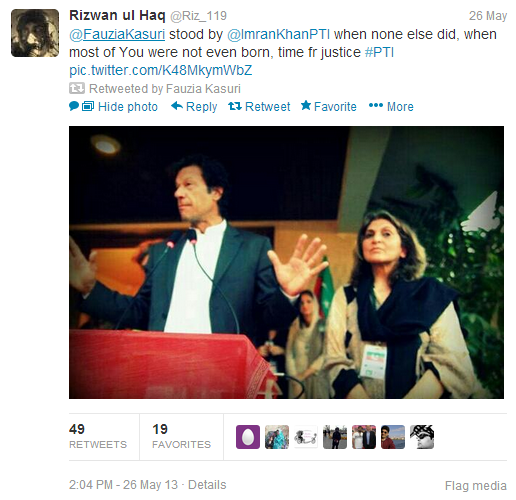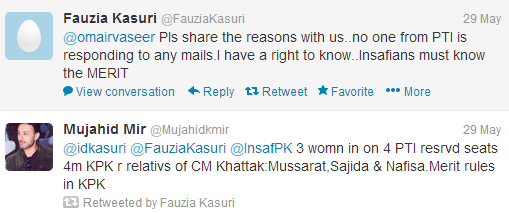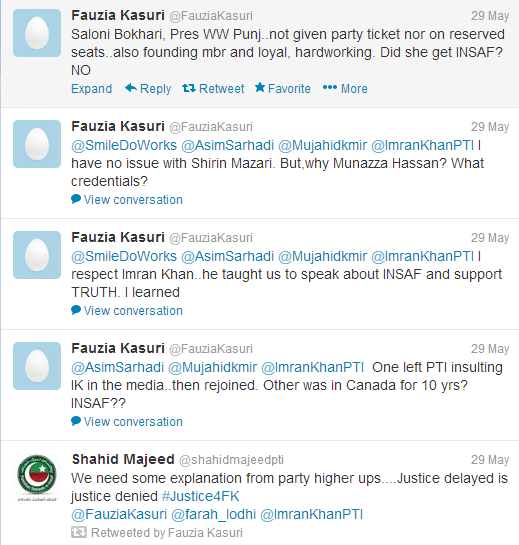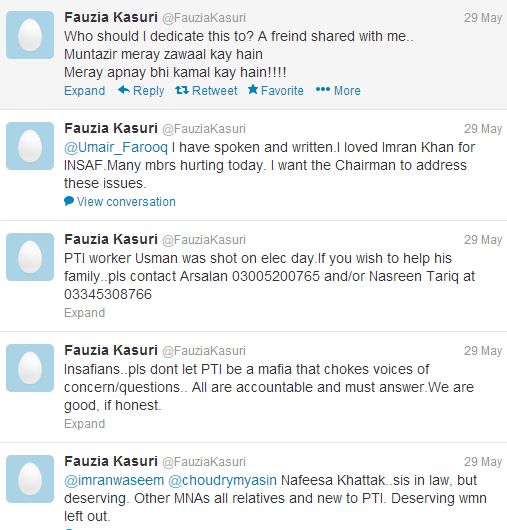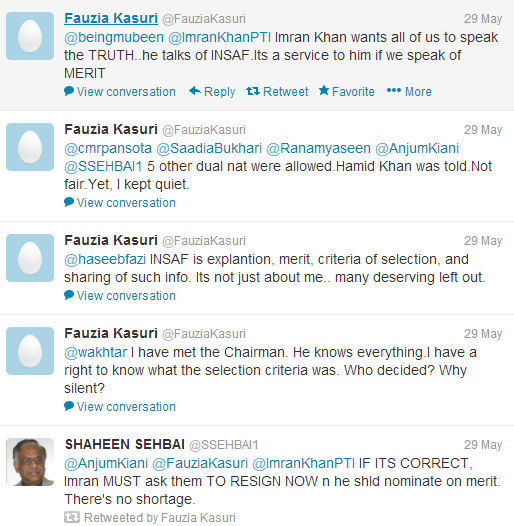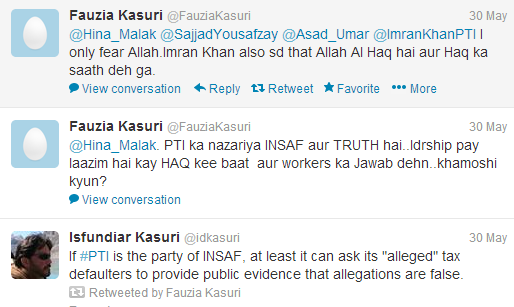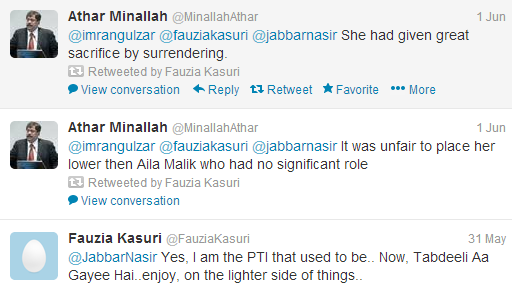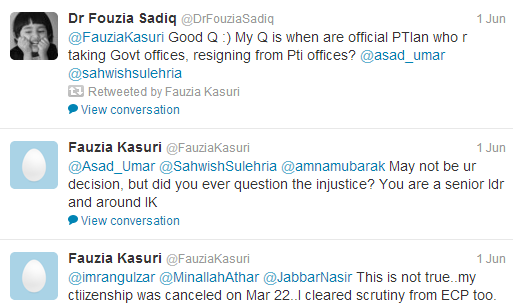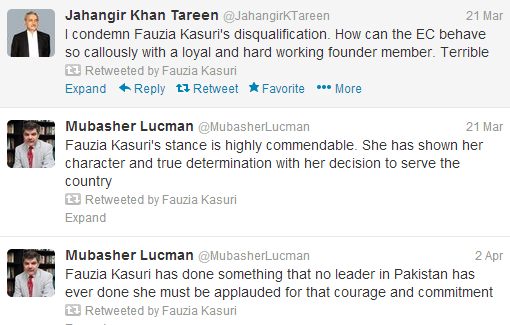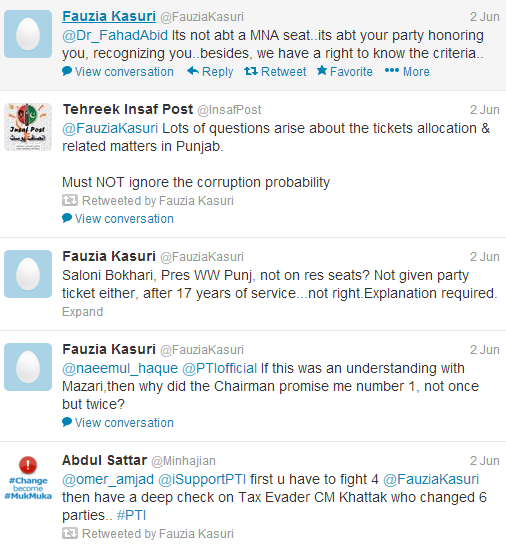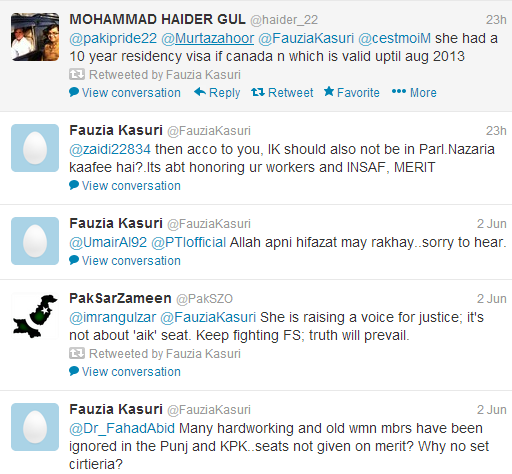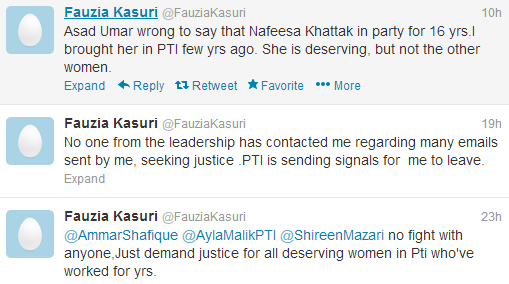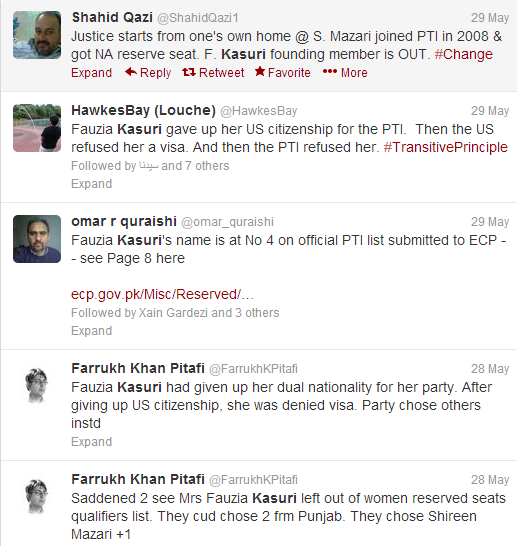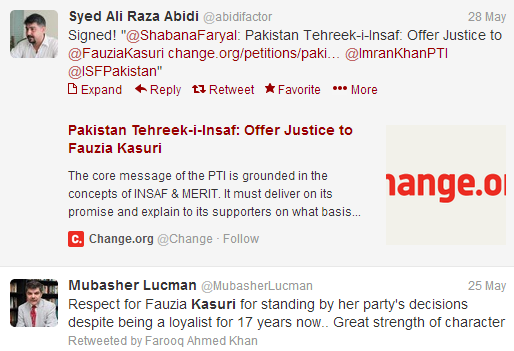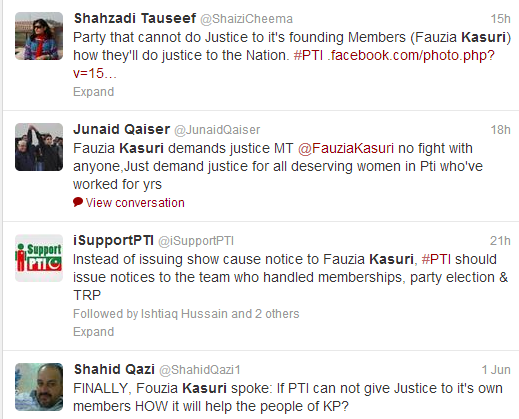 http://www.pakistantoday.com.pk/2013/06/02/news/national/murmurs-of-dissent-within-pti-over-womens-seat-nominations
http://thespokesman.pk/index.php/history/item/5714-a-jilted-mother