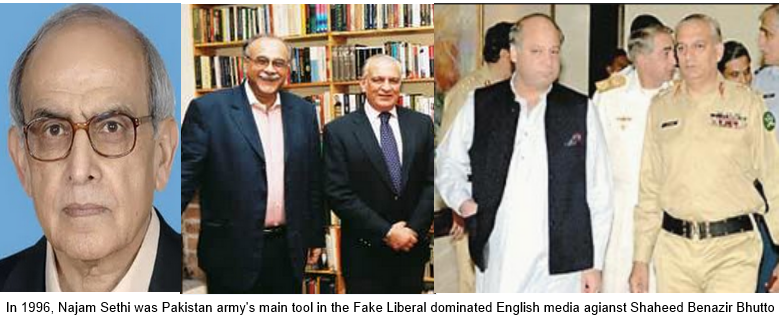 Najam Sethi started life as a revolutionary Marxist and joined the Baloch resistance against Zuklfikar Ali Bhutto's military campaign in that troubled province in the 1970s. Arrested, tortured and imprisoned in 1975, he was finally released from Hyderabad Jail where he and many others were incarcerated in the Hyderabad Conspiracy Case a few months before the case was finally withdrawn by the General Ziaul Haq regime. [There are serious questions about his cooperation with the military generals which led to the arrest of some of his former colleagues in the Baloch resistance movement.]
Sethi returned to his native Lahore, set up a publishing house and later an English weekly that continues to date. In 1999, he was arrested and mistreated by Nawaz Sharif's second government on charges of treason related to a speech he gave in New Delhi, which the then Pakistani High Commissioner Ashraf Qazi (lately of the bin Laden raid commission fame) presented to the government as anti-Pakistan. After his release in 2000, Sethi had to undergo heart surgery because of the physical and health damage incurred during this incarceration. In 2002, he became the founder-editor of this newspaper and remained at its helm until 2009, when he fell out with its publisher the late Governor Salmaan Taseer on, amongst other things, working for another media house while being editor of Daily Times. Currently, he was hosting a talk show on a private TV channel until his appointment as caretaker CM, for which he has taken oath yesterday.
Sethi's statements after taking oath and comments in the media converge on the most important task before him: ensuring far, free, transparent elections are held in Punjab, arguably the real battlefield of the coming polls. Consistency has not been one of Sethi's strong points, his pendulum swings between the PPP and PML-N, depending which party was in power, being the only constant. That, however, has not stopped his march to the caretaker CM's office now. However, if there is any consistency in Sethi's long journey from a committed Marxist in his youth to becoming a successful part of the political culture that has overtaken the polity over many years, it is his ability to land caretaker jobs. In 1996-7, after then President Farooq Leghari booted out his own PPP's government under Benazir Bhutto, Sethi was appointed federal caretaker minister for accountability. In that role, some assert, he prepared the grounds for the later cases Nawaz Sharif's second government instituted through Saifur Rehman's Ehtesab Bureau against Benazir and Asif Zardari. None of this has stood in the way of Sethi's climb to one pinnacle after the other. Now the expectation is that he will rise to the challenge and prove all his critics wrong by fulfilling the heavy responsibility on his shoulders to ensure a credible election in the province under most contention in these polls.
Source: http://www.dailytimes.com.pk/default.asp?page=2013%5C03%5C28%5Cstory_28-3-2013_pg3_1