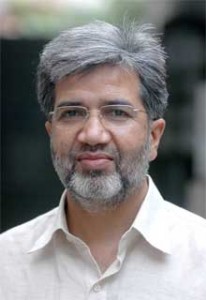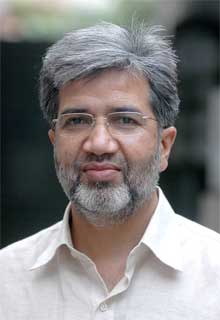 Related article: Part 1
Our society has many different ways of insulting other individual. It varies from class to class profession to profession and most probably family to family.  Modes of insulting might be different but one thing is same and that is the  person who is insulted hangs his head in shame for some time to come and repents on what he has done to get such a reaction. But there are many in our society who keep getting insulted again and again but their heads don't hang in shame or they don't apologize but instead they continue on the path which brought them to such lows. Such kind of people are commonly referred to as "Be-ghairat" in our  society. I have seen this word used amongst all classes of people and people who  are honored by such names do possess similar qualities.
One of such individuals is Ansar Abbasi, a self proclaimed investigative reporter of a now tabloid newspaper THE NEWS. He has tried to become a hero in the eyes of Pakistanis and has climbed up the stairs in media quite fast. Somehow all his investigations end up hoax and always seem to start from some unnamed source from some agency. In essence, his motive is sensationalism and to remain on the front pages. I wonder how come the unnamed source in the agency likes him so much. I am not accusing him of anything but seems like he is an inside man of that agency and he is himself a unnamed source. He has gained notoriety by just being on the opposite end of what PPP stands for and always protecting Taliban, Jihadis and others who are not jihadis but have a very soft corner for them like PML-N (aka Khanqahe Sharif biradran) and Imran Khan (current marriage of MKR and Imran Khan is another story to tell).
Ansar Abbasi broke the story that federal ministers are planning to murder CJ of LHC with the help of notorious criminals. His story was based on report by "Special Branch". Couple of days ago I had sent article for posting on the subject but I think editor was busy and could not post it. Yesterday I had updated it and sent it back and requested editor to kindly post it as the story is taking interesting twist. First the head of special branch was detained by
FIA and he said that report did not bear his signatures. I am thankful that  editor posted the story immediately. Yesterday there was another development and when I read the headlines I ignored it as just a ploy to give mileage to the original story
CJs express concern over judges security, threats from administration by Sohail Khan (September 19, 2010)

 ISLAMABAD: The chief justice of Pakistan and chief justices of the Federal Shariat Court and the high courts on Saturday expressed great concern over the security of the chief justices and judges of the superior courts, particularly  in the wake of threats being given to them as well as their families, emanating  from administrative authorities as per intelligence reports. In this regard, a meeting was held here in the Supreme Court, chaired by Chief  Justice of Pakistan, Justice Iftikhar Muhammad Chaudhry, which was also attended by the chief justices of high courts and the Federal Shariat Court. After deliberations, it was resolved that the judges and their families should  be provided adequate security and protection due to prevailing security concerns in the country and the nature of functions the judges perform.
Mr. Sohail Khan became the water carrier for Ansar Abbasi and wrote the story  about security of CJ's of high courts. As usual I glanced over this story and  found exactly what I was expecting. But this morning (Monday) I was hit by a sixteen wheel truck when I saw another news on the front page of the THE NEWS
SC clarification (September 20, 2010)

 ISLAMABAD: Terming the headline —'CJs express concern over judges security; threats from admin' — of a news report, regarding the security related meeting, that appeared in The News on Sunday as misleading, the Supreme Court office, in  its press release issued here, has clarified the same as under: "It is clarified that the above-mentioned caption is misleading in so far as it gives the  impression that the judges of the Superior Courts have direct clear threats from administrative officials, which is not the true reflection of the issue discussed in the above mentioned meeting nor the press release issued in this regard refers to any such threats. In fact, the meeting discussed the security related situation in view of the purported information 'emanating from administrative authorities' in relation to the alleged plot to target the Hon'ble Chief Justice of Lahore High Court as mentioned in the report of the  Special Branch of the Government of Punjab.

"Unfortunately, your above-mentioned captions portray the totally different message as if the Hon'ble judges of Superior Courts are being threatened by the administrative officials, which is not the case. It is expected that an appropriate clarification may please be published prominently, preferably at the same spot on the front pages of the two newspapers in order to set the record straight."
This clarification by the Supreme Court is slap in the face of Ansar Abbasi, Sohail Khan and tabloid newspaper THE NEWS. As the famous saying goes in Urdu "Chullo bhar pani main doob maro". This saying fits the character of Ansar Abbasi but the question is where will he find "chuloo Bhar Pani". He is master of lies and deceit. He will continue to do the same. Lying and deceit is his profession and makes living out of slandering. All those traits make him just like Talibans. He is a snob who acts like most pious man that has ever walked on the earth but he should know slandering without evidence is also against the  teachings of Islam.
Another article of mine that was posted on LUBP "Umar Cheema Saga — The other view point". (September 15, 2010) I had written following:
In some report, police is trying to get record from motorway Toll booths. I am telling ahead of time it is a useless exercise because I went through it couple of years ago when my car was stolen. They don't have any record. 99% of the time their system doesn't even work. The cameras they installed are slow cameras and nothing can be identified from them and that is if they are working at all. The cards they issue if the computer is working it will have the car number otherwise it will be simple cards stamped (location of the booth) and are being handed to the drivers. I agree no one is angel here except Umar Cheema and Jang group. So let's not  jump to conclusions without any evidence. What I see is that it is just a farce story to get cheap publicity. Nothing will come out of it except that media and especially Jang group will get good mileage out of it. Media (journalists) have become untouchables in recent times. Being untouchable means they are powerful. Being powerful, they can use their powers. But there is an element of responsibility that needs to be depicted by the so called journalists.
And today my prediction of mine that came true was
Umar Cheema case reaches dead end by Shakil Anjum (part of the article)

 ISLAMABAD: The inquiry ordered by Interior Minister Rehman Malik into the abduction and torture of Umar Cheema has reached a dead end as the Motorway Police say no video footage of vehicles is recorded so no evidence can be  provided. Though record of video footage is maintained by the Motorway Police, investigators were told that it would not be available until and unless the vehicle is clearly identified, supported by the registration plate.