Related post: What can Pakistan and the entire world learn from Pakistani Shias?

Text of the blog published on Dawn.com

Low-key Ashura

22 November 2012In a week since the commencement of Muharram, at least 16 lives have been lost to targeted sectarian attacks on Imambargahs in Karachi and Rawalpindi. In addition, there have been reports of bombs being defused and removed from sensitive areas in the run up to Ashura. This, in spite of the government's restrictions and bans on the use of mobile phones and motorbikes, among other preventive security measures.

It is clear that given the current security situation of the country, it would be wise to remain cautious during a sensitive period such as Ashura. There have been suggestions to curb the threats of attacks on Muharram processions by taking alternate routes that comprise roads which are less frequented and congested. Meanwhile, some officials have also urged people to try and remain indoors and hold their religious gatherings away from sites that are commonly targeted by assailants, especially in the wake of sectarian violence.

Is it wrong, then, for officials to suggest that processions be kept low-key affairs and in smaller numbers? There remains a great deal of respect towards the religious zeal and emotions of Shias during Muharram, however, would it be better to take preventive measures during rallies and processions, especially when thousands of innocent lives are at stake?

Would indoor gatherings, lesser number and smaller sizes of processions help avert threats that are known to lurk on such religious events?

The number of attacks and deaths that have occurred during these seven days is already close to the figures from last Muharram and with the increasing number of threats and bombs being found, would it not be sensible to try and lessen the damage by acting cautiously?
Souce: http://dawn.com/2012/11/22/low-key-ashura/
Once a wolf entered a village an created havoc. The village elders ordered preparation of a very, very large cage. When the cage was ready, all the villagers were invited to attend its inauguration. Expecting that now attempts will be made to to entrap and cage the wolf, they were somewhat surprised when the elders asked all of them to enter the cage, so that they could be locked in and protected from the wolf. But they chanted "Pakistan Zindabad" any way. You see, the name of their village was Pakistan.
I strongly agree with what has been suggested by the anonymous writer. In fact I will take it further to encompass the following:
* The GHQ has been attacked. So let us keep our brave armed forces indoors.
* FIA and police establishments have been attacked. Let us protect our law enforcers by not making them go out on streets and roads.
* Five-star hotels have been bombed. Let us close down all hotels and restaurants.
* Girls' schools have been torched. Let the girl child sit it out at home instead of following the instruction to even go to China for education.
* Universities have been targeted. Let us close down all institutions of higher learning.
* Jinnah Hospital was bombed. Do I have to even say what we need to do here?
* Juma congregations have been attacked, and so have churches. Let us stop all religious activity not approved by terrorists.
* Sunni Barelvi Milad un Nabi gathering at Nishtar Park was bombed. Let's restrict them to a less open space.
* Raiwind ijtema and the likes have never been attacked. That's one area that is not problematic. Let it continue freely.
In the end where shall we be sitting? Yes, you are right. Right there in our cosy little homes, except for those attending the ijtema at Raiwind or attending illegal (as per Pakistani law) gatherings addressed by the likes of Ludhianvi and Malik Ishaque. And when they come for us in our homes, what do we do? Isn't it obvious: leave for cool climes of Switzerland and leave governance of Pakistan to the terrorists. As for the latter, my suggestion may be a bit late, for haven't we already done so?
In parting I would ask you do you share my feeling of there being the situation of being more loyal than the king? What is our objective in the exercise suggested by the anonymous writer? To protect the lives of state's Shia Muslim subjects. Right? But has someone asked if those idiots even want it? A cursory study of history shall tell us that they do not have this as their priority. in the good old days of Umayyad and Abbaside caliphates when such pious eminences as Hajjaj bin Yusuf and Mutawakkil Billah ruled the Muslims, these dumb-heads got their limbs cut (as required by the Muslim caliphs) just to have a go at visiting Karbala. More recently, they gave their lives in thousands during Saddam's rule in Iraq or the Taliban's emirate in Afghanistan just to continue azadari. Even today, they pay with their lives in Saudi-occupied Arabia and its colony of Bahrain to have that privilege.
If our federal and provincial governments lack the competence to protect the 42,000 aza processions they have themselves licensed, the solution obviously is to discontinue the processions rather than continue measures as taken heretofore to protect them, including, if necessary, by cracking down not just on known and publicly roaming mass-killers, but more so on the terrorist making factories, that are seemingly the madrassahs of a particular school of thought (Deobandi and Wahhabi) that publicly apostatizes Shia and Sunni Barelvi Muslims who, incidentally, comprise together the majority of Pakistani population.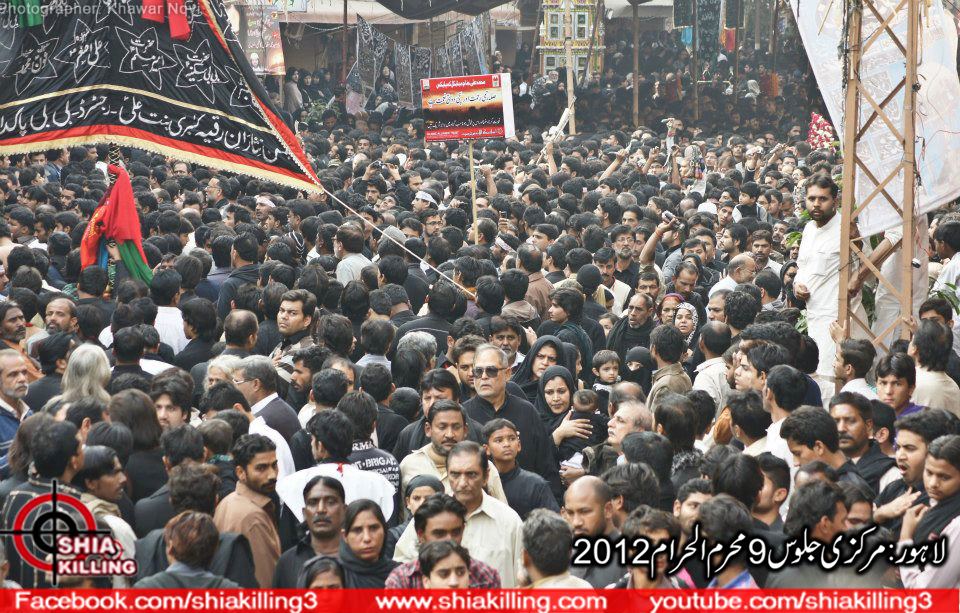 PS: Now the liberal media too is getting off the fence and picking a side! Shame on Dawn newspaper on conducting a blatantly anti-Shia poll. pic.twitter.com/7JQSpfOS