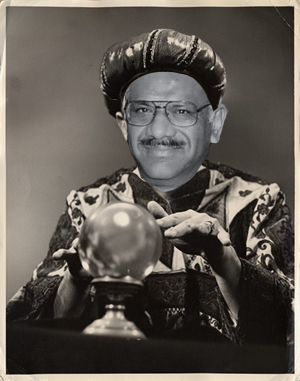 There is no doubt that Pakistan has been persistently passing through very delicate times (Intehahi Nazuk daur). However we are very lucky to have such vibrant and virtuous media. Its anchors have made sure the smooth sailing of the ship of our destiny. Like any other nation and institution of the world, we also have had good, bad and ugly amongst us. Media is no exception to it, too. One upon a time we had journalists like Faiz Ahmad Faiz, Mazhar Ali Khan and Minhaj Barna who were prime examples of those who always tried to undermine the very Islamic foundations of Pakistan, by falsely propagating their atheism in the garb of progressive ideals. If we did not have ideological warriors of faith journalists like Z.A. Suleri and other patriots, those commies would have crumbled the institutions of our country.
Don't think I am biased against liberals. I can vouch for the real patriotism of liberals like Aradsher Cowasjee. He has always stood for ideals of democracy and personal liberties. For such ideals he did whatever he had to. He became friends to Zia ul Haq and buddy to Jam Sadiq Ali, just for sake of democracy and liberty. Be it He even did not hesitate to steal others' material and publish in his name, if it could guide our nation.
In such environment we must thank heavens for having honest and always truthful journalists like our own Shaheen Sehabi. He is like a real hero. He never compromised on principles. He does not lie. To our luck when he realized that his honest reporting could not root out the corruption of current lot of politicians, he started a new Jihad in the form of a columnist. He has named the names corrupts who must be stopped from fleeing after true impending revolution.
The following excerpts from three of his neo-jihad series manifest the real pain in the heart of our hero.

The following paragraph sheds light on something new about journalism. It was published on September 04, 2011 in the news under the title:
'Real Mysteries Behind Zulfiqar Mirza'a Bombings.'
"In just one case which was investigated by the UN in 2005, the Independent Inquiry Commission led by former US Federal Reserve head Paul Volcker found that of more than 2,000 companies which breached UN sanctions by making illegal payments to Saddam Hussein's government in Iraq before 2003, was a company called Petroline FZC, based in the United Arab Emirates. Mr Volcker's inquiry found it traded $144m of Iraqi oil, and made $2m of illegal payments to Saddam Hussein's regime. Documents from Pakistan's National Accountability Bureau showed that Ms Bhutto was Petroline FZC's chairwoman. Closest relatives of the late Benazir Bhutto reject these charges, contending that they are aimed at political victimisation."
http://www.thenews.com.pk/TodaysPrintDetail.aspx?ID=8545&Cat=13
Look at the command of language, the syntax, the diction!!
No one can say its standard is any less than that of Oxford. Mr. Richard Lawson of BBC was so impressed that when he wrote;
"Foreign cases that could haunt Bhutto"
He used exactly same paragraph. Word by word, dot by dot, 'he' copied it and produced it in his own name. It is heresy to even think that Shaheen Sehbai could have plagiarized and not that shopkeeper Briton. Even though BBC article was published 29 October, 2007, I still think Mr. Richard Lawson Plagiarized. As someone said
Chor aagay peechay nahiN dekhta (Thief does care about time/dates).
http://news.bbc.co.uk/2/hi/south_asia/7064052.stm
http://jang.com.pk/jang/sep2012-daily/03-09-2012/col6.htm
http://jang.com.pk/jang/sep2012-daily/18-09-2012/col2.htm
http://jang.com.pk/jang/oct2012-daily/01-10-2012/col2.htm