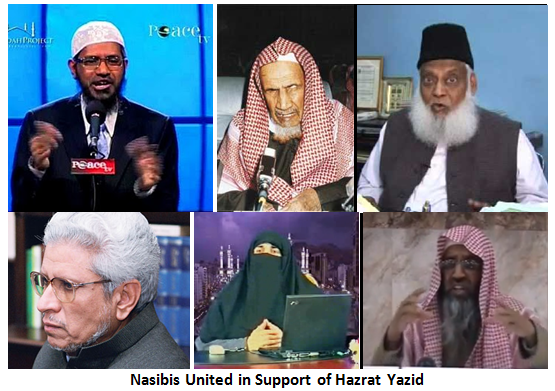 Related post: مفتی تقی عثمانی نے دیوبندی مکتب فکر کو ناصبیوں اور تکفیریوں کےہاتھ فروخت کر دیا
The following are a few examples of some prominent Salafi-Wahhabi (Ahle Hadith) and Deobandi scholars of Saudi Arabia, India and Pakistan who claim themselves to be Sunni Muslims (Ahle Sunnat Wal Jamaat) and treat Yazid ibn Muawiyah as a legitimate Caliph and Hazrat Imam Hussain as a rebel or treat the tragedy of Karbla as a battle between two princes (of the Umayyad and Hashemite clans). In our view, such enemies of Imam Hussain (a.s.) do not represent majority of Sunni Muslims who love and respect Prophet Muhammad's Ahle Bait (a.s.).
Darul Uloom Deoband's fatwa in support of Yazid:
Darul Uloom Deoband's fatwa in support of Hazrat Yazid – by Abdur Rahim Kandhalvi
http://darulifta-deoband.org/showuserview.do?function=answerView&all=en&id=6134

A Deobandi scholar from the Markazi Dar-ul-Uloom, Banori Town – Karachi, in his book "The Life of Yazeed", calls him "Ameer ul-Momineen" and writes a whole poem in praise of Yazid: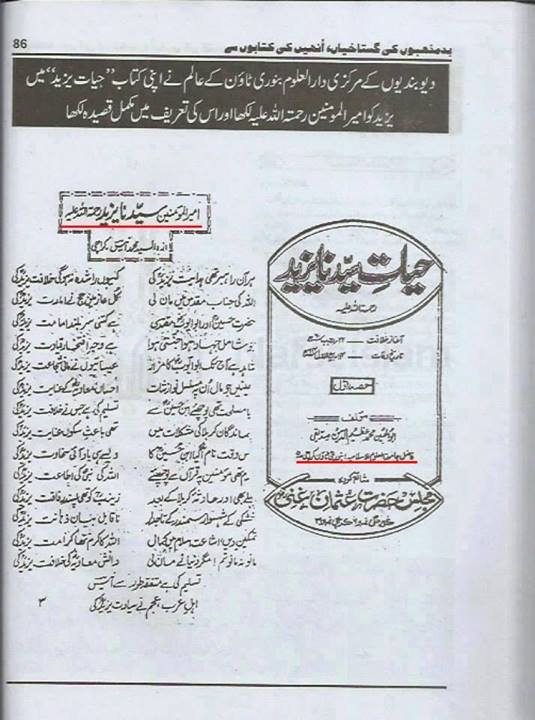 Grand Salafi-Wahhabi Mufti Abdul Aziz bin Abdullah bin Baz of Saudi Arabia praises Yazeed (R.A.)
[youtube id="rDEZyJOYpf8″ width="600″ height="340″ position="left"]
Yazeed bin Muaviyah Kaun? – by Sheikh Maqsood-ul-Hassan Faizi (Salafi-Wahhabi)
Sponsored by Dr. Zakir Naik's Islamic Research Centre (IRC) and Islamic Dawa and Guidance Centre, Al Ghat, Saudi Arabia
Dr. Zakir Naik (Salafi Wahhabi) praises Yazeed
Video of Dr Zakir Naik Wahhabi saying "May Allah be pleased with him" for Yazid and calling Karbala a political war.
Dr. Zakir Naik defends his praise of Yazid
Dr. Zakir Naik's further defence of Yazid
10th Muharram is an Eid day, Muharram is a month of happiness. A student of Zakir Naik's IRC claims:
[youtube id="GxGvhN7r33A" width="600″ height="340″ position="left"]
Dr Israr Ahmed (Salafi-Deobandi) of Pakistan exonerates Yazid from Imam Hussain's murder
Javed Ahmed Ghamidi exonerates Yazid
Despite his non-Takfeeri approach to Shias and Sufis/Barelvis (something which distinguishes him from Takfir Salafists and Takfiri Deobandis, e.g. Ihsan Elahi Zaheer, Manzoor Nomani, Haq Nawaz Jhangvi etc), Javed Ghamidi generally negates almost all traditions in which Ahl-e-Bait (family) of the Prophet have been praised. His views on the great sacrifice of Imam Hussain in Karbala are completely in line with those of Zakir Naik, Israr Ahmed, Abdul Aziz bin Baz, Ibn Taymiyyah etc, although he is not as transparent. He considers Imam Hussain as a leader of an illegitimate rebellion and exonerates Yazid from the murder of Imam Hussain and other members of the Prophet's family. He blames Ibn Ziyad for Hussain's murder and terms the entire incident as an 'afsosnak hadsa' "a regrettable accident". This apolitical, acontextual assessment of Karbala is in stark contrast with analyses of Karbala by other Sunni and Shia scholars who support Imam Hussain's just opposition (Qayam) to Yazid's illegitimate rule.
Ghamidi claims that: "Imam Hussain had reviewed his decision of opposition to Yazid; he wanted to move away from Karbala and even wanted to go to Yazid but Ibn Ziyad's army did not allow that".
[youtube id="sV6cEnV4YI8″ width="600″ height="340″ position="left"]
Ghamidi rationalizes Muawiya's mutiny (baghawat) against a legitimate ruler (Hazrat Ali, the Khalifa-e-Rashid). He presents false neutrality between Hazrat Ali and Muaviya and exonerates Muaviah under the cover of Ijtihadi Ghalti (an error of judgement) and lack of information. Of course, he will not use similar logic to exonerate Abu Jehl or Abu Lahb.
[youtube id="BTnD-vst_BQ" width="600″ height="340″ position="left"]
Salafi-Wahhabi and Deobandi followers of Yazid
Alternative Sunni perspective
Majority of Sunni Muslims, including Hanafis (Barelvi, Deobandi) and Salafis (Ahl-e-Hadith), treat Yazid and his father as a deviation from the Khilafat-e-Rashida (Rashidun Caliphs), and support Imam Hussain's stance against Yazid and Hazrat Ali's stance against Muawiya. They consider all those who either exonerate or justify actions of Yazid and his father against Hazrat Ali, Imam Hassan and Imam Hussain as Nasibis, i.e., enemies of the Ahl-e-Bait (family) and descendants (Aal) of the Prophet Muhammad.
Here are a few examples:
Maulana Muhammad Ishaq's (a Salafi scholar) views:
Moulana Tariq Jameel's (Tablighi, Deobandi scholar) views
Dr. Tahir ul Qadri's (Sunni, Hanafi, Barelvi) views
Pir Alaudin Siddiqui's (Sunni Barelvi scholar) views
Muhaddith Zubair Ali Zai's views (Ahl-e-Hadith, Salafi)
[youtube id="CwVHhpM4CjY" width="600″ height="340″ position="left"]
Maulana Syed Abul Aala Maududi's (Sunni, Deobandi, founder of Jamaat-e-Islami) views
http://www.ziyaraat.net/books/Khilafat_o_Malookiat.pdf
Pir Syed Irfan Shah's (Sunni Barelvi scholar) views
[youtube id="vgxCdvGBB5M" width="600″ height="340″ position="left"]
Final message for Sunni-Salafi-Shia unity by Maulana Muhammad Ishaq (Ahl-e-Hadith)
[youtube id="fSi-KydLqBY" width="600″ height="340″ position="left"]
Followers of Yazid and Takfiri terrorism
[youtube id="lb2JhitEQxo" width="600″ height="340″ position="left"]