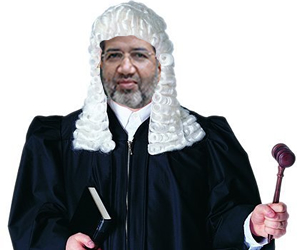 When I looked at page 3 of November 8, 2012's Jang, I saw an article written by Sindh Information Minister, Sharjeel Inam Memom. Titled "Propaganda mayn bhee quality ka khayal rakhna zaroori hota hay" or "It's important to remember quality of Propaganda". Reading what Sharjeel wrote, I can understand his disgust for a disgusting right wing terrorist working in the garb of a journalist. For years, we at LUBP and other blogs like Pakistan Media Watch have deconstructed the opinion riddled pieces of Ansar Abbasi and his gang members in Jang. Sharjeel has tried to explain that Ansar Abbasi's super lead item of November 5, 2012 was not fit for front page as it was an opinion piece and not a news item. But who does this explain to the people of Jang Group, who in their desperation of a defeat have now fallen on the last resort that is the Judiciary to take action on news items like these.
Usually, when someone writes a rejoinder in the form of an article, a response to that is printed a day later or so. Like disgusting Ansar's piece was on November 5, 2012 and Sharjeel's article in response to that has been published on November 8, 2012. Ansar Abbasi could have waited but no… when the writing is on the wall that you are being owned over and over again as a right wing, militant supporting, PPP hating writer, he had to respond immediately, opposite to where Sharjeel's article. Titled "Aaina unn ko dikhaya to bura maan gaye". To justify his disgusting pieces of writing, Ansar Abbasi has responded with more and more points.
Let's assume that Ansar Abbasi is right. PPP is the worst possible form of governor of our country. One thing that Sharjeel tries to present is that Ansar Abbasi is a PPP hater and not fit to be a journalist. Ansar, please accept that and move on. Less and less people are reading you now. The world is moving on. Krupshion and Bad Gavernance cannot sell forever. You find the front page to post your hate material and pray that your Godfather, the one eyed devil, that is the CJP takes action and gives you some breathing space.
We do reiterate that a few months down the road, we will publish the Media Obituary when the PPP completes its tenure despite of the intense propaganda by Jang Group and the self righteous journalists!