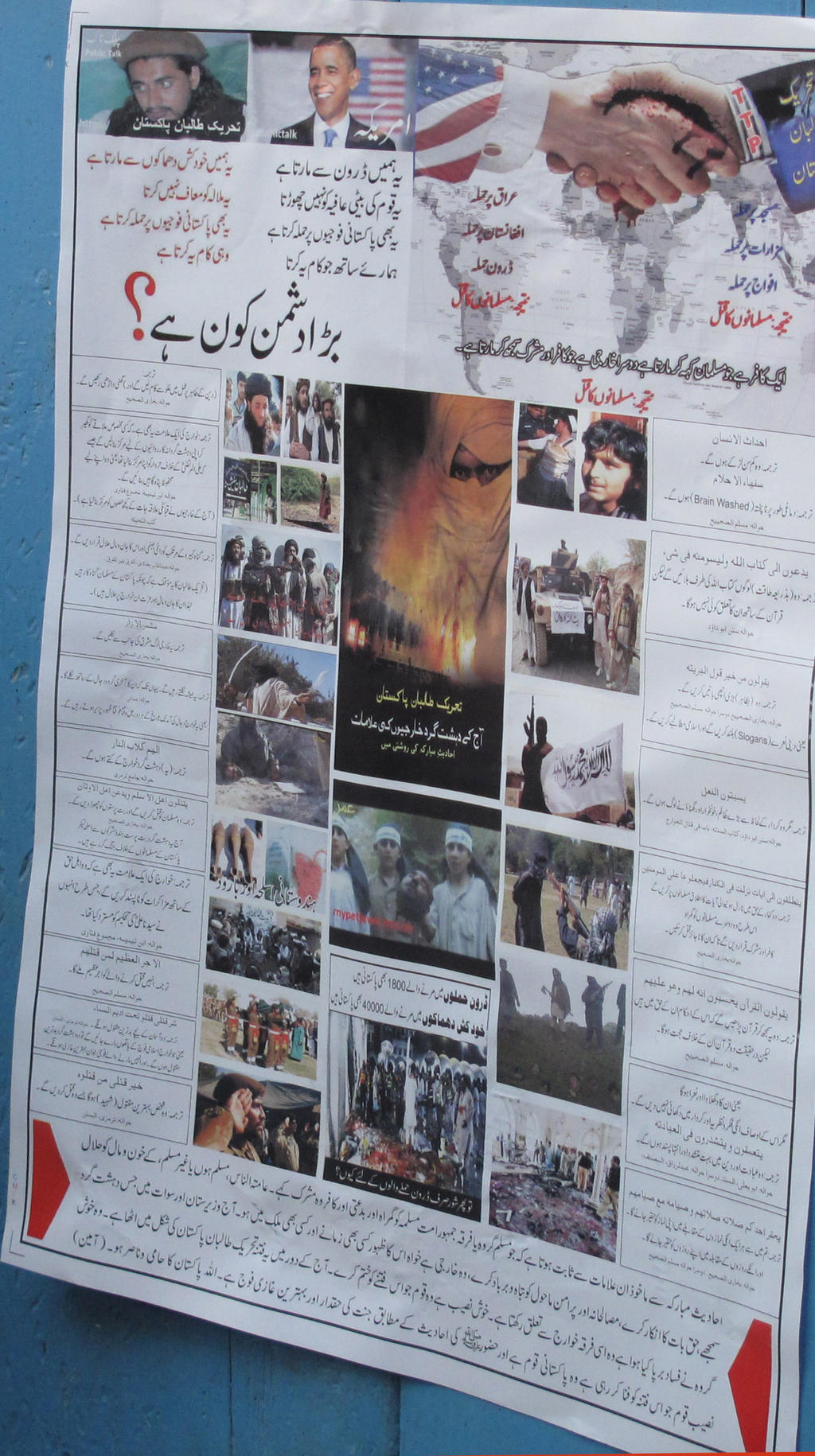 Pakistan Army has pasted a large number of the above and similar posters at various public places in Swat.
The poster shows handshake between the United States and Tehrik-e-Taliban Pakistan (TTP) and compares the two evils.
Pictures of the US President Barack Obama and Taliban chief Hakimullah Mehsud side by side.
………
Is Swat seeing a Taliban resurgence?
By Daud Khattak Friday, October 19, 2012

All the claims about Pakistan's most successful military offensive against militants in the country came to naught when armed assailants targeted a 14-year-old schoolgirl in Swat on October 9. Hours later, while the country's political and military leaders were issuing statements of condemnation along with the usual promise of "bringing the culprits to justice," a Taliban spokesman daringly claimed responsibility for the attack, and warned that they would again target Malala Yousafzai if she survives.

As the 'Swat Diary Girl' — known for writing articles during the dark days of Taliban rule in Swat in 2008-9 — slowly recovers at a hospital in Britain, the entire Pakistani nation from Khyber to Karachi is simmering with anger. The most frequently asked question during the public and private discussions, TV talk shows, and newspaper columns is: Are the Taliban staging a comeback in Swat?

Following the ill-planned and haphazard attack on the students and teachers of the Red Mosque in Islamabad ordered by then-President Pervez Musharraf in mid-2007, the Swat-based Mullah Fazlullah, aka FM Mullah, backed his armed Taliban volunteers, unleashed a reign of terror in the serene valley that lasted almost two years. Their rule culminated in April 2009 with the occupation of Mingora, the commercial capital of Swat, and their advance on the neighboring district of Buner.

It was a time when Swat's women were forced to stay inside the four walls of their houses, girls were banned from attending schools, police stations were bombed, music shops were forcefully closed, barbers were forbidden from shaving men's beards, parallel courts were established to solve private disputes, and public executions of policemen, government officials and those disobeying Taliban became the order of the day.

Under immense pressure at home and abroad, and encouraged by the public outcry over the fact that the Swat Taliban were only 70 kilometers from the capital Islamabad, the Pakistani army launched Operation Rah-e-Raast (Right Path) in May 2009. Earlier, the failure of the first and second phases of the military operation Rah-e-Haq (Just Path) in Swat had forced an influential elder and political leader from the area, Afzal Khan Lala, to tell the army chief General Ashfaq Pervez Kayani that the army and Taliban were "two faces of the same coin."

Lala, who survived an attack believed to have been carried out by the Taliban, earned praise for his exceptional courage by staying put while much of the rest of the population (nearly 2.5 million people) left the area for fear of the Taliban and the looming military operation.

The nearly two-month-long Rah-e-Raast operation, closely covered by this writer, successfully ousted the Taliban from Swat and helped return the displaced population to their villages by restoring public order. However, like what happened with other militant and Taliban leaders, including Mangal Bagh in Khyber, Faqir Muhammad in Bajaur, and Hakimullah Mehsud in the Waziristan tribal agencies, the leader of the Swat Taliban, Mullah Fazlullah, miraculously survived and escaped the valley.

Within a few months of the military operation, the Taliban attempted to stage a return, targeting and killing a member of the Khyber-Pakhtunkhwa assembly, Shamsher Ali Khan, in a suicide attack outside his house in Swat on December 1, 2009. Since then, any tribal elder, politician, social worker or journalist who dared to criticize the Taliban or pointed out the Army's failure to root out the militants — or at least block their entry back into Swat — was kidnapped, beaten, threatened or killed, by either the Taliban or sometimes even the Army.

One such voice was that of Zahid Khan, president of the Swat Hotels Association and one of the leading figures of the Swat Qaumi Jirga, an organization striving for peace and development in the valley. Khan used to criticize the Taliban for their inhumane practices both in public and in private. I still remember my last meeting with him in November 2009 at his home in Swat. During our conversation, Khan showed me an AK-47 assault rifle that was left behind by armed men who ambushed him near his house after he had returned from a meeting with army officials at the Circuit House in Swat.

Khan's family members exchanged fire with the unidentified attackers in the dark of night, and forced them to flee and leave the AK-47 behind. After the restoration of calm (though not peace) to Swat, Khan began to criticize the Pakistani security forces as well as the Taliban, for what he called the army's failure to kill or arrest the Taliban's leadership.

Zahid Khan is now on a hospital bed after receiving severe injuries in an armed attack in August this year. According to police accounts, the unidentified attackers managed to escape. Khan is no longer likely to attend meetings to discuss peace and development in Swat, nor will he be talking to the media.

Two months before the attack on Zahid Khan, armed men gunned down a local leader of the Pakistan Muslim League party in Swat, Muhammad Afzal Khan, spreading fear among Swat's people. While speaking to this writer soon after the attack on Malala Yousafzai, a number of Swat's notable elders and political leaders questioned the role of army troops stationed in the valley, if not to prevent such devastating attacks on civilians.

Just like the outspoken Zahid Khan, Malala Yousafzai and her father Ziauddin Yousafzai were the real voices for peace in Swat; both of them criticized the Taliban for their medieval practices, and the military for not restoring real peace in the valley. Though a shadow Taliban spokesman claimed responsibility for attacking Malala, many Swat observers believe that the aim of the shooting was really to silence her father, who is also the spokesman for the Swat Qaumi Jirga.

So what does all this mean for the people of Swat, Pakistan and the wider world, who believed in 2009 that the Taliban, led by Mullah Fazlullah, had been expelled from Swat once and for all? Are the Taliban gradually staging a comeback? "No", said Mukhtar Khan Yousazai, leader of the Swat Qaumi Jirga. But the threat of their return will continue to haunt the people of Swat, who bravely fought back against the ruthless militants by supporting the army in 2009.

To believe that the Taliban cannot regain power in Swat is not without reason. Before the emergence of Mullah Fazlullah, Swat was a modern and well developed district of Pakistan, not because the government of Pakistan carried out exceptional developmental work there, but because it was a tourist destination, and had enjoyed a golden period as the State of Swat until a merger with Pakistan in 1969.

The level of education among Swat's population is higher than several districts of Khyber-Pakhtunkhwa. Banr Bazaar, the narrow street of two-story houses in Mingora, has been popular for its dancing girls since the period of the princely state. Such was the secular trend among Swatis that one of the rulers of Swat married one of the dancing girls, in an effort to mix the families of musicians and dancing girls into the rest of the population.

Unlike the people of the tribal areas, who are suffering both under the threat of Taliban violence for their non-compliance as well as the fear of arrests and interrogations by the Pakistan army, the people of Swat united more than three years ago to fight back and forced the Pakistani military leadership to carry out a serious operation against the militants. And when the militants were defeated in July 2009, the people rushed back to settle into their villages without giving a second thought to security concerns or the threat of destruction of their houses and businesses in Taliban attacks and army operations.

Further hit and run attacks such as the one carried out on October 9 cannot be ruled out, but a full return or the establishment of a base in any part of the valley by the Taliban seems to be a distant possibility, mainly because the militants have lost support among the population. Their organizational structure has been shattered, their leadership in hiding, and they have been unable to re-establish a single strong base anywhere in Swat.

The questions and concerns of the people of Swat remain, with one question coming above all others: was there any truth to the military's tall claims about the successful military operation? The Swatis also question the role of those hundreds of intelligence operatives and the surveillance devices deployed to spy on local journalists, politicians, notables of the area, and common people.

In addition to the Swatis, other Pakistanis are searching for meaning in the recent back-to-back statements from Pakistan's Army Chief Gen. Kayani and the Joint Chiefs of Staff Committee in which they reiterated that the country's security forces are ready "to render any sacrifice" in the fight against extremists.

A similar statement was issued by the Army Chief on Independence Day this year, and the Pakistani nation hoped for a while that their all-powerful military forces now meant business. Nothing came of their promises. But perhaps Malala's cry, which awakened Pakistanis from Khyber to Karachi, will compel the top brass to make a decision. Let's keep our fingers crossed!

http://afpak.foreignpolicy.com/posts/2012/10/19/is_swat_seeing_a_taliban_resurgence