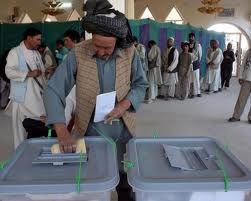 Kabul – Afghan government officials said Saturday that parliamentary elections were 'successful,' despite Taliban attacks aimed at disrupting the vote.
'I want to congratulate all Afghans on the completion of successful parliamentary elections,' Fazel Ahmad Manawi, chief of the Independent Elections Commission, a body that conducted Saturday's polls, said in a press conference.
The Taliban claimed that its fighters attacked around 150 polling sites across Afghanistan on Saturday, but Afghan defence minister said the militants had managed to launch significantly fewer attacks than last year's presidential elections.
Saturday's polls saw 305 violent incidents. That compares to 422 incidents during presidential voting on August 20, 2009, which was also marred by massive fraud, Abdul Rahim Wardak said.
A total of 11 civilians, four security personnel and 27 Taliban members were killed in blasts and firefights shortly after the voting began in the country's 34 provinces, security officials said.
Afghan officials also said Saturday's attacks were not serious enough to derail the vote.
'Despite the heightened threats and despite utmost efforts which were put in place to prevent the Afghan people from going to polling stations … the elections were held in nearly normal situation throughout the country,' Waheed Omar, chief spokesman for President Hamid Karzai told reporters.
The Free and Fair Election Foundations of Afghanistan (FEFA), an independent watchdog that deployed around 7,000 observers to most of the vote centres, also said that the attacks were not serious enough to stop the balloting.
'Though there were numerous attacks, none were severe enough to disrupt voting on a wide scale,' FEFA said in a statement.
Afghans queued outside around 5,000 polling stations to cast ballots in Afghanistan's second parliamentary elections since the ouster of the Taliban by US-led forces in late 2001.
However, election officials said turnout picked up toward the second half of the day, after initial reports showing it remaining light throughout the country because the Taliban managed to scare off many voters.
Manawi put the voter turnout at around 40 per cent for nearly 90 per cent of the polling sites, but said that that percentage could change as reports from the rest of the centres are provides.
He said that more than 3.6 million voters cast their ballots in 4,632 stations out of 5,335 sites that were estimated to have been opened.
Karzai, who cast his ballot in a polling station in Kabul, urged Afghans to brave the attacks and come out and vote.
'As in every election, we do hope that there will be high voter turnout and nobody is deterred by security incidents, which I am sure there will be some,' he said.
Security forces were on high alert as around 63,000 soldiers and 52,000 police have been deployed to all the sites to provide security.
At least 1,000 voting stations remained shut and officials said that it was too dangerous to hold elections in nine districts.
The Afghan security officials continued to hold their position throughout the day by assuring people that it was safe to come out and vote.
'Saying security is guaranteed is a big word,' Staffan de Mistura, the top United Nations envoy to the country said Saturday. 'Many precautions have … taken place, never have there been so many precautions as today, but security remains a major concern.'
Saturday's vote is seen as the latest effort in a US-led process to bring democracy to the country, following last year's presidential election, which was marred by violence and massive fraud.
About 150,000 US and NATO troops are trying to implement a counterinsurgency strategy aimed at turning the tide of nearly nine years of war against the insurgents.
The vote is also a big test of credibility for Karzai, who was re- elected in last year's fraud-scarred elections.
Candidates and independent observers warned that a repeat of fraud was possible as fake voting cards were sold across the country prior to the elections. Millions of phony cards were said to have been printed in Pakistan.
Afghan security forces seized more than 65,000 fake voter registration cards on Saturday, while allegations of fraud – including ballot-stuffing by electoral workers in favors of certain candidates and underage voting – were reported across Afghanistan.
'A large number of fake voter registration cards that were intended to be used were identified and seized,' Manawi told reporters after the balloting ended at 4 pm (1130 GMT).
He confirmed that, in some polling stations, the indelible ink, which was used by the election commission to mark voters' fingers to guard against double voting, could easily be washed off.
'Ink quality was a widespread problem, with voters able to easily wash the ink off their fingers in at least 2,950 polling centers in half a dozen provinces,' FEFA said in its statement.
More than 2,500 candidates are vying for 249 seats in the lower house of parliament, the Wolesi Jirga. Among them are a total of 406 women contesting for 68 seats allocated for them by the country's post-Taliban constitution.
Initial results were expected by early next month, while the final verified results were due to be announced around the end of October.
Election officials said final results could be delayed because a UN-backed complaint commission is expected to look into thousands of allegations of fraud and complaints, mainly from losing candidates.
Source: m&c