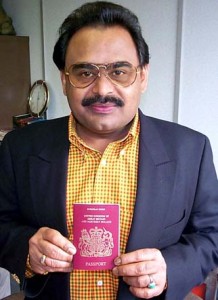 On October 14, Muttahida Qaumi Movement founder and leader Altaf Hussain delivered a speech in support of the adolescent Pashtun female education advocate Malala Yousufzai who was grievously injured in an assassination attempt and is still under intensive care and observation at a military hospital in Rawalpindi.
Keeping in line with the popular (for once!) and widespread anti-Taliban mood in the country, Mr Hussain condemned the attempt on Yousufzai and exhorted the political leadership of the country towards coming together "…to save Pakistan! To save Pakistan! To save Pakistan!"
Considering the controversial (to say the least) background of Mr Hussain himself and the rest of the MQM leadership, this spiel of peace and non-violence should have been listened to with a pinch of salt. Were Mr Hussain's own hands not soaked in the blood of innocents (in 33 murder cases by official record), one could have even appreciated his stance, indeed as many already have.
What may seem surprising to some long time observers of Pakistani social media is the almost obsequious adulation given by some well known 'liberals' to Mr Altaf Hussain for making ordinary statements that others have made before him! A glance at a few of their social media pronouncements shows how fickle people of their type can be that they applaud the same individual whom they often condemn in the strongest terms otherwise. For the sake of brevity, this post shall document the statements of one prominent 'liberal', Marvi Sirmed.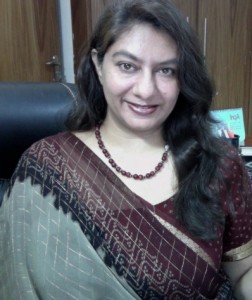 If sycophancy were an Olympic sport, Marvi Sirmed could very well be the star performer, if not a medal winner.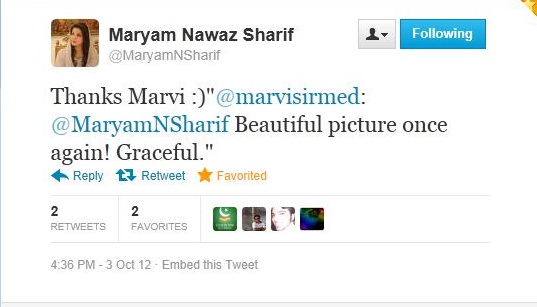 This time around, her object of affection is Altaf Hussain whose speech she considers SO UNIQUE that she fails to find any other Pakistani leader who ever made one even similar to it.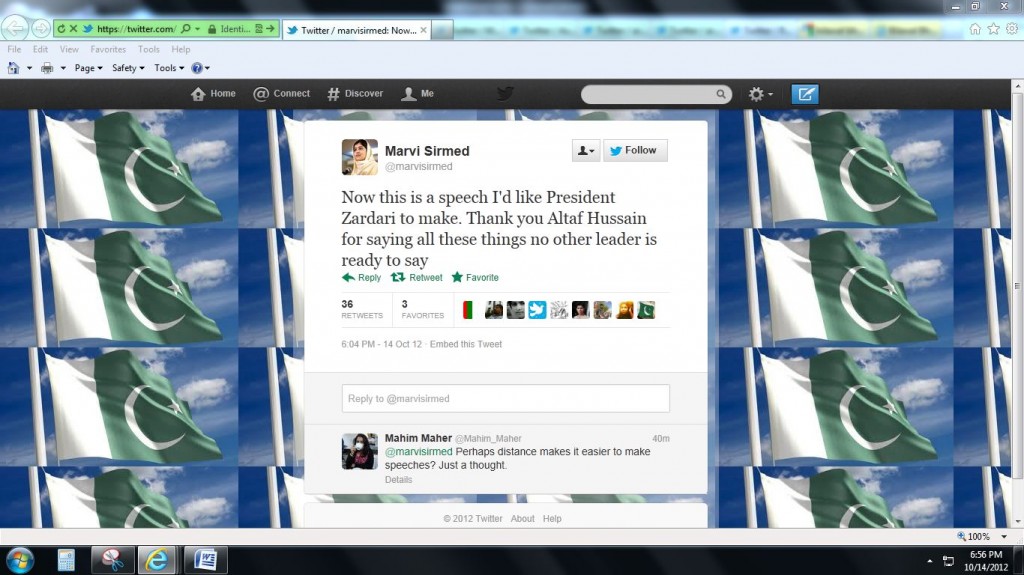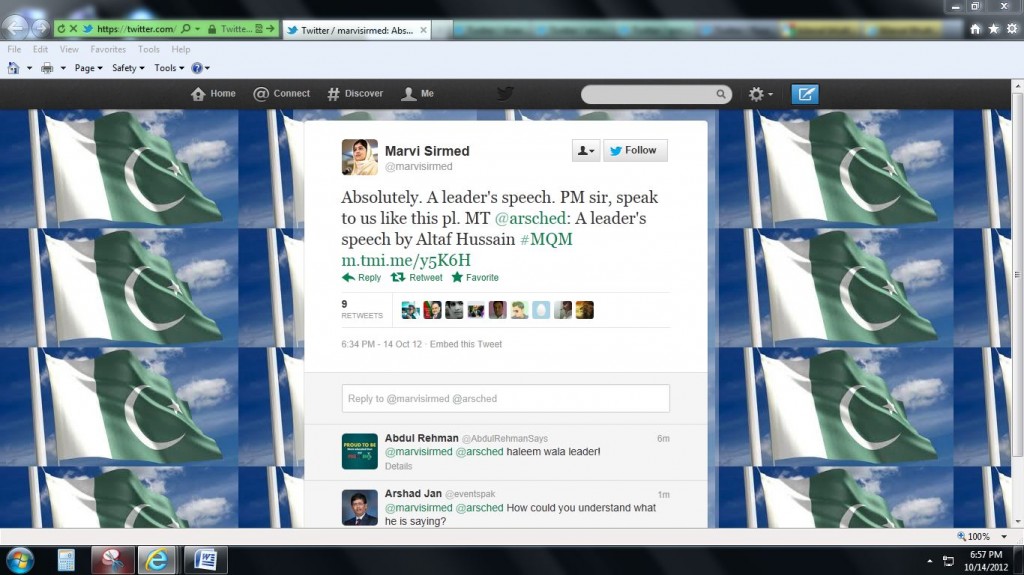 Let's jog her memory a little, then.
"…these things no other leader is ready to say."
Right after the Malala shooting, the young Chairperson of Pakistan Peoples Party was one of the first leaders who condemned the cowardly act. Days before Altaf Hussain's speech today, Bilawal Bhutto Zardari went so far as to declare the Taliban, the alleged attackers in this case, as the enemies "of the country, Islam and humanity." This was not an attempt at riding the populist mood like today's speech by Mr Hussain who in the past has advocated the cause of the convicted terrorist Afia Siddiqi (a Taliban cause celebre in her own right).
At a party meeting in New York in September 2012, Mr Zardari recognised the existence of a planned and orchestrated campaign of brutality and violence against certain sects and ethnic communities in Pakistan. Apart from 'Let Us Build Pakistan' and a few other weblogs and social media activists, the mainstream politicians and 'human rights activists' have paid little to no attention to this sensitive issue and without adopting a selective approach like Mr Zardari. For example, in a March 2012 meeting with Sindh's Minister for Minorities Affairs, Mr Zardari expressed concern at the killing of 18 Shias, 2 Christians and an elderly Ahmadi in acts of targeted violence throughout the country.
His anti-Taliban stance has remained the same and never wavered or softened since he entered politics in 2007. In an April 2012 speech to the 'Future Youth Leaders' seminar, Bilawal Zardari had rubbished the possibility of engaging with the Taliban or even supporting a faction of it.
This was the pre-Malala period when right-wing political leaders and 'strategic analysts' still supported a dialogue process with the so-called 'good Taliban'.
"This is a speech I'd like President Zardari to make."
For his part, President Asif Zardari has also been a strident voice against the Taliban in particular and Islamic extremism in general. Even as his government signed a peace treaty in Swat in 2009, he expressed his reluctance and dismay at appeasing the Taliban. To his credit, his short lived policy of appeasement never included any populist clemency appeal for 'Lady Al-Qaeda'.
Marvi Sirmed is often found to be appreciative of the speeches of the above-mentioned leaders as well. This shows that either Marvi Sirmed supports the political 'flavour of the month' issue and individual or, as was stated earlier, is a pathological sycophant. Whatever the case may be, this is just one example of the fickleness with which people of Marvi's ilk appreciate, ridicule and support individuals and issues on an almost random basis. In this case, they do so knowing the duplicity of their present stance compared to their very public past ones.