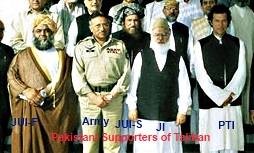 Imran Khan said: "aap ne jo kaha ke afghanistan mein, dekhen jihad bari simple cheez hai, ye Quran mein bara wazeh hai jo apni azadi ki jang lar raha hain wo jihad hai. Afghanistan mein jo log lar rahai hain apni azadi kay liyay, wo jihad hai. FATA mein agar foj na bhejtay tau aaj ye sara kuch (terrorism) na hota. ye sara kuch udhar say shuroo huwa."
Previously Imran Khan supported the enforcement of Islamic Sharia as his goal:
"humari hukumat aaee tau hum shariat nafiz kar dain gay. hum apnay aap ko musalman kehtay hain aur shariat say dar jatay hain. ye kitni sharmnak baat hai. shariat nabi paak ka rasta hai."
http://youtu.be/cH0XOTXmXK0
PESHAWAR:  Terming the ongoing war in Afghanistan a 'jihad', Pakistan Tehreek-e-Insaf (PTI) chief Imran Khan parried a question on Wednesday whether the war in Pakistan's tribal belt could be labelled as terrorism. He was addressing a press conference in Peshawar after paying a visit to inquire after the health of Malala Yousafzai.
Imran added that there was a need to investigate the motivations of various Taliban factions operating in the country, adding that the decision to carry out a military operation in Waziristan in 2004 and the Lal Masjid episode were 'the main reasons' behind the violence across the country.
"In the guise of the Taliban, there are several criminal gangs  who didn't even spare PTI workers by demanding extortion money." (While Taliban through their formal spokespersons proudly claim the attack on Malala, Imran Khan is, as usual, resorting to denial and obfuscation. Does Imran Khan think that Taliban are not criminal gangs?)
The PTI chief said that "drone attacks are carried out with the consent of the government, and in reaction, Taliban attack civilians." (Only a demented person could equate the Taliban's attack on Malala with drone attacks on the Taliban.)
Published in The Express Tribune, October 11th, 2012.
Afghan govt condemns Imran's jihad comment
KABUL: The reverberations of Pakistan Tehreek-e-Insaf chief Imran Khan's political gaffe are being felt across the Durand Line. The Afghan government has strongly condemned the PTI chief for his statement, said Farhad Azimi, deputy secretary of the Afghan parliament while talking to The Express Tribune.
"This is clear interference in Afghanistan's internal affairs. We urge the Pakistani government to arrest people who support the Taliban," Azimi said. Imran, while visiting child activist Malala Yousafzai in Peshawar on Thursday, had termed the ongoing war in Afghanistan against foreign troops 'jihad.'
Azimi said Afghan President Hamid Karzai will meet members of parliament in a regular session on Saturday (today) to discuss the issue. He is likely to issue some directions in this regard, Azimi said.
Veteran journalist and political analyst Fahim Dashti said this is not the first time Imran has given such a 'negative' statement about Afghanistan. "It is a political slogan through which Khan wants to gain more support. Clearly this is neither fair nor logical," Dashti said. Those who consider terrorism a threat would never support Khan in this stance, Dashti said, adding "even if they are supporting him, he will lose them slowly." He said the Afghan people had high expectations from Imran when the PTI emerged as a strong political entity, but he proved to be an opportunist and populist.
"The war in Afghanistan is not jihad. This is a war by terrorists against Afghanistan, its people and the entire international community," said Hamid Zazai, managing director of Mediothek, an Afghan-German NGO. He alleged that Khan is receiving support from the Taliban, and that by making such statements, he is just "paving the way for stronger Taliban support than what he is enjoying now.'
Published in The Express Tribune, October 13th, 2012.
Specimen comments from Express Tribune

AJ: Khan Sahib please stop justifying these barbarians and stop finding excuses to justify there acts of voilence against the inoccent country man. May be time has come for people like you and your patrons who has supported these so called jihadi look inward find and identify the real enemies. I am in no way or shape support drone attacks, however, I can not turn my eyes when I see these strategic assets killing civilians and military officials and attack our way of life. Khan sahib its time for you to let go of your mentors like gul hameed and Qazi sahib and look to the people who have suffered at hands of these barbarians

Maestro: Khan sahb – Musharraf gave Lal Masjid over a week to put down their arms and negotiate. They shot down army officers. Those people were burning video shops in Islamabad, and final kicker was the kidnapping of chinese. And may I ask, why were there so many guns, grenades and firearms in a mosque? Why were women standing with sticks in that mosque? If thats what you call Islam, then I am sorry, you have clearly lost the true ideology of this religion, which is PEACE and TOLERANCE! Do you still want to "negotiate and talk" with these beasts called "taliban" which means students? Students of what? Hate, illiteracy? If you come into power, will you have the guts to take them down? Pakistanis are rising. So called fundamentalists have no place in this country. Hear the speech by Quaid e Azam on Aug. 15, 1947 clearly, whom you apparently adore so much. Pakistan was made as a secular state for the muslims of India with full protection and rights for all minorities. No one has any security or rights in this country right now. And keep blaming the US for everything – you can visit Malala all you want – the mullahs have destroyed this nation with their hate speeches in mosques and madrassahs. Will you stop them? A 14 yr old girl is fighting for her life right now – get some real guts and condemn the so called "taliban" openly now if you want to be a real cheetah.

Obaid: Let me enlighten you that she wasn't shot because she advocated drone attacks in Pakistan. She was attacked because she upheld womens rights. Yeah before the Lal Musjid and military operation, Pakistan was hub a of peace and progress. It immensely pains me to say that you are not the hero I once thought your were.

Mard-e-Haq: Jihad. My foot!!! That's what the Taliban claims when it shot up Malala and other school girls — that it was jihad. So, where are the gora PTI activists? Are they by Malala's side or have they all flown back to safety in Amreeka?

Riz: This man is serious embarassment for his followers. the world is against taliban, but he is still trying to devise ways to extricate them. well, he has lost one more follower today.

ShahJozgon: Brutus at least was clear in his goal, evil though. Mr khan is confused about his Taliban policy. For all their barbarity from Swat to Waziristan and in the whole country, from the blowing up of Jirgas & shrines to attack on Malala, he cannot see a villain in them. He claims we lost 40 thousand lives in war on terror but stops short of saying who killed these 40 thousand people? drones? NATO or the Taliban? Peace march is held against drones in which both militants and innocent people die, but no march against or clear condemnation of the terrorists/Taliban. Further it is claimed that suicide attacks are the revenge for drones. this is really a pathetic logic. Finally on what basis is he declaring war in Afghanistan as Jehad? If he says it on the basis of NATO troops presence then again he is wrong as NATO has the support of Afghan govt and a large portion of population. In fact these foreign forces were invited to deal with the occupation & interference of other foregin forces i.e Arabs, Chechens, and ISI sponsored Taliban. Similarly, if war against foreigners is a qualification for jehad, what about a military operation against Al-Qaeda and their supporters (who have terrorised our society) in waziristan? Why these double standards?

PakArmySoldier: This statement was the final nail in the coffin for me. I like PTI's economic, health, and energy policies but their policy on terrorism has forced me to withdraw my support. I think Imran Khan is a person of great integrity but I fundamentally disagree with him on his stance towards the Taliban. He is increasingly sounding like a deranged conspiracy theorist.