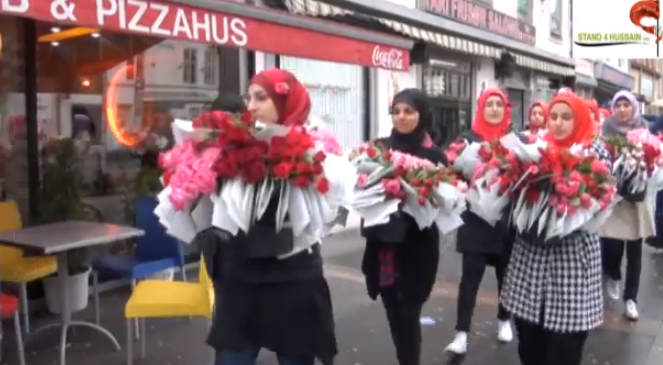 A youth organization of Norwegian Muslims, Stand4Hussain, handed out flowers to the people in Oslo (Norway) with cards attached to them containing an introduction to the Prophet Muhammad (peace be upon him). This was in response to the anti-Islam hate film "Innocence of Muslims" that caused outrage all across the Muslim world.
The Stand4Hussain is a youth organisation of Norwegian Muslims that seeks to spread the true teachings of Islam of the holy prophet Muhammad and his family (Ahlul Bayt). The event was also an expression of unity between Shia and Sunni Muslims and interfaith harmony between Muslim and non-Muslim communities.
We believe the Stand4Hussain has given an important message not only to the Islamophobes who made the anti-Islam movie but also to violent Muslim mobs and extremist groups which used the occasion to promote their hate agendas. The Prophet of Islam, Muhamamd is an expression of Allah's mercy to all created beings; roses, not violence, are an apt way to spread his message of peace and mercy.
Roses in London
A similar example was seen a few days ago in London when Shia Muslims distributed roses with a brief introduction or Hadith (tradition) of Prophet Muhammad: