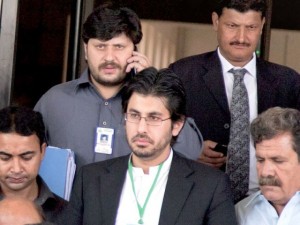 In a move that should come as no surprise given its past antecedents, the Supreme Court snatched away the investigative authority from the National Accountability Bureau (NAB)  in the corruption cases against the son of the Chief Justice, Arsalan Iftikhar.
"ISLAMABAD: Taking away investigative authority from National Accountability Bureau (NAB) in the financial impropriety case against Dr Arsalan Iftikhar, the Supreme Court on Thursday directed former police official Shoaib Suddle to probe into the scandal as a one-man commission, Express News reported. Once directives are released, the commission will have to complete the investigation within a period of 30 days. According to the Supreme Court's ruling, Suddle will be given the power of a judge and will also be able to take assistance from lawyers." Source 
How convinient!
Inspite of the best efforts of Pakistan's media, there is significant evidence that implicates not only Arsalan Iftikhar but also his daddy and uncle judges of the PCO Court also known as the Supreme Court of Pakistan.  This includes but is not limited to:
– Recieving financial benefits from real estate tycoons after blackmailing them
– Using public property such as the Chief Justice Residence as an office address
– Mis- declaration on Tax Returns
– Misusing house Building loans for the lavish wedding celebrations of Arsalan Iftikhar
– Misusing State priveleges for getting Official passports
– Abusing the power of the Court to build a multi-billion ruppee business in the space of 4 years with a poor academic and professional background
– Misusing the Supreme Court premises for registering a Charitable Foundation and misusing tax payer monies by saving millions on utilities, taxes etc for said charity.
The list goes on and on and for this, the Pakistani public is deeply indebted to the journalist research of Senator Faisal Raza Abidi of the Pakistan People's Party.  For full details on the efforts of Senator Faisal Raza Abidi, we recommend the Facebook Page Faisal Leaks for a complete list relevant video clips.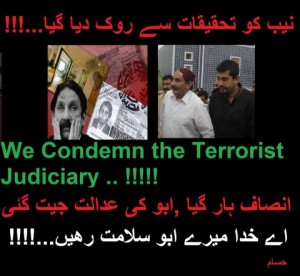 Pakistan's Supreme Court has covered itself in disgrace and this sad story of sellout and corrupt judges (barring a few honourable exceptions) is as old as Pakistan itself. They have repeatedly failed the public and have failed to provide justice and closure to over 2.3 million pending cases.  Aside from providing legal cover to various military dictators – a stigma that also taints this sorry lot of bureaucrats with a God complex, Pakistan's Supreme Court has sent one PPP Prime Minister to the gallows and illegally disqualified another PPP PM – both on trumped up charges.
With its repeated interference in the domain of the Parliament (legislature) and the Executive, the Supreme Court has conducted witch hunts against the Pakistan People's Party and its government.  When it suited their whims, this judiciary has forced the investigative authorities to concoct and invent evidence against elected representatives like Abdul Qadir Gillani, Ali Musa Gillani and Hamid Saeed Kazmi.  On the other hand, when it comes to the son of the Chief Justice and mass murdering Jihadis like Malik Ishaq and Hafiz Saeed, evidence gathered by the Prosecution is either obstructed or deemed insufficient.
This PCO judiciary is supported by the Islamist-right wing coalition of Jamaat-e-Islami, Lashkar-e-Jhangvi, Pakistan Muslim League Nawaz and Pakistan Tehrik-e-Insaf (Imran Khan Group).  It also has powerful cheer leaders amongst Pakistan's chattering elites (who like to think of themselves as  "civil society")  and a Corporate media that has taken propaganda to record levels.  The main apologists for this corrupt judiciary include Hamid Mir, Kashif Abbasi, Ayesha Tammy Haq, Samad Khurram, Kamran Shahid, Haider Waheed, Talat Hussain along with other similar characters.
In Pakistan today, if you are a relative of these PCO judges like Rana Sanaullah, Law Minister of the Punjab Provincial Government (PML N) or better yet, the son of the Chief Justice, life is good. There is no such thing as moral, ethical or financial accountability for such people and for the leaders of PML N and PTI.
Similarly, life has never been so good for mass murderers like Malik Ishaq and Hafiz Saeed – two of the many Jihadi beneficiaries of this Supreme Court who clearly had to face a different standard of investigation than say Moonis Elahi or Hamid Saeed Kazmi (PPP).  This judiciary is the best friend for a Pro Taliban corporate media and their quest to avoid paying any tax.  Similarly, the Pakistan Army will forever be indebted to their fellow public employees in this Supreme Court for removing Hussain Haqqani.
GHQ will also appreciate #IftikharPCO and his merry band for its cosmetic treatment and stalling of the Missing Person's Case and Asghar Khan Petition.  This Petition has been filed since nearly two decades and  details ISI's financial efforts in derailing democracy and the elected government of Late Benazir Bhutto during the last century.
Cheap Justice Galore!