Recently a few friends have objected to LUBP's criticism of Express Tribune's (ET) alleged bias against Shia Muslims.
Our fellow bloggers at Pakistan Blogzine (PB) have previously highlighted how an op-ed published on ET blatantly insulted Shia Muslims and their Muharram rituals.
In an earlier post today, we highlighted #ExpressTribuneShiaPhobia which misreported massacre of 30 Gilgiti-Balti Shias in Naran as Sunni massacre.
In the present post, we provide our readers with further evidence of how ET tries to misrepresent Shia genocide and instead of posting pictures of dozens of Shias killed by State-sponsored Jihadi-sectarian militants (ASWJ-LeJ, Taliban etc) or those protesting the genocide, portray Shias as oppressors while presenting ASWJ-LeJ cadre as the oppressed groups, and misrepresenting the country-wide Shia genocide as a Sunni-Shia sectarian issue.
For a history of Shia genocide in Gilgit-Baltistan, here is a relatively detailed archive: https://lubpak.net/archives/tag/gilgit-baltistan
In the month of April (from 3 April to 29 April 2012), at least eight reports on Shia genocide (reported as "sectarian violence") in Gilgit Baltistan were published in ET, all of whom had the following common features:
1. A picture or two condemning "Sunni genocide" in Gilgit Baltistan;
2. Uncritical description of grenade attack on ASWJ-LeJ jalsa as an act of Shias;
3. Decontextualized analysis of Shia genocide in GB and other areas of Pakistan;
4. Misrepresentation of Shia genocide as Sunni-vs-Shia sectarian violence;
5. Presenting ASWJ-LeJ terrorist as legitimate representatives of peaceful Sunni Muslims;
6. Negation of the role of military-state in nurturing and protecting murderers of Shias.
Here are the snapshot from ET reports with the corresponding URLs. Rest we leave to our readers judgement.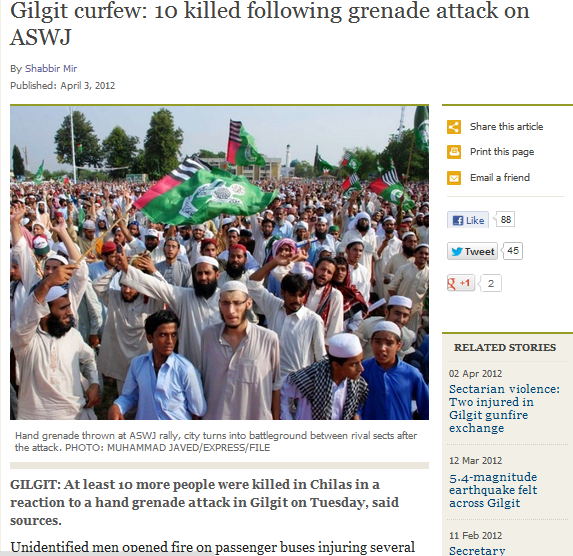 Gilgit curfew: 10 killed following grenade attack on ASWJ
By Shabbir Mir
Published: April 3, 2012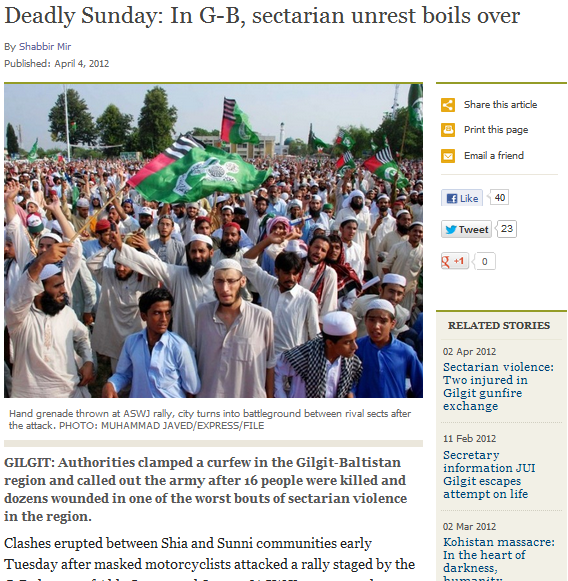 Deadly Sunday: In G-B, sectarian unrest boils over
By Shabbir Mir
Published: April 4, 2012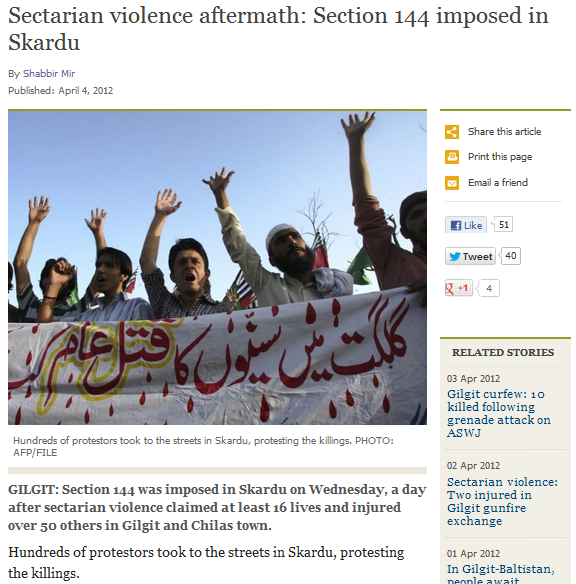 Sectarian violence aftermath: Section 144 imposed in Skardu
By Shabbir Mir
Published: April 4, 2012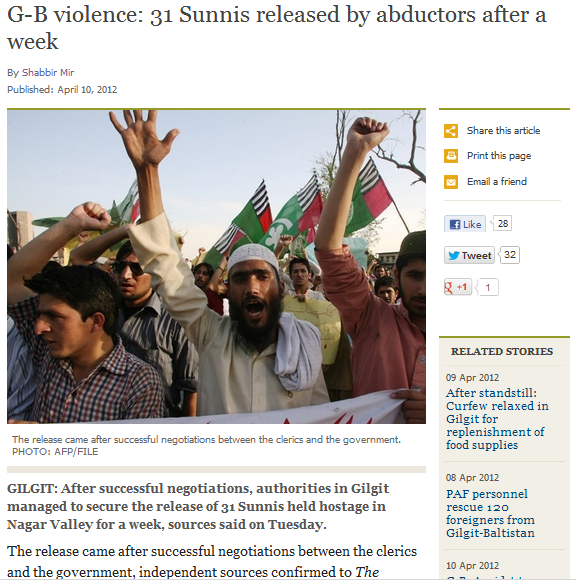 G-B violence: 31 Sunnis released by abductors after a week
By Shabbir Mir
Published: April 10, 2012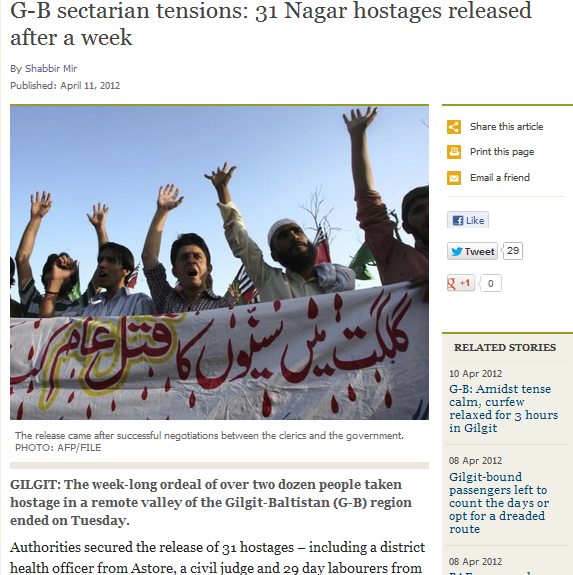 G-B sectarian tensions: 31 Nagar hostages released after a week
By Shabbir Mir
Published: April 11, 2012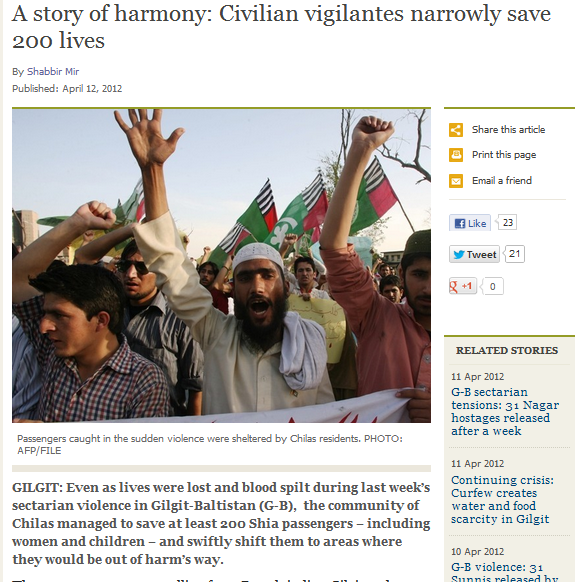 A story of harmony: Civilian vigilantes narrowly save 200 lives
By Shabbir Mir
Published: April 12, 2012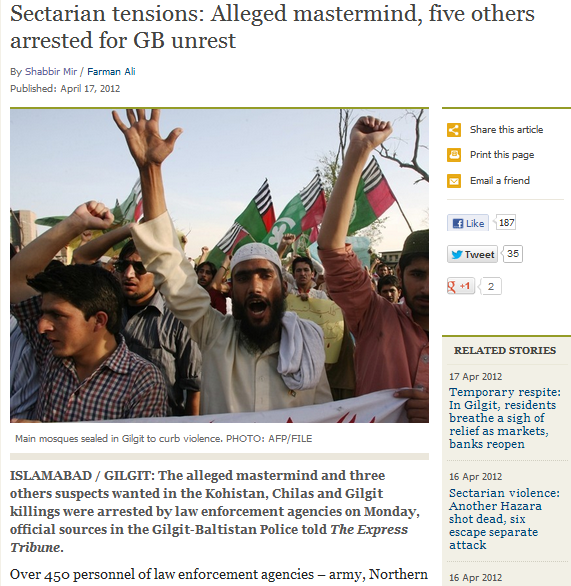 Sectarian tensions: Alleged mastermind, five others arrested for GB unrest
By Shabbir Mir / Farman Ali
Published: April 17, 2012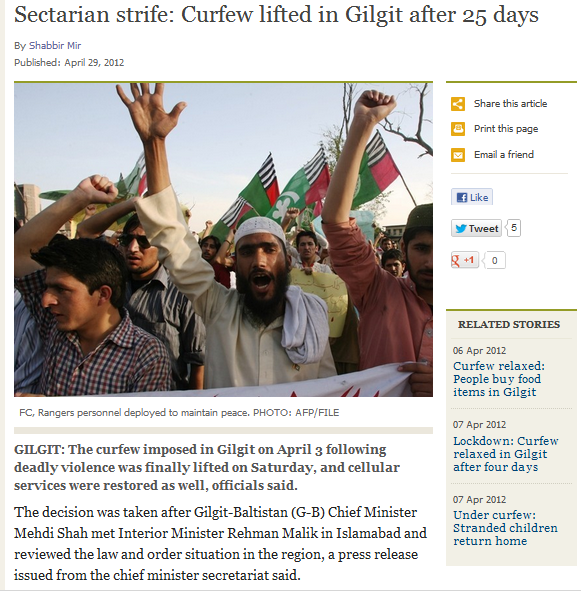 Sectarian strife: Curfew lifted in Gilgit after 25 days
By Shabbir Mir
Published: April 29, 2012
We have in the past appreciated certain op-eds on ET. However, that does not mean we should not highlight the pattern of Shia phobia evident in certain other reports and op-eds.
Can we suggest that every reader contribute at least five Rupee to Express Tribune. If only 3000 Pakistanis could contribute 5 Rupees each, ET might be able to buy a reasonable quality camera.
The other option for ET is to do what resourceless activists (such as those at LUBP and other blogs) often do, i.e., take pictures from social media which are abound. Here are quite a few pictures of Shia genocide in Gilgit including a couple of vidoeo which never made it to ET:
https://lubpak.net/archives/75456
https://lubpak.net/archives/81583
https://lubpak.net/archives/75666
https://lubpak.net/archives/75609
https://lubpak.net/archives/tag/gilgit-baltistan
We ask our friends: do you need more evidence of anti-Shia bias of ET?
As suggested by a Pakistani columnist, if it is not anti-Shia bias, it is surely a lapse of editorial judgment and incompetence.
We heard there used to be an ombudsman at ET?