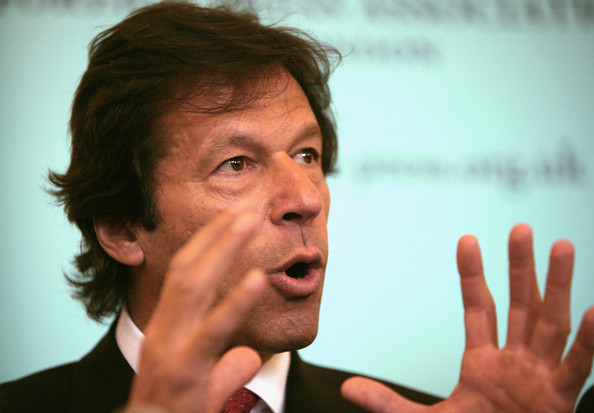 After stunning defeat by Gilani Jr. to the united candidate of Nawaz, Imran Khan, establsiment, Sipah e Sahaba & Judiciary things were very quiet. People were talking of patch up between Imarn & Nawaz for the sake of defeating PPP by forming electoral alliance on the footings of PNA or IJI but that hope took a severe beating by the stupid mudslinging press conferences from media terrorist Khwaja Asif of PML-N & Imran Khan of PTI.
A very interesting situation. Taliban Khan got trapped in his own trap. There are strange things in this episode. First how can a charity invest, secondly any TOM, DICK, HARRY, JOHN, MIKE, DAVE, JOE, SALLY, PATTI, KARREN, MICHELLE, and Imran Khan knows that the name of "Virgin Islands" just simply rings many alarm bells that there is something going to be illegal. Another fishy thing is Imtiaz Haidry a board member of SKMH, also has investment company in all the places "Virgin Islands"and with out any thought of having conflict of interest, invests the money on simple guarantee on a piece of paper which so far has not been produced yet. Without divulging too much, the company in which Imtiaz Haidry invested Virgin Islands is owned by some Arab diplomat at UN.
Pot smoking Mr. Talib Khan said that the money in that "endowment" was collected from overseas. We all know the money collected in Pakistan is spent on needy patients and highly paid staff along with over highly paid board members which are of course his sisters, brother in laws and cousins. Talib Khan is just as corrupt as any other politician. But the difference between Zardari & Nawaz corruption is that they are clumsy but Imran Khan has real fancy style to it. The words like Charity, Endowment are very attractive to everybody in Pakistan and his former western admirers.
Joke of the century is that Imran Khan will take PML-N walas to court just like he took Altaf Hussain of MQM to court in UK. Chairperson of our politicised Supreme Court Mr. Hamid Khan (former lawyer of Malik Riaz) is VP of PTI and he can easily take down Shariff brothers but he wont do it because there is some truth to this illegal investment and definitely something really stinks bad and that bank guarantee I wish we can all get such simple guarantees.
Poor Taliban Khan is shouting on TV with press conference like a angry gangster shows that PML-N walas have probably hit a jackpot. This is all his own doing. For last many years he himself has been doing same to others. He has been putting everybody on media trial and now he has to face the same. He couldnt justify his "benami" transaction as decalred by Jemimia, taking plots from Nawaz Sharif, now it will be tough to justify this transaction.
Many might remember that Talib Khan has been accused of mismanagement of SKMH funds since 1995-96 Benazir government and in reaction he created a platform called PTI to fight of such allegations. Even at that time Imran Khan couldnt satisfy the government Tax authorities about how much money is being collected and how much is being spent. Imran Khan, Choudhry Nisar and Nawaz Sharif were excellent cricketing buddies, they partied hard and they are well aware of each other's skeletons in cupboards. Seeta White scandal came into light because when Seeta visited Pakistan in early 90's Nawaz and Nisar were in the same dinner parties.
Imran Khan who now is born again muslim known as Taliban Khan has always been a selfish guy. He only looks after his own interests. Many remember his famous world cup wining speech. How many of his former team mates from his over twenty years of cricketing careers are with him on this political platform or ever speak good of him, because there was never anything good about him to say. Where are likes of Majid Khan, Mohsin Khan, Zaherr Abbass, Haneef Khan, Sarfraz Nawaz, Rameez Raja, Abdul Qadir & Miandad. If Imran Khan cant bring his own cousin great Majid Khan on his political platform how does he expect the same from others.
He is worst dictator than Zardari and Nawaz. All he has is, good sound bites appealing to yuppie crowd living in private housing schemes, DHA's, Bahria Towns (Malik Riaz's property) studying in private schools and universities and overseas. This PTI is simply collection of used condoms of other political parties they are backed by establishment and duly supported by Media. The bigwigs who are joining PTI will have real tough time winning their own seats especially Talib Khan let alone wining a majority in the parliament. He is a "scud missile" dead on arrival.
The man who couldnt keep his wife from falling into foreign hands how will he protect Pakistan from falling into enemy hands. Taliban Khan you are always demanding the rulers to bring their money and their children back to Pakistan rightly so, now what you have to say about your money & your children will they stay in the foreign hands.