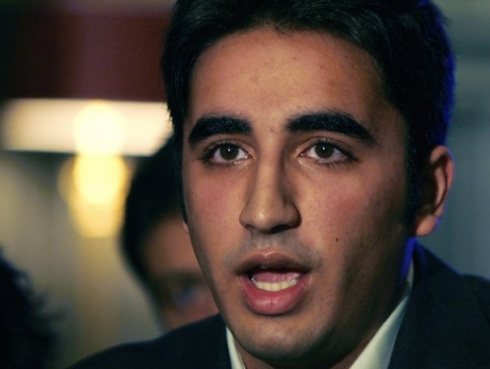 "Zinda Hai Bibi, Zinda Hai" – the Bilawal Bhutto Zardari, I know was seen weeping in the National Assembly to these catchphrases. Who could have endured for this country more than him, who grew overnight on the ominous December 27, 2007? The narrative of his life is hard to wrap up without a pierced heart and drenched eyes –the "Bhutto's" son – compelling and heroic continues the legacy – heritage deeply engrossed in blood. Like his martyred mother Benazir Bhutto, he did not choose this life, it chose him…
Pakistan ebbed from the globe in the aftermath of atrocities, it was President Asif Ali Zardari – the third founder of Pakistan, who saved it from tumult; the red, green and black pennon had to be held towering, and for that, the then 19 year old, Bilawal Bhutto Zardari was the best option, perhaps, the child who grew up as a hostage to the ordeals of politics and was always shorn of a normal life. His mother's dreams were now Bilawal's and he made the tormentors throttle to his first ever press conference: "My mother always used to say that democracy is the best revenge". They interrogated "Will the PPP survive"? His words were enough of a rejoinder – the Pakistan Peoples Party had come to subsist forever – the phenomenon coupled to the martyrs' red.
He is the descendant to the "inimitable", and "Bilawal" himself has no exemplar – how fittingly named by our epic warrior princess!He carries the Bhutto's blood. Magnetic like his grandfather, Shaheed Zulfikar Ali Bhutto, Bilawal Bhutto Zardari speaks courteously and expressively as his mother Shaheed Benazir Bhutto, who stimulated the masses by her ingenuous speeches.
Bilawal Bhutto Zardari belongs to the family of the bravest – grandfather who favored scaffold rather than tendering himself to a totalitarian; mother, who now dwells under the soil of Garhi Khuda Bux, laying down her verve for an egalitarian and prosperous Pakistan, and father who was denied justice – who spent 11 and a half years in prison without a single conviction for the people of Pakistan – for their future. He is also the brother to the evenly "captivating" Bakhtawar Bhutto Zardari, who stirs the world by her words "They took our mother from our hands", yet illustrates optimism of a better prospect for Pakistan : "I would take the pain away"…, and Aseefa Bhutto Zardari, who has undertaken to eliminate polio from this country, following in her Shaheed mother's footsteps.
"Benazir's son is destined to be Benazir" and this, by no means is an ideal claim. His salient semblance to her takes me to stupor, he is the Zulfikar Ali Bhutto of Pakistan – The Tiger of the Third World, and I am very confident, Bilawal would be analogous. He converses in the voice of the poorest and the dispossessed, for he is their leader, and that is what he has inherited – he is an embodiment of buoyancy for the derelict and marginalized of the society, who has always stood up against chauvinism, and double standards. He has always candidly reviled the vicious butchery of the minorities in the country, and has set an instance for those "ostrich" politicians for whom political point scoring is over and above humankind. Bilawal Bhutto Zardari has surfaced as a defender of women empowerment, and his vision of Pakistan's Parliament with 50% women, though intricate, carries potent: "They resent me, because I am a Bhutto, and I am young and I am a feminist"… This reveals the high standards of ideas he has inherited from his martyred mother Benazir Bhutto, who made record by taking oath as the first ever woman to become the head of a Muslim state.
Bilawal is a "Pakistani", which a very few in Pakistan's political panorama actually are! His grandfather was made, in their words, "the worst example", purely because he spoke, and fought for a fairer world. It was his re-arrival, when his 23 year old grandson gallantly uttered to the world's super power: "We do not measure our soldiers' blood in aid. It is never too late to apologize".
He dreams of an erudite and tolerant Pakistan – Pakistan which has the best schools and hospitals, not only the best tanks and warheads. He also connotes Pakistan at harmony with its neighbors, and his recent visit to India gives a picture of that. He desires to heal the wounds of the ailing humanity – the victims of diseases, and to the perils of terrorism, and prejudice.
Bilawal Bhutto Zardari is courageous, and endeavors to eradicate inequality – Emerging victorious in the court of history and that of the people; the Pakistan Peoples Party has set a ritual, and Bilawal vows to abide by that.
He is truly his mother's son – Every time, he speaks about Shaheed Mohtarmah Benazir Bhutto, there is a sensation of pain perceptible in his eyes and tone. On April 4, 2012, the termination of his speech was throbbing "Hum Shaheed Benazir Bhutto k qabar ka trial nahi honay daiy gay, Ya Allah, Ya Rasool Benazir Beyqasoor". That would only be a hardnosed who cannot sense the heartache of a son when he says these words. Benazir Bhutto would indubitably be proud of him.
On July 28, 2012, he acquired a degree in History and Politics from the prestigious University of Oxford – the same university from which his grandfather Shaheed Zulfikar Ali Bhutto and his mother Shaheed Benazir Bhutto graduated. He has thus, carried forward the thrilling convention of the Bhuttos, and his unwavering devotion to his mother's cause makes him incomparable. This marks celebrations in the firmaments, as Bilawal has once again made the world alive to the fact: "Har Gar Say Bhutto Niklay Ga, Tum Kitnay Bhutto Maro Gay…"
The young Bhutto – Zardari, an Oxford – graduate, has got the good looks, the fascination and valor, which sets him to be the future Prime Minister of Pakistan, InshahAllah.
Congratulations Bilawal – Blood is the least that I owe to you!
Jeyay Bhutto!