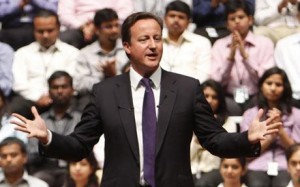 British Prime Minister, Mr. David Cameron, while replying to a question in Bangalore last week warned Pakistan that it should not be allowed "to promote the export of terror" in the world. He said it was intolerable that Pakistan should be allowed to "look both ways". The reflex action of the comments made me feel insulted for we as Pakistanis and our nation Pakistan has been facing a catch 22 situation of being "damned if we do and damned if we don't". But then thinking rationally, I wondered why Mr. Cameron would have to make such statements knowing fully the tirade he will receive from across the border. Our foreign office, security apparatuses and political parties have gone overboard in criticizing the comments of Mr. Cameron. The usual suspects of the ghairat brigade and the pseudo intellectuals have gotten yet another chance to redirect their guns to the favorite punching bag of Pakistan, President Zardari who is to start a visit to Britain later this week.
What Mr. Cameron said may be factually correct or incorrect but we have to realize why he had to say this. The visit of Mr. Cameron to India was an important stepping stone in the UK-India relationship which is more and more becoming business focused than maintaining the age old colonial master-slave relationship. Mr. Cameron was asked in an interview by Faisal Islam of Channel 4 if he felt the comments (on Pakistan) had overshadowed his visit to India. Mr. Cameron's response was: "I don't think it's overshadowed anything. I mean I just think it's important to speak frankly and clearly about these issues. I've always done that in the past and I'll always want to do that as Prime Minister, but this trip is about building the relationship between Britain and India. A relationship which is about the economy, business, finance, but also a relationship that is about security and about common issues like climate change. And on all those issues I think it's been a great success and very, very positive."
Being the 11th largest economy of the world in 2009, having a GDP of $1,235,975 million and expected to grow at  more than 7% growing forward, UK can just not ignore the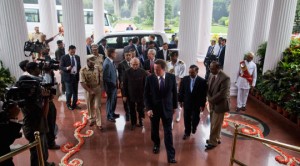 growing might of India. India being on a chart of growth, where it has established itself firmly as the 2nd fastest growing economy of the world after China, it is finding itself more and more in the exclusive company of global elite. It is part of G-20 group of nations and continues to aim for a permanent seat in the UN Security Council. Having chosen to liberalize their economy post 1991, whereby more and more family businesses chose to forge alliances with leading global businesses and also using the route of public listing, there are more than 50 billionaires in USD terms from India. Without doubt, India is a power that cannot be ignored.
UK, facing a recession and a relative crisis of confidence, is choosing to woo its former colony for its own good. And why not? India has a population of  1.1 billion and a middle class of more than 450 million, a legal system that has its roots from the British system of governance and a nation where English is spoken, read and written. It is an ideal place for British businesses to have a firm footing. Not just investment flows into India but Indian businessmen can look to acquire British companies that are in difficulty or present value to the investor.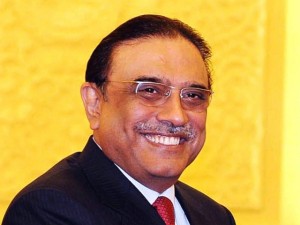 Now coming to the question of President Zardari's upcoming visit to UK, he is being pressured into not visiting the country post the remarks of Mr. Cameron. If there is fire in your house, what would you do? Extinguish it or enflame it further? I feel this is an ideal opportunity for the President to plead a case which is contrary to what Mr. Cameron has said in India. At the same time, by continuing  with his planned visit, the President is giving out a clear cut message to behind the scene policy makers that it is the political system which should be the master and the one that sets out a policy.
What we need at this point is sensibility to prevail and seek cooperation from UK on matters of fighting terror, economic support and liberalization of visas for Pakistani students who are suffering because of the strict policies adopted by the British. These are the problems of people of Pakistan than questioning the statement of a Prime Minister of another country who has to look for his own interests. It is most pertinent for us to learn from India that effectively continues to plead its case as an investment destination, economic power and a peace loving country.
On a personal note let me share with you an experience related to being a Pakistani. I applied for a visit visa for Canada last week. To my utter surprise, Indian citizens were getting the visa the same day (if all requirements covered and visa officer satisfied) whereas I have to wait a minimum 2 weeks for the same. Now that is called image!