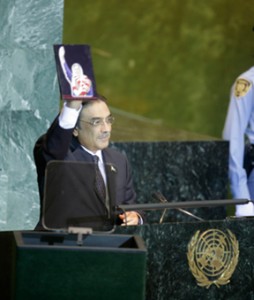 According to a press release issued by the Pakistan High Commission in London, during his visit, president Asif Ali Zardari will meet British PM Cameron at his country residence in Chequers, on the outskirts of London, on August 06. He will also meet newly-elected Pakistani origin members of the UK Parliament and On August 07, he will address the Pakistani community at Birmingham's International Conference Centre.
Mr Cameron's comments had sparked a campaign by senior army figures who want him to cancel the president Zardari's visit to meet the Prime Minister at Chequers. The head of the ISI intelligence agency Lt. Gen Ahmed Shujaa Pasha, had earlier cancelled a delegation of senior officials to meet their security counterparts in London. The ISI cancellation is a clear signal of their displeasure and that they do not want him [Zardari] to go. Amid fears that security co-operation between Britain and Pakistan could be hit by the row, British officials sought today to play down the significance of the spat, insisting "no long-term damage" had been done by the prime minister's remarks in India last week.
In Pakistan, [pro establishment]opposition parties were united in demanding that the trip be cancelled; Pakistan's powerful security and intelligence establishment has already demonstrated its anger by cancelling a visit by a delegation of intelligence officials to the UK. Despite intense pressure from his army chiefs, opponents and coalition partners, President Zardari is going ahead with the planned visit, which aides said he will now use to explain Pakistan's position and seek an expression of appreciation for the country's sacrifices.
Opposition parties have asked President Asif Ali Zardari to cancel his impending visit to Britain in the wake of British Prime Minister David Cameron's remarks against Pakistan that 'the country must stop exporting terror'. The main opposition Pakistan Muslim League-Nawaz (PML-N) has raised the demand in a veiled manner. Sharif's bothers, who spend most of their time in UK and [British passport holder]Altaf Bhai said the president should cancel his visit and spend the money allocated for his trip on the flood-affected people across Pakistan.
This prompted Zardari's close aide and Federal Law Minister Babar Awan to take a swipe at the Sharif brothers, saying that the president is not going on a pleasure trip to Britain like Nawaz Sharif and Shahbaz Sharif and they had properties in Britain worth millions of pounds which should be sold to help those in distress back home.
Retired Lt Col Talat Masood said the army's dignity had been offended by Mr Cameron's comments, but that while it feels obliged to cancel the visit of its ISI leaders to register its anger, long-term co-operation in the fight against terrorism will continue. He said: "The interests of both countries are so intertwined that this can't continue for more than a short period, things will normalise after they apply some balm."
President Zardari is scheduled to meet PM Cameron during his visit commencing Aug 3 in the first meeting of both dignitaries since the new British premier assumed office. Hopefully meeting will boost cooperation.We have to keep in mind that Pakistan is reportedly set to become the biggest beneficiary of Britain's 2.9-billion pounds aid to developing countries.In the last financial year, Pakistan received 140 million pounds from the Department for International Development (DFID) making it the sixth largest recipient behind India, Ethiopia, Bangladesh, Sudan and Tanzania.
According to the Daily Times, the aid is expected to rise up to 40 percent.
"Within three years, Pakistan would probably receive more money from the recast budget than any other country," The Daily Times quoted Andrew Mitchell, DFID Secretary, as saying.
He said that there is an education emergency in Pakistan, as the country has more children out of school than anywhere in the world. The DFID Secretary also announced that Britain would provide for 300,000 girls to go to school and for three million textbooks.
"Our efforts are focused on accountability, building up the sinews of the state, focusing on education where you have a rapidly increasing population. International development is one of the only two departments, along with health, that does not have to shrink its budget," Mitchell said.