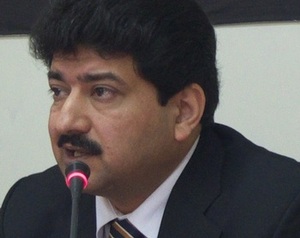 What happened the announcement of Jang Group that they have constituted a committee to probe the Hamid Mir-gate? We deserve to know from the apex investigators of Pakistan that what have they found out in 25 days?  Usually, their Investigations are quick and dirty….25 days is too long!
We also need to know the version of Osama Khalid's announcement that he will file an FIR against Hamid Mir.
Committee to probe charges against Hamid Mir
Thursday, May 20, 2010
ISLAMABAD: A conversation purportedly between Hamid Mir, the host of Geo programme 'Capital Talk' and columnist of daily Jang, has been uploaded on different websites, says a statement issued by the spokesman of Geo/Jang Group.A committee has been constituted by the Group to get detailed information in this connection. Members of the committee have held preliminary talks with Hamid Mir in which he has disowned the voice (said to be his) and termed the audiotape fabricated. For credible investigation, the committee has called upon professional journalist organisations to come forward to uncover the truth.

Hamid Mir has assured that he would fully cooperate in the investigation so that the truth is unearthed. He also said that some people want to ostracise him from the profession and they are defaming him as part of a conspiracy.