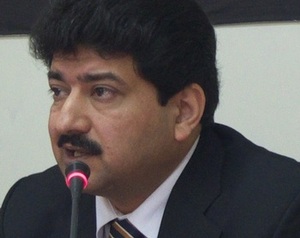 Islamabad
May 17, 2010
Dear Mr. Hamid Mir,
Much has been said and written about your audio tape since last two days. I have also read your rebuttal, below email and another one that got "leaked" – as is claimed by one of the blogs, in which you're (claimed to be) clarifying your position and Asian Tigers' position.
I do understand how this whole business of terror-network is run in Pakistan, how many state or non-state actors and inter-locutors are involved in umpteenth levels of negotiations and contact building, but still this is matter of grave concern for an ordinary citizen of Pakistan.
As a citizen of Pakistan, I'm the primary stakeholder of terror business. It is me (as in the citizen) who has greatest threat from the terrorist attacks at personal level, as well as at a collective level, who has to face embarrassment and humiliation in foreign lands as green passport holder, when it comes to Pakistan's terror-craft. My country, its h eroding onor, its international credibility and life of millions of its citizens are under direct threat. It is, thus, a matter of gravest concern for us to see into details of who is responsible and / or is accomplice in all this business, and who is benefitting from killing my country's people and its honor among the nations of the world. I hope you do understand and appreciate this point.
It makes me, moreover, absolutely shocked at and skeptical of the role of entire media or at least a section of media, when I see you – the man who does not mince his words while telling us how bad and corrupt is the government, how immoral it is on the part of Jamshed Dasti to present fake (although unproven by any court of law) educational degrees, and how incompetent it is on the part of Interior Ministry for not having been able to control terrorism.
This loud voice against the ills of the society and the government brokering with the terror network, is definitely not a pleasant episode for most of the people of Pakistan, who trust all of the TVenngelists (you inclusive) for identifying weaknesses of politicians (it is understandable why you do not touch upon the corruption of many other institutions which are holy cow in our country).
Hamid sahib, we know each other at least as acquaintance, we keep meeting and exchanging greetings in Islamabad's drawing rooms and parties. Based on your apparent verbal frequent assurances of being committed to democracy, citizens' rights and upholding of journalistic standards, we supported you throughout the movement for citizens' right to information and freedom of speech, in the wake of a ban on your program during Musharraf's regime.
Although that ban won you and many other TVengelists much of the credibility as "principled" journalists who "did not bow before a dictator". We also knew you have very close contacts with most of the terrorist outfits, not that you ever tried to hide it. Interviewing Osama Ben Laden is not an evidence against you, but being Taliban apologist throughout and promoting their agenda subtly in your program definitely is. We knew you are a journalist, quite active so, and quite in the limelight so, and that by the token of being a "frontline" journalist, you need to keep contact with everybody especially those who can make news. But we never knew the extent to which you are / have been part of these networks. I'm still ready to give you concession of being an ambitious "investigative" reporter, if you kindly clarify yourself of all the charges – too heinous, grave and ugly to be kept yourself stuck with. Here go my questions Mir sahib:
1. You have been telling us ever since this tape was released, that Daily Times has done a damage to you by unilaterally publishing a story about it. Then you said that the tape is concocted and President Zardari's PPP is behind it. Then you said its ISI doing it with you. Then you said you've met with the President and all doubts have been cleared and that PPP is not behind this tape. And then you said that the voice on the tape is not yours, it is machine produced. Well, if it is produced / manufactured by the machine, then there exists machines that can be used to detect if the voice is original or not. I don't think you need to worry about it much. And then you started a silence because the case is "sub judice". Well, there have been many other issues that have been sub judice but we kept on having the privilege of hearing you on all those issues. But still, respecting your decision not to speak on the tape issue, we wouldn't ask about it. But what we'd like to ask is, whether you spoke to a Punjabi Talib ever?
2. Did you ever share the information about the upcoming military operation against North Wazirastan with one of these networks?
3. Didn't you propagate religiosity among masses through your program?
4. What do you think of Ahmadis / Qadiyanis? Do you really think they are worse than "Kaafirs"? And what do you mean by this? Are they, who're worse than kaafirs, liable to be killed?
5. What do you now say, was Khalid Khwaja a CIA agent? How do you think a CIA agent should be dealt with? Should s/he be killed?
6. Do you support the kind of jehad Taliban and other militant groups are waging? If no, why do you eel obliged to respect them like a revered soldier should be?
7. Do you think those who wage war against the federation / state of Pakistan are punishable with treason? If yes, why do you support Maulvi Abdul Aziz of Lal Masjid? Why do you call Rasheed Ghazi a shaheed knowingly that he was killed during his war with Pakistan army? Do you consider Pakistan Army, which is fighting these criminals terrorists, as "Baatil force" against which jehad is normally waged?
8. You were among those TVangelists who pressurized the then government to start operation on Lal Masjid / Jamia Hafsa duo, but immediately after the operation, you started molding people's opinion against that action, in favour of the criminals who challenged the writ of the state. What do you say to explain it?
9. You recorded a program immediately after the Lal Masjid operation was completed. You arranged the whole drama of a girl crying and ranting out emotional speech to emotionally charge the people against military operation on Jamia Hafsa, who in the beginning wanted the operation. Do you really think this kind of journalistic dishonesty is allowed when it comes to your cause?
10. What exactly is your cause? Does it sync with the 'cause' of those militants you keep talking to?
11. After months of this first program, you recorded another program with around a dozen more students of different Madrassas. During the recording you kept on influencing the participating students to get as angry as they can, against the operation on Jamia Hafsa / Lal Masjid. On whose orders / suggestions did you do so? If you did it on your own, what was your inspiration? Do you think the culprits of public violence were actually crusaders of Islam? And that they are / were worthy of respect?
12. We heard you saying on the tape (for us – the citizens of Pakistan – the voice was yours unless proven otherwise) that Taliban could explode as many NATO trucks as they can. What is your personal belief? Should the terrorists explode / bombard NATO trucks to push them out of Afghanistan? Are you with terrorists for human killings whether or not they are of Pakistanis?
13. We heard you listening on tape from that TTP representative that there would be more of suicide blasts in the country. You were neither shocked nor agitated. Do you think they're doing a right thing by bombing innocent Pakistanis to death? If not, why didn't you inform the authorities responsible for security? If you did, whole did you talk / write?
14. Why do you think ISI is you enemy? What exactly have you done to invite ISI's wrath?
There are many such questions that emerge after hearing your tape. Can you please address them for the sake of record and reference so that your audience could not be led astray by those who want to malign you? Since you have an image at South Asia level, and keep portraying yourself as 'Amn ki Fakhta' when you're in India and in SAARC countries generally (unlike obviously your stance on Indo-Pak relations which you keep reiterating for local audience), I'm copying this email to senior journalists, columnists as well as prominent civil society activists, media houses and senior Communists from the region.
Awaiting your reply,
Marvi Sirmed
Islamabad.
EMAIL OF HAMID MIR:
—– Original Message —–

From: hamdi mir

To: presspakistan

Sent: Sunday, May 16, 2010 1:31 PM

Subject: Re: A new web war against Hamid Mir-warning for journalist community

Dear All,Thank you very much for your support.Today publisher of Daily Times and Governor Punjab Salman Taseer created a new record in the history of yellow journalism by publishing a one sided tape drama scandle against me.I would like to remind my journalist colleagues that Salman Taseer published many dirty articles against me in the past when i was banned by Musharraf regime on tv.Today he published the transcript of a concocted tape with some comments on the front page of his newspaper.Yes he tried to kill many birds with one bullet.

This is a conspiracy against me.Khalid Khawaja was assassinated in the month of April and this tape surfaced in the middle of May just few days before some important political and leagal events.I am consulting with my lawyers and i will go into court against Salman Taseer for publishing a one sided concocted story against me.My hands are clear and i have no fear except Allah who have provided me a new opportunity to unmask some more realities in the court of law.

This fabricated tape is part of a bigger drama against journalist community.Some elements want to silence the voice of media on certain national issues by blackmailing journalists like me.These people are very unhappy on those journalists who are raising voice for missing people,who are opposing government stand NRO and who criticized the fake degree holder members of the parliament.Many journalists are disliked by the government and some parts of the establishment.These journalists may become a target one by one.Some government ministers warned me on May 13th that some elements are trying to use the family of Khalid Khawaja against me and journalists like Ansar Abbasi,Kamran Khan and Shahid Masood will also face some new cases.I am sure we will face these kind of fabricated cases with unity.Thanks again for showing solidarity with me.

Hamid Mir