Anchor Cast Adrift
What's behind the tapes of TV host Hamid Mir's chat with a Taliban man?
MARIANA BAABAR
Source: Outlook India
'Khawaja Is A CIA Agent, An American CIA Agent'
Excerpt from the transcript of the tapped telecon between Hamid Mir and an unidentified man (UM). India, Kashmir, A.B. Vajpayee figure in this chat.
Unidentified man ( UM): So, are they men of the government or ISI?

Hamid Mir ( HM): Who?

UM: Khawaja and Colonel Imam.

HM: Khalid Khawaja, according to my opinion, is not an ISI man, rather he is a CIA agent, an American CIA agent, and he has links with the Taliban leadership.

UM: Yes, he met with Hakimullah (Mehsud) and others when he came here last time.

HM: I personally know Khawaja has links not only with CIA but he is also a front man of Mansoor Ijaz who belongs to a very big international network of Qadianis. Once he came to me along with Mansoor… Khalid saab told me Mansoor is a key representative of the US government, so arrange his meeting with Syed Salahuddin, and he along with him would resolve the Kashmir issue.

UM: All right.

HM: I asked him what charm or magic lamp does he possess for the resolution of the Kashmir dispute.

He said he had links with the Indian government and (Atal Bihari) Vajpayee ji, which surprised me. I didnt arrange the meeting, but I asked Mr Salahuddin who said Khawaja is sending messages that you should directly talk to India and the US and exclude Pakistan.
***
Lollywood film directors searching for a script to produce a thriller are best advised to readLet Us Build Pakistan (LUBP) on the website criticalppp.org, which is advertised as a project of critical supporters of the Pakistan People's Party. The website has all the ingredients for a racy film—the transcript of a conversation between renowned TV anchor Hamid Mir and his Taliban interlocutor, the murder of a former ISI official known for his links with militant Islamic groups, spies from foreign intelligence agencies and their dirty games, and the blackmail tactics of those in power. As the hits on the website register a sharp spurt, the plot has enlarged to include Pakistan president Asif Ali Zardari, his interior minister Rehman Malik and Punjab governor Salman Taseer, father of Indian writer Atish Taseer. Underlying it is the war the government has declared on the media. There are no punches pulled, friends are betrayed, new villains are discovered.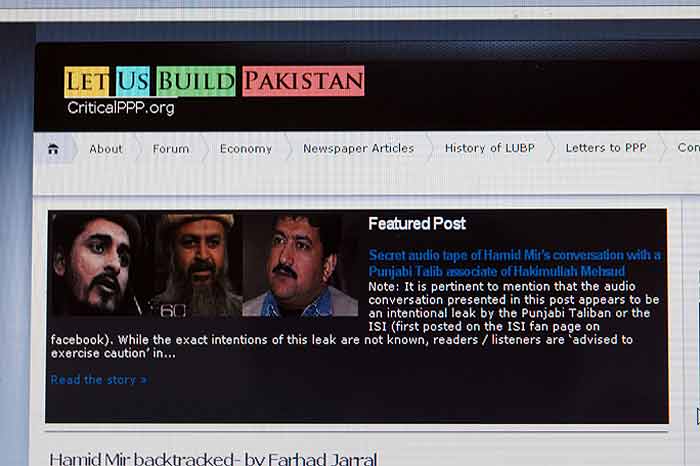 The film could have as its opening shots former ISI officials Sqn Ldr (Retd) Khalid Khawaja and Col Sultan Amir Tarar (popularly known as Col Imam) accompanying Pakistani-origin British journalist Asad Qureshi to the North Waziristan badlands, ostensibly to shoot a documentary. But their real mission is to convince the Tehreek-e-Taliban Pakistan (TTP) leaders to declare a ceasefire in their ongoing battle against the Pakistani state. The two are ideal for this sensitive task, boasting as they do formidable contacts in the Taliban.
The mission, however, soon goes into a tailspin—the three are kidnapped by militant group Asian Tigers (supposedly a group working under the TTP umbrella), who raise several demands for their release. Negotiations are tortuous and protracted. Weeks later, on April 30, the body of Khawaja is discovered: he has been killed in captivity. The group demands $10 million for the release of the British journalist and Col Imam. The story, as always, disappears from the front pages of newspapers.
Mir denies the voice is his, saying Pak agencies have technology that can make one's voice sound like another's.
Cut to May 12: the LUBP site features the transcript [Also on Youtube in two parts: Part I and Part II] of what it says is a phone conversation between the popular host of Geo TV's Capital Talk, Hamid Mir, and an unidentified man (UM) belonging to, or known to, the Asian Tigers. UM asks Mir about Khawaja's background, and whether or not he's an ISI spy. Mir allegedly answers, "I personally know that Khalid Khawaja has links not only with the CIA, but he is also a frontman for Mansoor Ijaz, who belongs to a very big international network of Qadiyanis." The transcript has Mir telling UM that Ijaz is a key representative of the United States and had requested him to fix a meeting with Hizbul Mujahideen leader Syed Salahuddin for resolving the Kashmir issue. "I didn't arrange the meeting," Mir goes on to add, "but I asked Mr Salahuddin who said Khawaja is sending messages that you should directly talk to India and the US—and exclude Pakistan." Mir asks UM to interrogate Khawaja on his role in the July '07 Lal Masjid siege, which ultimately saw a bloody military operation.
The transcript was sensational, providing as it did a motive for the militant group to kill Khawaja. The excerpted conversation mentions a cast of characters whom Pakistani militants detest—the CIA, the US, Kashmir, and the Qadiyanis, a sect considered non-Islamic by the community. The LUBP's disclosure prompted Khawaja's son, Osama Khalid, to declare, "This audiotape is enough proof of Mir's role in my father's murder."
Despite the LUBP's sensational disclosure, no newspaper reported the issue until the Daily Times, owned by Punjab governor Taseer, published the transcript on its front page. Its editorialmade a scathing comment, "If it is indeed a genuine transcript, Mir's credentials should come under the scanner. If these charges are proved against Mir, he could attract the mischief of the Army Act and Pakistan Penal Code for aiding and abetting terrorists who have declared war on the state of Pakistan and against whom our forces are fighting and dying."
It was legitimate now to follow the story—and everyone did. Mir, after all, is among the more high-profile TV anchors, winning acclaim for interviewing Osama bin Laden. His alleged entanglement with militants, if true, demonstrates their sway over Pakistani society. For Mir belongs to a family known for its progressive ways and for opposing dictators—his father Waris was an intellectual who took on Gen Zia-ul-Haq; his grandfather Abdul Aziz was a leading Punjabi and Persian poet.
As the story grabbed headlines, denials from principal players poured in. The Asian Tigers issued a denial, saying they had had no such conversation with Mir. To Outlook as well as others, the celebrated TV anchor denied outright the conversation and the transcript. He said this was a ploy to defame him and the Jang Group, owners of Geo TV, which has been relentlessly exposing corruption in the Zardari government and its poor governance record.
But isn't the voice on the tape his? Columnist and defence analyst Ayesha Siddiqa is convinced that it is. This is what she wrote in her blog: "The man in the tape is Hamid Mir beyond doubt. The voice and style of conversation is his. I have had conversations with him on several occasions and he breaks stories in this very style. The conversation should not surprise people, as Hamid Mir has old links with the Islamists and the intelligence agencies."
But Mir claims that Pakistan's intelligence agencies have procured a special gadget capable of taking someone's voice and changing it to resemble that of another. "Through this special gadget they made the voice on the tape sound like mine…. The ultimate goal is to silence the voice of the Pakistani media on certain issues. Khalid Khawaja was assassinated at least two weeks ago, but no tape about his murder surfaced anywhere then."
And then he drops the bombshell considered credulous here. In early 2009, he reveals, Zardari invited him to Lahore's Governor House. "It was basically to shake hands with Salman Taseer," says Mir, "who as Pervez Musharraf's governor, had been very harsh with the media, even abusing us. As a journalist, I did not have any problems, and shook Taseer's hand. Then both of them asked me to leave Geo so that they could take on Geo and the Jang group. I was offered Rs 2.5 crore a month as a bribe." Mir, no doubt, has very good connections among the powerful. For instance, he reveals that Opposition leader Nawaz Sharif had requisitioned his service to convey to the authorities about the threat to his life emanating from Karachi. The recipient of that message was Zardari, whom Mir met then. In doing so, he forgot he was overstepping journalistic lines, inadvertently becoming a player in politics.
Apart from the meeting with Zardari, Mir says he was summoned to interior minister Rehman Malik's chamber in Parliament House as late as May 12. Malik said he had been given a copy of the tape of Mir's conversation with UM, and the journalist should consider it as a warning to him. "On the evening of May 12, the alleged telephone conversation appeared on the website."
Mir rubbishes the accusation that he is close to the Taliban, saying he often receives threatening faxes, calls and e-mails for taking a stance against them on his TV shows. And when Swat was a no-go area for journalists during the military operation there in February 2009, he did a report accusing the Taliban of indulging in gang rapes. Sounding pugnacious, Mir told Outlook, "I have hired Asadullah Jaral, a lawyer with experience in international cyber crime, and I have issued a legal notice to the Daily Times."
What then is the truth about the tapes? About Mir's denials, The Dawn pointed to some discrepancies: "Mir has now moved a step further—from describing the taped conversation as doctored or concocted to completely denying that it is his voice." Supposing it is Mir's voice, Siddiqa raises fresh questions: "In the world of the armed forces, information is difficult to access. The only matter of concern really is that how and why was the audio recording made available on the internet? The real story is the disclosure rather than the conversation."
So who leaked the tape? For one, only the ISI, IB and the Military Intelligence have the expertise to tap telephone conversations. It's anyway their favourite pastime to tap phones of journalists and politicians for blackmailing them. No wonder, Siddiqa argues, "one explanation is that one of the army-run agencies leaked it, wanting to deflect attention from itself to Hamid Mir". She further says that the Mir-UM conversation illustrates the presence of "multiple groups within the intelligence agencies". Why else would a militant group ask for information on a man whose contacts in the shadowy world of jehadists is formidable? According to this theory, a group in the intelligence agency could have conveyed to the Asian Tigers about Khawaja's past, and Mir's interlocutor wanted to verify the information. There's a more simple, third possibility—the ISI blames Mir for the murder of its former official and made public the tape to sully his reputation.
The appearance of the transcript on the criticalppp.org website does prove that Mir is no favourite of Asif Zardari and his friends. Perhaps all theories about the tape happen to be partially correct, indicating the coalescing of interests to hound Mir, irrespective of whether or not he talked to UM.
Source: Outlook India